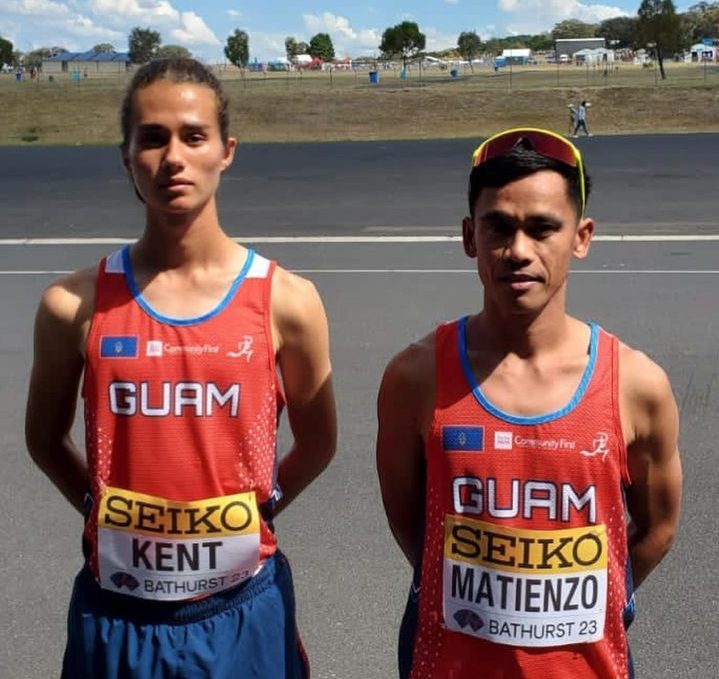 Ryan Matienzo and Hugh Kent will represented Guam in the 2023 World Athletics Cross Country Championships in Bathurst, Australia on Saturday February, 18, 2023. 
Matienzo raced in the 10km Senior Division Men's race and finished in 38:39 (104 of 108). Kent will be competed in the 8km U20 Division Men's race in 29:50 (61 of 64).
Matienzo earned an automatic entry by winning the Senior Division at the 2022 Oceania Cross Country Championships held on October 29, 2022 at George Washington High School in Mangilao, Guam.
Kent was chosen as Guam's quota selection from his winning performance in the U20 division of the Oceania Cross Country Championships, in October.
"Ryan and Hugh have proven themselves as elite distance runners on the island. Racing in a world championship event is a momentous opportunity and experience. We look forward to them racing with some of the best distance runners in the world," says GTFA President Derek Mandell.

QUICK HITS
The Figo Islanders 40s women's softball team took gold in the Senior Softball World Championship in Las Vegas. Figo came out of the loser's bracket and beat the Arizona Belles 17-3 in the AA division championship game Sunday afternoon.
Other Guam teams that played in the 40s tournament were: Team SOTTA (women's) and Bud Light Guam, Friars 671 and Sindalun Guahan (men's).
Sindalu finished a respectable 4th out of 24 AAA division teams.