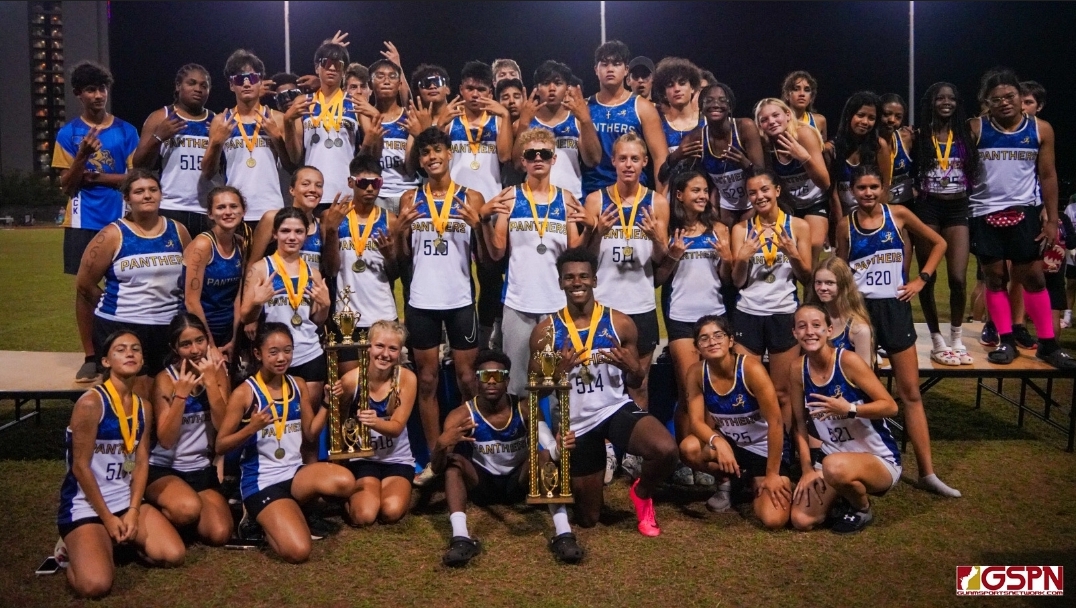 By Jay Leon Guerrero
The dynasty continues for the Guam High Panthers after scooping the 2023 ISA Boy's and Girl's Track & Field team championships. Legendary head coach Joe Taitano guided the Panthers to their sixth straight championship for the boys division and the third straight for the girls.
Team totals
Boys
1. Guam High Panthers – 159 points
2. JFK Islanders – 83 points
3. FD Friars – 66 points
4. GW Geckos – 65 points
5. Simon Sanchez Sharks – 52 points
6. Tiyan Titans – 42 points
7. Southern Dolphins – 32 points
8. Okkodo Bulldogs – 8 points
9. GAA Angels – 3 points
Girls
1. Guam High Panthers – 160 points
2. GW Geckos – 118 points
3. JFK Islanders – 83 points
4. Simon Sanchez Sharks – 51 points
5. Academy Cougars – 45 points
6. Southern Dolphins – 17 points
7. Tiyan Titans – 12 points (tie)
7. Notre Dame Royals – 12 points (tie)
9. GAA Angels – 9 points (tie)
9. Okkodo Bulldogs – 9 points (tie)
The Panther boys team won seven gold medals and tallied a total of 159 points. Magahet Finona came up huge for the Panthers and was the performer of the evening with four gold medals. Finona won two individual Golds in the 110m hurdles and 300m hurdles and also helped the Panthers win the 4x100m and 4x400m relays.
Aaron Johnson won two medals before suffering a hamstring injury which caused him to sit out the rest of the evening. Even without Johnson competing in the 200m and 400m events, the Panthers had enough cushion to hold off the JFK Islanders who garnered 83 points.
"It's been a phenomenal season for the Panthers. Everyone locked it and achieved PR (personal record) times and also broke Guam High records," said Johnson. "It's been such a good ride and I'm looking for to next season as well".
Panther girls dominate
The Guam High Panther girl's team managed to rack up 160 points to GW's 118 points to continue their dynasty as well. The Panthers won both relay races and added three individual gold medals to secure their three-peat.
The Panther girls were especially strong in the long-distance races, occupying the first through sixth place positions in the 3000m event.
Keira Paz won the 3000m event with a time of 12:22 for the Panthers. Aubrey Frank came in second in the 3000m and later won the 1500m with a time of 5:28 to take home the individual gold. Guam High's third gold medal came in the 400m event with Kelena Gallardo winning with a time of 1:01.22.
Kent wins 3 golds and a silver
Hugh Kent helped the Islanders secure the boy's second-place trophy after winning all the long and middle-distance events. Kent, the defending 3000m and 1500m champion, made it a goal to win the 800m after settling for silver last year.
In the 800m race, he opened up a 30-meter lead and never looked back to win with a time of 2:02.84, a new PR for him. To complete the four gold medal achievement, Kent would need to win the 4x400m relay.
The final race of the evening (boy's 4x400m relay) was a good one with Guam High's Jaden Jackson, the 400m gold medallist, going against Kent in the anchor leg.
Jackson had a small lead going into the anchor leg and was able to hold off Kent in the final stretch to win with a time of 3:43.52 to JFK's 3:44.24.
FD edges GW for third
In another surprise of the evening, the FD Friars came in third place in the team event by one point, edging out the GW Geckos 66-65.
FD did not have a gold medal in the all-island but the team as a unit placed in the top five in several events to win third. Fd sophomore Beau Perez had a good night with a silver and two bronze medals to help the Friars bring home a respectable third-place trophy.
"We came together as a team with one goal and that goal was to progress as a team. We worked hard every single day thinking about that one goal and that's what got us there," said Perez.
The Friars are trending up with a pack of underclassmen looking to win a title that has evaded the Friars since 1994. "We are not done here, next year we are going to continue to rise in the rankings".
Gecko girls finish 2nd
The Geckos girls finished second with a respectable 118 points with head coach Desmond Mandell III guiding the squad. "Our goal was to win a championship this year but we all did our best," said Gecko junior Aleah Castro.
Castro won two golds and two silver medals for the Geckos. "We will use this season to build and get stronger for next year which will be my senior season".
The Geckos achieved five gold medals with Olivia Haddock winning the 200m sprint, edging out teammate Castro with a time of 27.95 to Castro's 27.96 seconds in the closing race of the evening.
GW freshman Gweniziah Barcinas won gold in the 800m race with a time of 2:40.11 and Melody Rosario won the discus with a distance of 27.21 meters for the Geckos.
JFK senior Maria Calvo won three Golds and a silver for the Islanders with victories in the long jump, triple jump, and javelin. The Islanders finished in third place in the team with 83 total points.
Calvo's silver medal came in the 100m hurdles. Dina Soriano, a sophomore, won gold in the shot put event with a distance of 8.39 meters, a personal best.
Santos wins the 100
Academy's Taylor-Ann Santos won the 100m sprint with a time of 13.40 seconds. Santos, a junior, also won a silver medal in the triple jump and a bronze medal in the long jump for the Cougars.
Tiyan's Dean Masnayon won Tiyan's only gold medal in the 200m sprint event with a PR time of 23.72 seconds. Masnayon's gold is the second in school history in the event with Matt Wong winning the 200m event six years ago.
"I've been working hard for three years to get a gold medal. It's a big weight off my shoulders to finally get one," said Masnayon.
In the boys field events, Southern High senior Jhavin Maniebo won gold in the shot put with a distance of 12.50 meters edging out GW's Landin Meno's 12.33 PR throw.
Simon Sanchez got their lone gold medal in the discus with Jericho Villegas's 36.55-meter throw. Maniebo settled for silver in the discus with a throw of 35.72 meters.
In the javelin event, JFK's Isaac Valdez threw for a distance of 37.21 meters. FD's Giovanni Palad won a silver medal for the Friars with a distance of 37.16 meters.
Full results are online:
https://www.athletic.net/TrackAndField/meet/486857/results/all
IIAAG Track and Field champions
BOYS
2013 – Guam High Panthers
2014 – JFK Islanders
2015 – Guam High Panthers
2016 – Okkodo Bulldogs
2017 – Guam High Panthers
2018 – Guam High Panthers
2019 – Guam High Panthers
2020 – NO SEASON (COVID)
2021 – Guam High Panthers
2022 – Guam High Panthers
GIRLS
2013 – JFK Islanders
2014 – JFK Islanders
2015 – JFK Islanders
2016 – Guam High Panthers
2017 – Okkodo Bulldogs
2018 – Guam High Panthers
2019 – JFK Islanders
2020 – NO SEASON (COVID)
2021 – Guam High Panthers
2022 – Guam High Panthers
PHOTO GALLERY BROUGHT TO YOU BY:

QUICK HITS
The Figo Islanders 40s women's softball team took gold in the Senior Softball World Championship in Las Vegas. Figo came out of the loser's bracket and beat the Arizona Belles 17-3 in the AA division championship game Sunday afternoon.
Other Guam teams that played in the 40s tournament were: Team SOTTA (women's) and Bud Light Guam, Friars 671 and Sindalun Guahan (men's).
Sindalu finished a respectable 4th out of 24 AAA division teams.