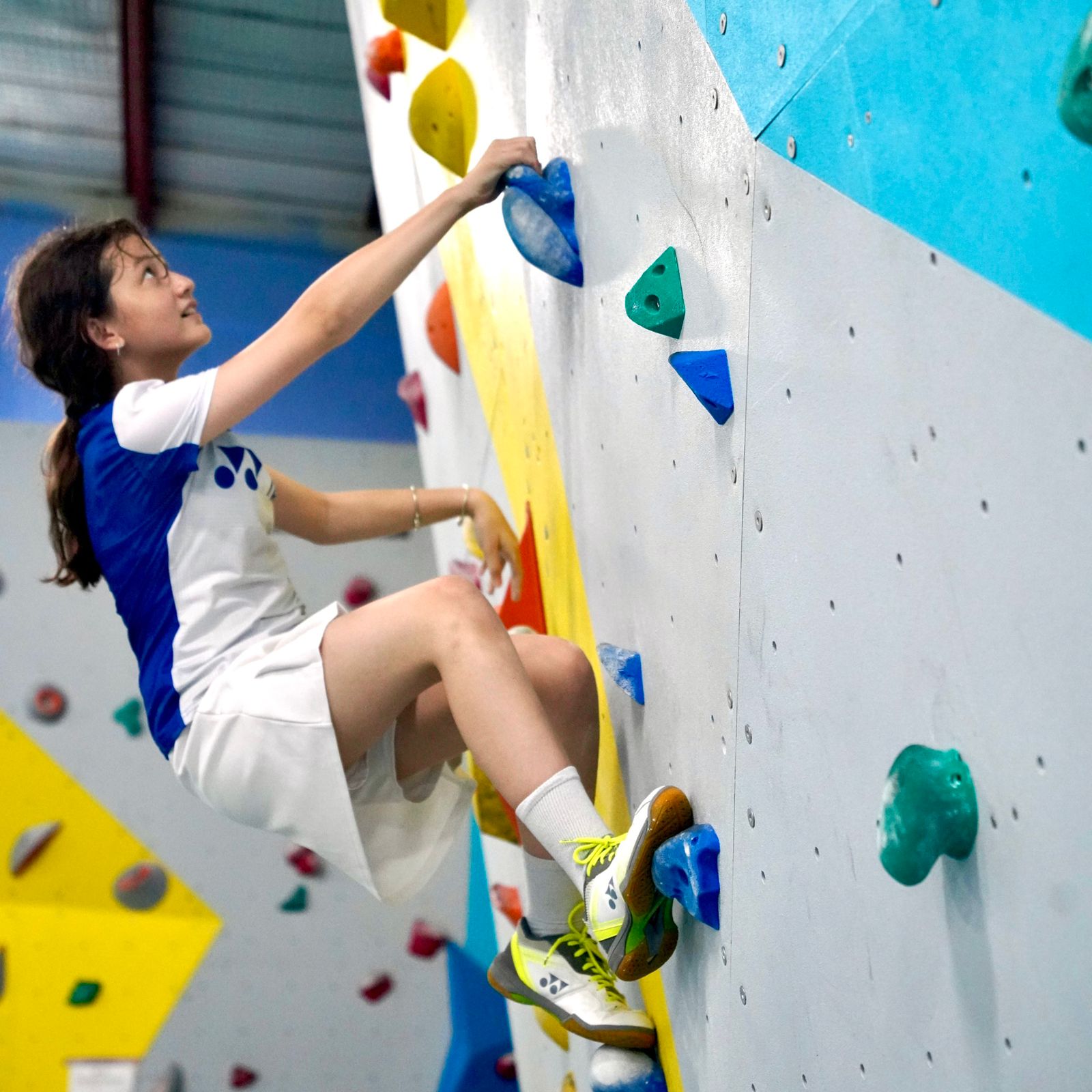 By Jay Leon Guerrero
After watching the Tokyo Olympics, Guam Badminton Center Owner Rui Wang came up with an idea to offer something different. Wang watched the exciting sport of Rock Climbing and wanted to offer this sport to the People of Guam.
After careful planning and patience, his vision will officially be available to the people of Guam as soon as next week.
After successfully launching the Guam Badminton Training Center on Bello Road, Wang surveyed his warehouse space and found space to build a wall.
"After observing the sports climbing event at the Tokyo Olympics, I realized there is a potential need for a facility on Guam for sports climbing," said Wang.
"I started talking with professional manufacturing companies for panels and presented our space. We wanted to see what they can produce for us in this space we have here in the Badminton Center," said Wang.
The Wall
After careful planning and bringing in some partners, the Guam Sports Climbing Center will be available and open to the public next week. The Wall construction is complete and alongside the Badminton courts at Wang's facility on Bello Road.
Wang's team include Michael Khan and Noah Banez. Khan is a registered nurse at GRMC and also a badminton player. Wang said that Khan brings in al ot of health care perspective of Rock Climbing.
"When I approached Michael about potentially opening Rock Climbing, he was excited because it helps promote health. He sees the sport in a health care perspective and how sports will help prevent disease," said Wang.
"We were fortune to meet up with Noah (Banez) just three weeks ago. Noah just moved to Guam from Santa Barbara and he is a professional climber who used to work in a gym," said Wang.
With Wang leading the business and Khan promoting the health benefits of Rock Climbing, Banez provides his experience in the operational and technical perspective to the facility.
There are three types of disciplines in the sport: Lead climbing, Speed climbing and Bouldering.
According to Banez, Lead climbing is used with ropes and focuses on endurance.
Speed climbing is a timed race between two athletes and the fastest time wins. Speed climbing features the same route all over the world.
The third discipline is Bouldering which is a more dynamic and powerful type of climbing. Bouldering has walls of 15 to 20 feet and does not require a harness but has mats at the base.
"The type we have here at this facility is Bouldering," said Banez. The Bouldering Wall comes in different colors with each color presenting a different degree of difficulty.
Banez said he is available to introduce the public to those who want to learn bouldering and also help those who have experience and want to get better.
"My goal is to impart knowledge to anyone on the island who wants to learn. I will also help those who have experience and want to push it a little further," said Banez.
"There was a facility on Guam that closed in 2015 that offered rope climbing and bouldering," said Banez. Banez noted that this is not the first facility to offer climbing. "Now that climbing is offered in the Olympics, that kind of changes things for people," said Banez.
According to Wang, one of the long term goals of opening the facility is to eventually form a team to compete in the region. The task will take some time and planning, but Wang's vision is to produce a future Olympian or National Team to represent Guam overseas.
"We are in the process of working to build a National Federation. We hope to compete first in a team format," said Wang.
Banez said that all are welcome to come and try: "climbing is one of those sports that allows both males and females to compete at the same level in terms of difficulty".
"Females are typically a little more flexible and balanced while males are more powerful and taller so it allows both (genders) to climb at the same level," said Banez.
The invitation is open to all who are curious to try or for those who want to commit and compete. Wang said that starting next week, individuals can come and purchase a day pass and see if they want to commit to monthly memberships.

QUICK HITS
Bishop Obispos beat Mt. Carmel for the IIAAG Middle School Girls Basketball championship 37-25.
—————————————-
The Benavente Roadrunners crushed the Agueda Pirates 17-1 to win the 76 PONY Middle School Baseball League. Rodney San Nicolas was a beat, striking out 13 batters in a complete game while going 4-for-4 at the plate, including a homer and 4 RBI.