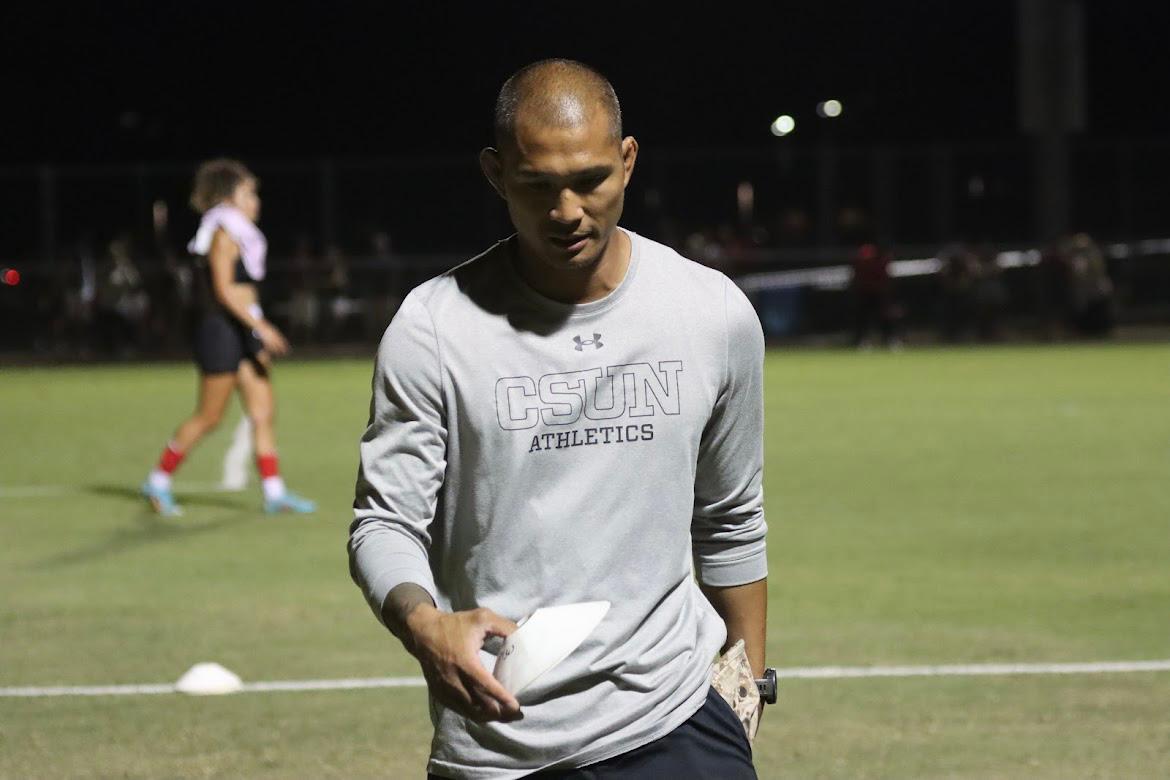 By Patrick Lujan
The success rate of juvenile delinquents making good for themselves is usually slim to none.
Former Yigo resident Ashley Samaniego bucked those odds to not only gain a level of success, but to better the lives of those associated with his career as a kinesiologist and Director of Athletic Performance at California State University, Northridge (CSUN) — 30 miles northwest of Los Angeles.
Where he is today is not only a distance away in miles but in life itself. A 2007 graduate of Simon Sanchez High School, Samaniego's future looked bleak, especially after several visits to the Department of Youth Affairs.
"I was a juvenile delinquent throughout middle school and high school," Samaniego said from Northridge. "I've been to PACE and DYA three times."
He gave the sport of volleyball a shot at Sanchez to 'help keep myself and grades in check.' 2007 was a special season when the Sharks won the title undefeated, according to then and current Sharks head coach Jack Hattig.
One of his teammates was Zach Pangelinan, who is still representing Guam as a pro rugby player.
Struggling with direction in life, Samaniego enlisted in the Marine Corps. right out of high school.
"The Marines has definitely shaped who I am today. The Marines taught me to be an adult – to be a man real quick; it gave me direction; it gave me purpose."

– Ashley Samaniego
MARINES TO COLLEGE
After deciding not to re-enlist, Samaniego put his mind and energy (and the GI Bill) into becoming a Kinesiologist, getting both his bachelor's and master's degrees in the science of influencing human movement with an emphasis in exercise physiology and biomechanics from CSUN.
He became a Division I Athletic Performance Coach at CSUN where he is currently the Director of Athletic Performance overseeing 19 teams (currently 350+ athletes). He's worked with athletes who were drafted and recruited at the professional level (MLB, NBA, MLS, international and national teams).
In addition to that, he's also a Certified Strength and Conditioning Specialist (CSCS) through the National Strength and Conditioning Association (NSCA), holds a USA Weightlifting Level I certification through Team USA and has been distinguished as a Master International Strength and Conditioning Practitioner by the International Universities Strength and Conditioning Association.
Not bad for a former delinquent youth from Yigo.
HOPE FOR GUAM SEMINAR
Now he feels it's time to come home and give back by hosting a seminar on island regarding the principles of developing an athletic performance program.
"I believe this can be a valuable lesson for our island's coaches, fitness trainers and athletes. With a wealth of information – and misinformation – lingering and with Guam being miles away, I have been inspired to bring my knowledge and experience to Guam."
The idea is still in its planning stage, but the drive and intent is there.
Some topics he'd like to share deal with the scientific foundations of human performance (strength, power, speed, change of direction) as well as off-season and in-season programming.
LOOKING BACK
"In retrospect, I've done many bad things as I was growing up. First and foremost, I regret and apologize to anybody who I've hurt physically and emotionally. Second, I thank my parents (Clariza and Danilo Samaniego) for not giving up on me after all the things I've put them through. I can't count how many times my mom had to leave work because of me. I want them to know that they didn't fail as parents."

QUICK HITS
The Figo Islanders 40s women's softball team took gold in the Senior Softball World Championship in Las Vegas. Figo came out of the loser's bracket and beat the Arizona Belles 17-3 in the AA division championship game Sunday afternoon.
Other Guam teams that played in the 40s tournament were: Team SOTTA (women's) and Bud Light Guam, Friars 671 and Sindalun Guahan (men's).
Sindalu finished a respectable 4th out of 24 AAA division teams.