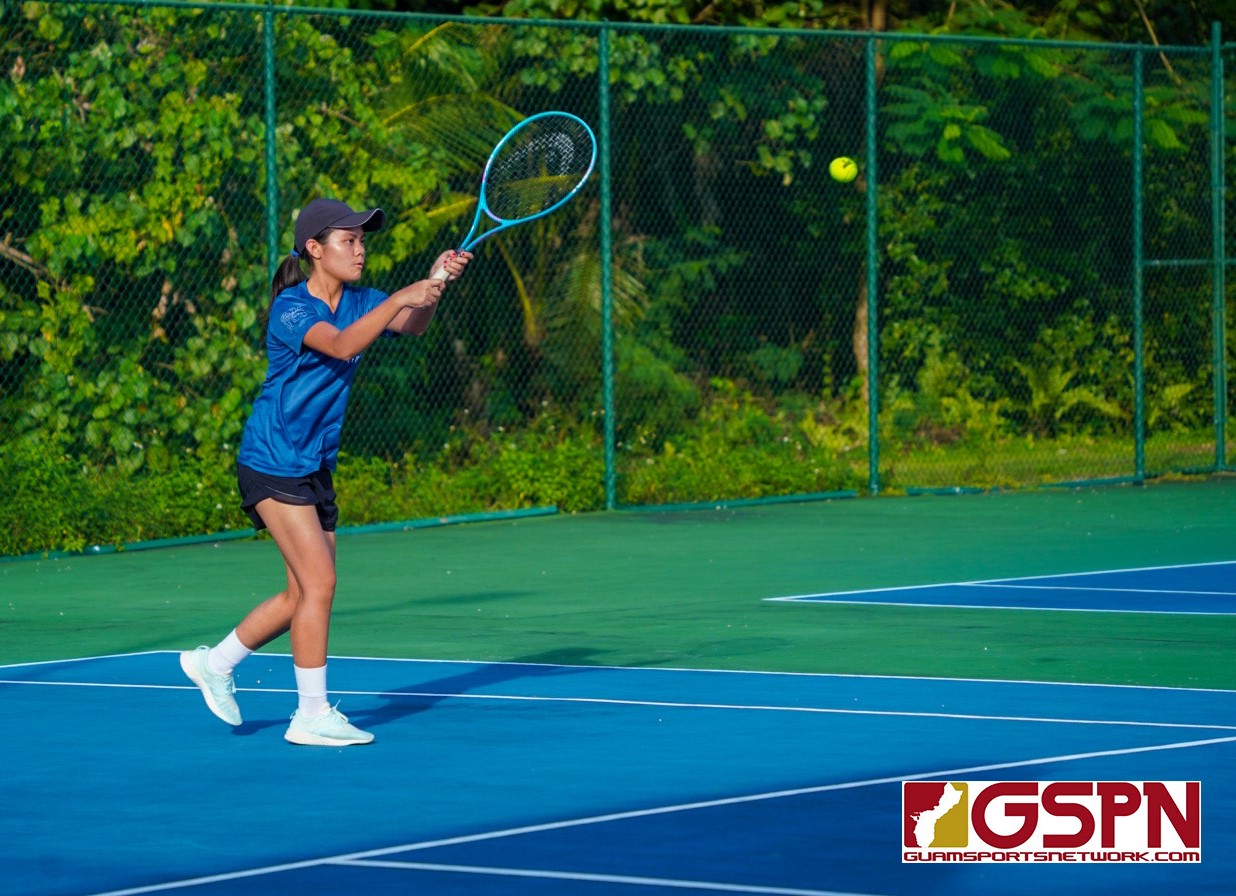 By Eriele Salas
The IIAAG Tennis season kicked off Tuesday afternoon as the Harvest Eagles defeated the AOLG Cougars in their Singles and Doubles matches 32-2. Harvest junior Kaylie Cho made her debut as Singles 2 after previously playing Doubles her sophomore and freshman seasons. 
Cho secured her win over Academy's Angelina Blaz standing at 8-1.
"In the beginning, I was very nervous for my match personally, but I knew that me and all my teammates would win," said Cho. She revealed that playing Singles for the first time was definitely nerve-wracking for her, especially since she had played with a partner in her previous years. 
Academy's Blaz would secure the second game to extend the match, but Cho ended it leaving the score at 8-1. 
The Eagles Randi Ann Atento & Sam Quirante (Doubles 1) managed to score straight sets wins against Academy's Theresa Balo & Amara David. The pair put on a strong game and did not disappoint the audience. 
Harvest gave up only two games the entire afternoon, making a statement for the rest of the tennis season.
Singles & Doubles matches
Singles 1
HCA: Leila Mercado – 8
AOLG: Lolita Blaz – 1
Singles 2
HCA: Kaylie Cho – 8
AOLG: Angelina Blaz – 1
Doubles 1
HCA: Randi Ann Atento / Sam Quirante – 8
AOLG: Theresa Balo / Amara David – 0
Doubles 2
HCA: Yuji Kim / Mei Balagtas – 8
AOLG: Aniyah Benavente / Camillah Mariano – 0
PHOTO GALLERY BROUGHT TO YOU BY: