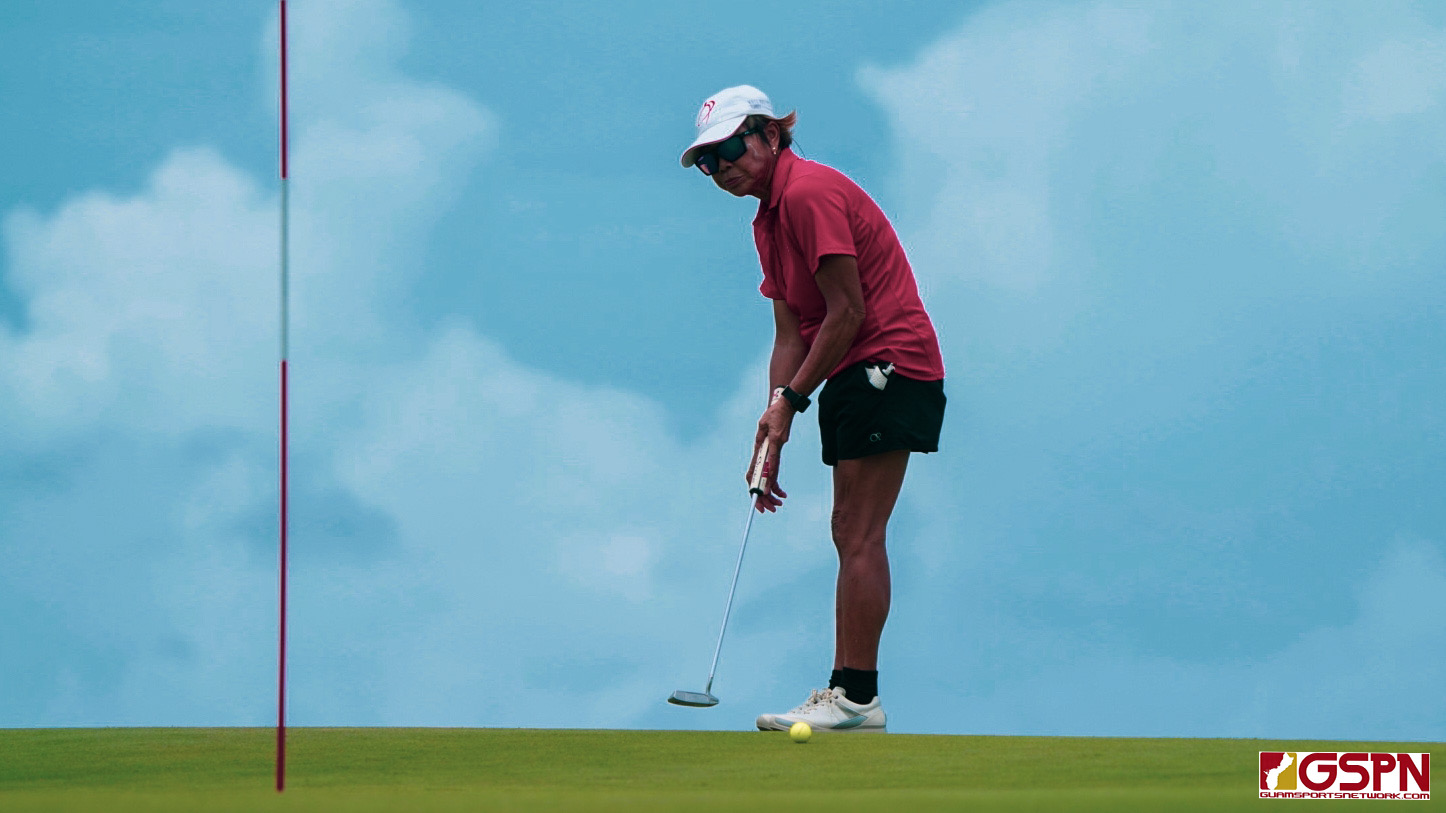 By Patrick Lujan
For the past four decades, every golf tournament on Guam has had a familiar name near or on top of the ladies leaderboard.
It was no different this past weekend at the 2023 Guam Amateur Golf Championship where Tessie Blair finished in a tie for second place on the women's side.
The amazing part is she's 68 years old and still in the thick of competition against players that could be her grand children. (See TYANNA JACOT)
"Can you imagine competing with a kid that's 14 years old? Every time I see her swing, I say 'ouch!'," Blair said (laughing) after her final round at CCP. "It's just so wonderful to watch the young ones."
Paired with Blair for the final round was former 8-time junior golf champion Nalathai Vongjalorn, who has nothing but praise for her senior partner.
"Tessie Blair is amazing," Vongjalorn said. "She's been consistent throughout all these years. She holds her own, she plays smart and always stays consistent, no matter what age she is. She's been the same since I've known her. I still enjoy playing with her, up to now."
Playing against young, uber-talented competition leaves Blair to use her experience, strengths and mental game to keep pace.
"I can not compete with their distance. At my age, it's the approach, short game and putts."

– Tessie Blair on competing with much younger golfers
Her short game was on display during the recent amateur tournament. Despite being outdriven on just about every tee box, that short game is what kept her right under Jacot on the board.
"The short game, that's where the score counts," Blair said. "I encourage everybody to practice your short game and the putts."
"Since Day 1, her chipping and her approach," Vongjalorn added about Blair's strong points. "If she's 30 or 40 yards in, she's always within 10-15 feet and tracking the pin. That would be one thing I would love to take away (from her game)."
Playing on Guam since 1982, Blair said the development of the Guam junior golf scene in the last decade or so has really brought up the skill level for female golf on island. Vongjalorn got things going on the junior circuit in recent years with players like Jacot, Mina Manibusan and Ava Limtiaco coming along nicely.
Blair has been there as a coach for most of them and beams with pride on their improvements and accomplishments.
So what's the secret after all these years?
It's pretty simple for the 1999 South Pacific Games gold medalist.
"At this kind of age, it's just 'do what you love'. And of course, friends. Those are the two secrets of my life."

QUICK HITS
The Figo Islanders 40s women's softball team took gold in the Senior Softball World Championship in Las Vegas. Figo came out of the loser's bracket and beat the Arizona Belles 17-3 in the AA division championship game Sunday afternoon.
Other Guam teams that played in the 40s tournament were: Team SOTTA (women's) and Bud Light Guam, Friars 671 and Sindalun Guahan (men's).
Sindalu finished a respectable 4th out of 24 AAA division teams.