[sixcol_five_last]
By Robert Balajadia
The 2012 window of summer has officially closed for high school students but the door to the 2012-2013 seasons of high school sports has just opened.
First quarter sports are always a good way to honor the "back to school" motto and as usual, two of the most anticipated sports will kick off for the boys and girls in football and girls volleyball. A new look Geckos football squad will take the field during a year their coach considers a "rebuilding year" while the Sanchez Sharks girls volleyball team will be looking to recapture the title.
The Father Duneas Friars boy's golf team will be looking to make it seven straight championships under coach Bill Reyes while the Academy girls will aim to repeat golf champs as well. The Geckos girls and JFK Islander boys will be looking to run all-over the competition in this year's cross country season.
Football Defeding Champions – George Washington Geckos
Football season is vastly approaching and whether you are a fan of high school, the professionals in the NFL or both, you cannot hide the smile on your face knowing football is back!
Winning championships is nothing new for George Washington Geckos coach Ryan Rios, and neither is rebuilding. With a whole cast of seniors gone through graduation, the Geckos will be leaning on the leadership of five returnees, four of which are seniors. Defensive MVP Michael Boise Hucog will be back to lead the Gecko defense along with all-island defensive first team line backer Frank Troy. Soccer standout Dillan Naputi will be looking to move the chains for the Geckos at the wide receiver position.
"I don't mind taking a year off to rebuild. It's okay if we win a championship one year and then take another year to rebuild," stated Rios with a hint of laughter.
The Geckos are never usually on the bottom ranks of football and will be looking to use youth and inexperience to prove they are still one of the best in the league despite having a team full of sophomores. "I don't know what happened here but it seems like there is a boom in sophomores," Rios joked.
Defending the title will not be easy but Rios aim is to get hot when it matters, the last three games of the season.
"Every team makes the playoffs so we shoot for the last three games to get going because if we win three games then at the end of the season then we win the championship," Rios further stated.
Practices have been going constant every weekday since July 16 at 3:30. "We'll have at least 25 players come on a good day," Rios stated. Though women's tackle football has blown up this past year, Rios has informed GSPN that there are a few females interested but none have come to the team yet.
Boys Golf Defending Champions – Father Duenas Friars
The biggest question for any defending champion the following year is what are they planning to do to win it again? Bill Reyes and his Father Duenas Friars Boys golf team have successfully answered that question with action having won the golf championship for the past six years.
Reyes can easily be recognized as Guam's winningest golfer holding a course record of 13 under par but he considers himself lucky to have inherited a dynasty of this magnitude.
"Of course I would not like to lose any of the matches but my overall goal is to win another championship," which would be Reye's seventh with the team.
It also helps team moral knowing they have one of the, if not the number one junior contender in senior Redge Camacho leading the boys. Ricardo Terlaje will also be one of the top Friars to return to the sport to help bring back another title. Reyes was unsure of how many will golfers the Friars will have as practice will commence this Friday at Admiral Nimtiz golf course, home of the Friars. According to IIAAG rules, golfers will have to complete a total of 10 practice rounds before actual competition.
Chasing the Friars in their pursuit of another perfect season will once again be the St. John Knights who have been right behind the Friars since Reyes began coaching.
"St. John's have always been our rivals and it hurts to have to compete against them because some of the boys on the team I coach in Junior Golf but you have to go with the team you coach," stated Reyes.
Practices began Friday August 3rd from 4 p.m. – 6 p.m.
Girls Volleyball Defending Champions – Sanchez Sharks
Three time coach Art Stanley has turned the Simon Sanchez Sharks into a legitimate contender every year. This year, however, Art faces the difficulty most coaches face in having lost an entire starting line-up to graduation leaving him with a few returnees to try and bring the volleyball championship back to the Sharks.
Art admitted that losing last years MVP setter Analisa Galendez was a big blow to the team but he will be looking for junior setter Chanel Catunao to assume the position.
"I'll admit that this year we've lost some talent but these girls are really mature. They follow a system and are focused because they know their roles and they fit in really well with each other," stated Stanley.
The new look Sanchez Sharks have not caught much public eye since most of the team has come from last years junior varsity squad but Stanley is confident in their ability to perform having coached both squads last year.  Stanley would often have the JV team scrimmage against the varsity team while expecting them to give it their all. Stanley said, "Last year these girls practiced with the best team in the league and I'm hoping that the parting seniors were able to rub off some how, some way through dedication and commitment."
The Sharks have been practicing hard since July 25th and have continued to practice strong daily from 4:30-7:30 p.m.  Even though Art is dealing with a new team, his expectations do not change.
"All I look for is ball control and efficiency with their serving while being able to pass within the boundaries.  The recipe is simple, we just have to communicate well."
Girls Golf Defending Champions – Academy Cougars
Girls Cross Country Defending Champions – George Washington Geckos
Boys Cross Country Defending Champions – John F. Kennedy Islanders
[/sixcol_five_last][ubm_premium_banner_rotation banners=38, 39, 44 interval=9 width=120 height=600 orderby=rand]
[fbshare url="http://www.gspnlive.com/?p=14228″ type="button"][fblike url="http://www.gspnlive.com/?p=14228″ style="standard" showfaces="false" width="450″ verb="like" font="arial"]

QUICK HITS
Guam MTB National Championship: Edward Oingerang and Jennifer Camacho are your 2023 MTB national champions. Oingerang finished the course in 1:13:24 while Camacho won her second straight title in 54:08.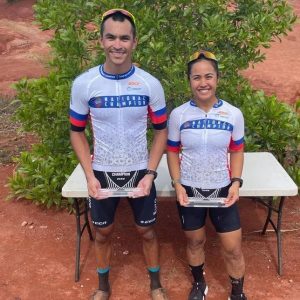 ——————————————
Kobe Miyashita, with St. John's coach Arvin Flores, was named the 2023 IIAAG Middle School Boys Volleyball MVP!