| | | | |
| --- | --- | --- | --- |
| PL | NAME | DIV | TIME |
| 1 | Mandell Derek | MO | 39.09 |
| 2 | Matienzo Ryan | MO | 41.33 |
| 3 | Young Jason | MSM | 46.53 |
| 4 | Dela Cruz Joseph | MSM | 47.18 |
| 5 | Paet Sherwin | MSM | 48.59 |
| 6 | Blas Peter | MSR | 51.09 |
| 7 | Camacho Steve | MSM | 51.38 |
| 8 | Wigsten John | MSR | 52.34 |
| 9 | Andrade Alejandro | MSM | 52.42 |
| 10 | Suriano Dean | MM | 52.48 |
| 11 | Corcoran Daniel | MO | 52.53 |
| 12 | Leonen Cecilia | FO | 53.18 |
| 13 | Beem Stacey | FO | 53.48 |
| 14 | Garcia Dario | MSM | 53.53 |
| 15 | Kawasaki Namiko | FM | 54.44 |
| 16 | Leonen Chavez | MO | 55.17 |
| 17 | Elizaga Romeo | MSR | 55.22 |
| 18 | Ingvarsson Kristina | FM | 55.31 |
| 19 | Bartonico Robert | MSR | 55.45 |
| 20 | Tkel Leo | MM | 56.03 |
| 21 | Aydlett Brandon | MSM | 56.15 |
| 22 | Mariano Anthoney | MM | 57.36 |
| 23 | Cortez Erick | MO | 58.58 |
| 24 | Iijima Nobuko | FM | 59.04 |
| 25 | So Erik | MSM | 59.35 |
| 26 | Bordallo Rodney | MSR | 59.48 |
| 27 | Gimo Arnold | MM | 59.59 |
| 28 | Horner Thomas | MSM | 60.00 |
| 29 | Mia Sherwin | MM | 60.20 |
| 30 | Wolborsky Steve | MSR | 60.33 |
| 31 | Dayrit Jessika | FO | 60.37 |
| 32 | Hewitt Garcia | MSR | 60.39 |
| 33 | Koshiba Lei | FSR | 60.51 |
| 34 | Ferdnadez Miguel | MSR | 61.22 |
| 35 | Yu Gigi | FSR | 61.59 |
| 36 | Harvey Richard | MMAN | 62.35 |
| 37 | Wolborsky MJ | FSR | 62.58 |
| 38 | Franquez Chelle | FO | 63.07 |
| 39 | Sgquena Gen | MSR | 63.39 |
| 40 | Edgar Calumaya | MM | 65.03 |
| 41 | Waldron Imulda | FM | 65.58 |
| 42 | Cubacub Arvin | MSR | 66.23 |
| 43 | Gibson Ray | MSR | 66.28 |
| 44 | Crisostomo Elias | MSR | 66.44 |
| 45 | Hechanova Yuka | FM | 66.50 |
| 46 | Arriola Dave | MM | 66.53 |
| 47 | G Frank | MSM | 67.04 |
| 48 | Pedernal Rene | MM | 67.21 |
| 49 | Yamanoi Tamiko | FM | 67.33 |
| 50 | Deblieck Jessica | FM | 68.08 |
| 51 | Grotegut Kaithyn | FO | 68.23 |
| 52 | Hall Jayelyn | FSM | 68.31 |
| 53 | Johnny Yu | MGM | 70.50 |
| 54 | Celorio Gerry | MM | 71.22 |
| 55 | Halloran John | MGM | 71.24 |
| 56 | Viejo Chris | MGM | 71.29 |
| 57 | Hameister Art | MSR | 71.45 |
| 58 | Moots Kate | FSR | 71.58 |
| 59 | Hamamuto Hisamitsu | MGM | 73.04 |
| 60 | Teodoro Linda | FSR | 73.26 |
| 61 | Pangiliana Neil | MM | 73.32 |
| 62 | Brown Rachel | FSM | 73.36 |
| 63 | Carpenter Catherine | FSM | 76.38 |
| 64 | Tabiloas Coleen | FSM | 77.41 |
| 65 | Pangelinana Anna | FGM | 79.28 |
| 66 | Hollyer Jim | MSR | 80.37 |
| 67 | Bartonico Connie | FM | 81.12 |
| 68 | Salazar Ana | FSM | 81.41 |
| 69 | Rengulbai Lynn | FM | 82.27 |
| 70 | Dougals Rachel | FSM | 86.04 |
| 71 | Picones Juancho | MSR | 86.55 |
| 72 | Mr. Marsh | MMAN | 104.28 |

2022 GSPN I MÅS METGOT COMPETITION
2022 GSPN I MÅS METGOT COMPETITION
2022 GSPN I MÅS METGOT COMPETITION
2022 GSPN I MÅS METGOT COMPETITION
2022 GSPN I MÅS METGOT COMPETITION
2022 GSPN I MÅS METGOT COMPETITION
QUICK HITS
Team Onslaught represented Guam at the National X-Ball League paintball tournament in Sacramento, CA. The squad finished in 3rd place out of 12 teams in the Division 5 category.
Front L-R: Frankie Borja, Robert Delos Reyes
Back L-R: Marvin Reyes, Ericka Camacho, Gavin Santos, Nick Rivera, Nikki Tan, Adrian Mora, Ralph Sgambelluri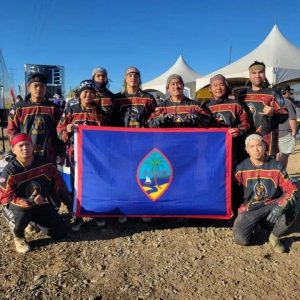 ———————————————–
Purebred Jiu-Jitsu Guam adds three more to their black belt stable. Daniel Cayanan, Cameron Mantanona and Peter Ungacta received their black belts on Saturday from Professor Stephen Roberto.