By Derek Mandell
Editor's Note: This is the first in a two-part preview of the All Island track and field championships.
The 2014 All Island track and field championships will take place this Friday at Leo Palace. Defending champions Guam High Panthers (boys) and JFK Islanders (girls) will look to defend their titles, but will face stiff competition. The JFK boys are hungry to return the championship trophy to Tumon and the Guam High girls are also seeking to take their title back.
The following preview will break down the individual events, beginning with the sprints and middle distance runs.
Sprints
100m
Alex Dunn of GW and Ryan Teologo of Southern are the top seeded sprinters, followed closely by FD's Stefan Taitano-Dalrym. However, Guam High has had a strong showing in the 100m for the past few years at All Island and Austin Cantrell (12.02) and Keith Charuet (12.06) will look to carry the tradition.
It will be the first race of the evening between JFK's Regine Tugade and GW's Raquel Walker. Tugade won the first head-to-head race this year, but Walker came back for revenge in their next matchup. Look for an exciting race all the way to the finish line with a Guam national record in danger of falling on Friday.
200m
Guam High's Chauret (23.79) took the top seed during last week's meet. Dunn of GW (23.81), Cantrell of Guam High (23.98) and Bleu Perez of FD (23.98) are the only other runners in the field to have broken 24 seconds.
Tugade of JFK is the clear favorite (26.25) in the 200m and will be running against the clock. She will need to run faster than 26.19 to break Guam High's Stephanie Loisel's record from 2012.
400m
Southern's Christian Gico has the fastest time of the season in 54.22 while Richard Hale III of Okkodo (54.58) and Perez of FD (54.69) are not far behind. Zhivoco Smith of Guam High ran 54.36 last week to sneak into contention.
GW's Walker ran 1:02.70 to establish herself as the favorite, but will have to hold off Okkodo's Celine Amparo (1:03.07) and the JFK freshman duo of Kaitlyn Calma (1:04.03) and Maria Ollet (1:04.59).
110m/100m hurdles
It will be a battle between Guam High's Smith (16.75 qualifier) and JFK's Johnny Quitugua (16.80 qualifier). Smith edged Quitugua head-to-head, but anything can happen on All Island. Zachary Quejoco of Okkodo has the third best qualifier of 18.13.
Christina Francisco of Guam High is well ahead of the pack this year (17.11). The next two best qualifiers are JFK's Jadine Mika Rosario  (19.11) and Anne Kaye Alba (19.36).
300m hurdles
Southern's Teologo excels in all his events and is the top seed in the 300m hurdles (42.49). Quitugua of JFK (43.33) and Smith of Guam High (43.67) are still threats for the individual title.
Francisco of Guam High leads the field in the 300m hurdles as well (49.23). Rosario (52.23) and Estalita Estay (52.82) of JFK are the next two seeds.
Middle Distance
3000m
JFK's John Aquino IV lowered his 3000m IIAAG high school record by an amazing nine seconds (9:11.59) this year and is the heavy favorite. Aquino has won the 3000m individual title since his sophomore year. Guam High's Austy Hines and Southern's Rainier Porras have the next fastest qualifying times, but do not count out JFK's Michael Murphy and Karl Almoite to battle for second and third.
Genina Criss of JFK has been a class above the field in this year in the girls division and has the fastest qualifying time by over 20 seconds (12:06.34). Lorraine Milan of JFK, Taloani Atoigue and Emma Martin of Guam High are also names that should be in contention.
1500m
Aquino of JFK is the only runner to break 4 minutes and 20 seconds this season (4:14.09). Mark Yoshida of Okkodo was last year's runner up and has continued to improve this season, but expect the fast-finishing Hines of Guam High to also be in the picture.
Alison Bowman (5:17.58) from JFK is the strong favorite to win it all for the girls. JFK's Criss and Ollet will have to hold off Guam High's Martin and Atoigue for crucial points. Bowman and Ollet are the only two girls in the top five that will not run the 3000m and should be fresh.
800m
Aquino will attempt the middle distance triple with the goal of winning the 800m, 1500m and 3000m runs. Last year Aquino was denied the sweep by Guam High's Aaron Whitaker in the 800m. Aquino has the top entry time of 2:03.43, but Hines of Guam High recently ran a 2:03.61 at the Far East Championships last week in Japan. Look forward to an exciting race to the finish line on Friday.
The girls division appears to be in the golden age of 800m running. During the Far East Championships in Japan last week, Atoigue of Guam High ran a high school best of 2:28.97, which would've counted as a IIAAG record on Guam, but days later Bowman of JFK ran 2:28.59 for the official IIAAG record. With those two at their best, don't be surprised to see the record fall again this week.

Foody's Fun Facts
Foody's Fun Facts with Arren Yatar
UOG Tritons Pitcher Arren Yatar shares some of his fun facts and tells us about his favorite YouTube channel!
Foody's Fun Facts
Foody's Fun Facts with Arren Yatar
UOG Tritons Pitcher Arren Yatar shares some of his fun facts and tells us about his favorite YouTube channel!
Foody's Fun Facts
Foody's Fun Facts with Arren Yatar
UOG Tritons Pitcher Arren Yatar shares some of his fun facts and tells us about his favorite YouTube channel!
COMING SOON …
Asia Pacific Little League
National Triathlon Championships
GML Makeup Games
FD Alumni Basketball Tournament (ongoing)
QUICK HITS
UOG hired Tatiana Sablan as the new volleyball coach. Sablan served as the original volleyball coach for UOG back in 2016 and she has been rehired to lead the more "beach" oriented program in 2022-23.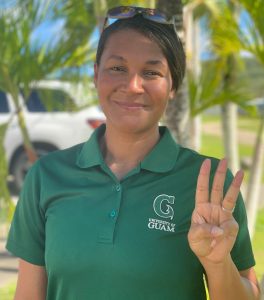 ———————————————–
Palau history: Outfielder Bligh Madris was called up by the Pittsburgh Pirates today to become the first Palauan to make it to the major leagues. The lefty Madris was batting .304 with five home runs and 20 RBI at Triple A before getting the Call Up!