By Robert Balajadia
Pangelinan Leads All Reds to Men's Cup
The reigning GSPN Athlete of the Year and member of the USA Rugby Team gave his home island fans a big taste of how special of an athlete he really is.
Zach Pangelinan had proved to be the best player in both Friday and Saturday of the Heineken Rugby 7's Tournament at the Leo Palace Resort and he was no short of spectacular leading his team All Reds to a cup victory over the tough La Familia squad 38-14.
"There's nothing better than this," said Pangelinan about playing on his home soil. "I miss playing with the boys and against the boys. I just had to take what I learned from out (in the states) and share it with the boys because there is nothing better than enjoying this game here on island."
Pangelinan was also awarded the MVP of the tournament.
Pangelinan's stay on Guam was no vacation as the family is still grieving over the loss of Tina Pangelinan, Zach's mother, just a month ago. All of Pangelinan's family members were there in support of Zach during the tournament and his father Jimmy knew the win was for a very special someone.
"This one was for my wife, we have dedicated this game to her," said Jimmy with a heavy heart. "I'm proud of [Zach] and he's an every-day athlete. We as a family support one another and once the relatives know that Zach is going to play, they all say they're going to be here and that's a great feeling."
Wasting no time from the official start of the game, Pangelinan took a pass and made nifty movies through La Familia's defense, sprinting up the left side of the field for the games first try to go up 7-0 after his conversion.
La Familia responded as Paul Claros finished off a hard run by teammates Sean Leon Guerrero and Matt Sgro to tie the game at seven.
As clean as the Claros brothers are in the sport of rugby, for a brief moment still in the first half it was the Manglona brothers of Randy and Jesse who took the spotlight as the pair went back and fourth three times on a break away before finally punching in the try to go up 12-7 right before the halftime whistle.
The All Reds took advantage of a tough penalty in the second half as James Guerrero lowered his shoulders to bulldoze through the La Familia last line of defense to go up 19-7.
Pangelinan then put the game away with a nimble moves through three defenders to go up 26-7 with less than five minutes in the game.
Ryan Claros scored the final try for La Familia but the game was out of reach thanks to scores from Jesse Manglona.
Men's Finals
1) All Reds
2) La Familia
3) Da Dokes
4) Southside
Tagaucta Sisters & Lady Lions Dominate Cup
The road to the women's cup finals seemed all too easy for Guam's best female rugby players and the Taguacta sisters all got into the act during their big 38-0 win over the Blue Conrads.
Kim Taguacta took home MVP honors as her and the Lady Lions went undefeated on both days of the tournament.
Taguacta also struck first blood scoring the games first try in a matter of minutes and her second try right after halftime. She would also draw blood, literally, towards the games end taking a hard shot to the eye which opened up a cut forcing her to miss the rest of the game.
Older sister Cera Taguacta scored two tries in the game as well and didn't let Kim's injury distract her team admitting that her sibling has a pain threshold that Cera can't even compare to.
"[Kim] is a pretty tough chick, she is tougher than me. I had to let the ladies know that [Kim] was fine and I needed to make sure the girls are focused on what they needed to do," said Cera.
Kayle Taguacta added the final points of the game to go up 38-0 with the girls cleaning out the entire women's division.
Women's Final
1) Lady Lions
2) Blue Conrades
3) Ziggies

Athletes Birthdays by W5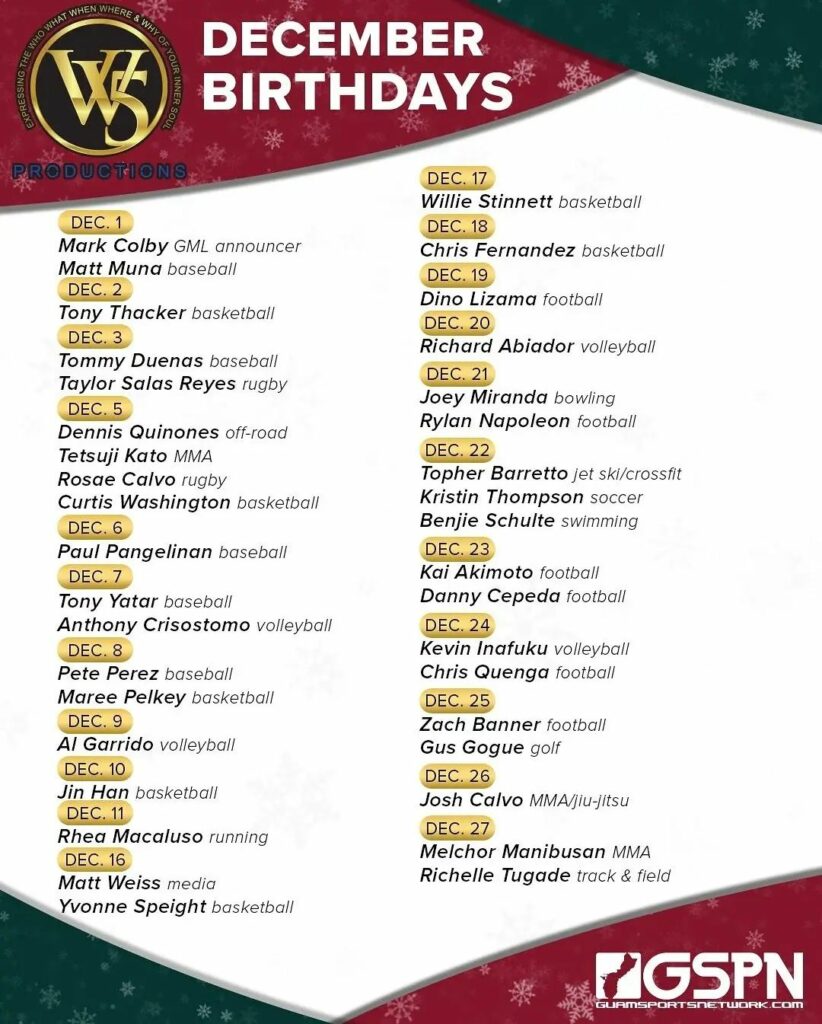 GPS Sports Calendar
SU

MO

TU

WE

TH

FR

SA
Events for December
5th
No Events
Events for December
6th
Events for December
7th
Events for December
8th
No Events
Events for December
9th
Events for December
10th
Events for December
11th
06:00 AM - 08:00 AM
Umatac
Events for December
12th
No Events
Events for December
13th
No Events
Events for December
14th
No Events
Events for December
15th
No Events
Events for December
16th
Events for December
17th
Events for December
18th
19

20

21

22

23

24

25
Events for December
19th
No Events
Events for December
20th
No Events
Events for December
21st
No Events
Events for December
22nd
No Events
Events for December
23rd
No Events
Events for December
24th
No Events
Events for December
25th
No Events
26

27

28

29

30

31

1
Events for December
26th
No Events
Events for December
27th
No Events
Events for December
28th
No Events
Events for December
29th
No Events
Events for December
30th
No Events
Events for December
31st
No Events
National Guard Athletes
Scott Eclavea
Scott Eclavea is a jiu-jitsu black belt and an accomplished MMA fighter. The Guard has given him an outlet in combatives to display his martial art skills, where he's become a head instructor for that program. Eclavea has served since coming out of high school and the Guard has only changed his life for the better.
COMING SOON …
LIVE FOOTBALL ON GSPN
Semifinals: #1 FD vs. #4 Southern (Friday 7 pm)
GSPN Preseason Basketball Tournament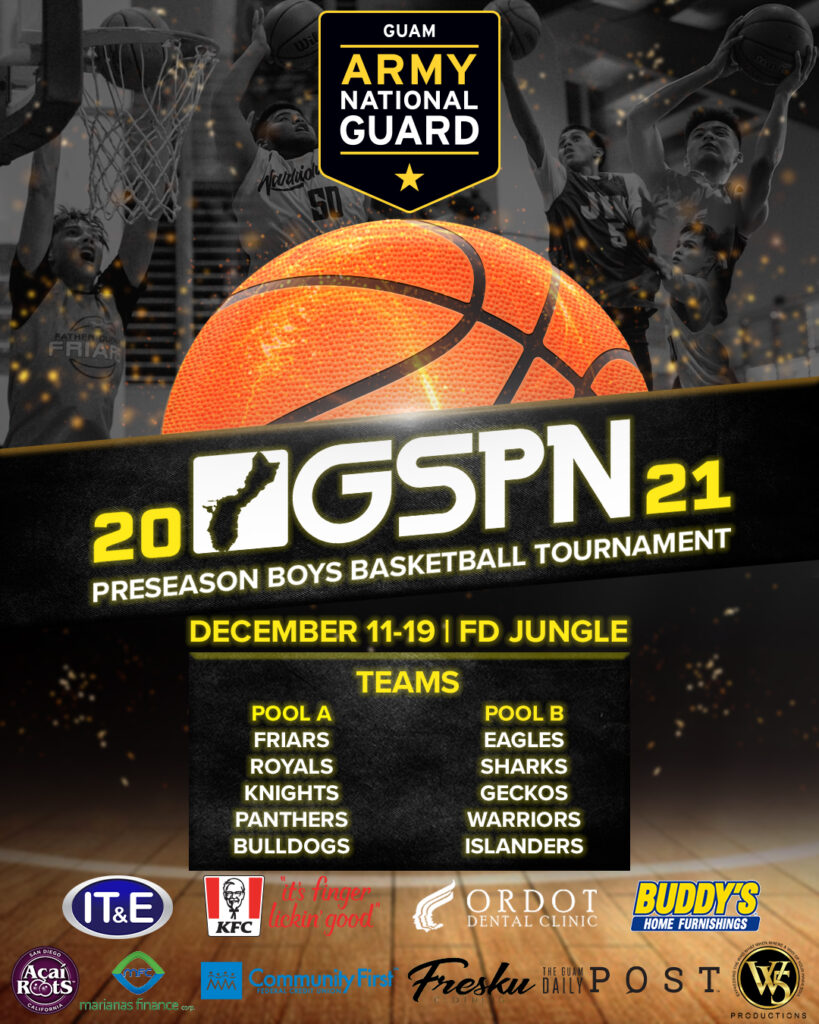 QUICK HITS
Robert Artero Maley recently captured the 182-lb. division of the Costa Mesa Classic, winning via pin in 4 out of 5 matches. Robert is a 4-year varsity wrestler at San Clemente HS (Tritons) and is currently ranked 15th in California's high school scene. He is the son of Jacque Artero Maley (AOLG 1991).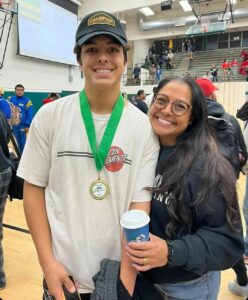 ——————————————–
Pat Taitano and Rich Abiador, teammates on the 1995 SPG volleyball team, have led their high school girls volleyball teams to the Washington State Championships in Yakima, Wa.
Taitano coaches Mt. Rainier High while Abiador leads North Creek High.
There for support is Dr. Mark Perez, a health professor at Central Washington University and a former UOG volleyball player.