By Robert Balajadia
The fishing duo of Mike Cassidy and Ray Flores took home top honors in the 2014 Spearfishing Derby with the top catch coming in at 33.49 lbs!
Chris Debeer and Peter Green had the lead until Cassidy and Flores brought in their catch. Debeer and Green weighed in at 25.35 lbs. with their Mamulan.
Here are some of the other highlights of Saturday's underwater fishing action.
• Erik Flores and Chase Weir had the top lagua, or parrot fish, at 4.8 pounds;
• Monique Genereux and Pat Atherton had the top tataga, or blue spine unicorn, at 1.48 pounds;
• Christian Blas and Vince Pangelinan had the top guili, or rudderfish, at 3.52 pounds;
• Brandon Murakami and Keith Perez had the top hangon, or orange spine unicorn, at 0.85 pounds.
Complete Results
1) Mike Cassidy/Ray Flores – 33.49 (tang/longnose emperor)
2) Chris Debeer/Peter Green – 25.35 (mamulan/uku)
3) Howard Gutierrez/David Leon Guerrero – 17.78 lbs. (mamulan/gibbus parrot)
4) JD Iriarted/ Yohei Harada – 17.46 lbs. (wahoo/guili)
5) Todd Genereux – 15.79 (bluefin jack)
6) Patrick Castro/Shaun Perez – 12.51 (tang/whiptail parrot female)
7) Herb Lagutang/Corey Lorenzo – 10.89 (pampano/ brassy jack)
8) Carl Dela Cruz/ Stephen Meno – 8.38 (hamala/bicolor parrot)
9) Erik Flores/Chase Weir – 7.41 (gibbus parrot)
10) Monique Genereux/Pat Atherton – 6.50 (brassy jack/guili)
11) Christian Blas/Vince Pangeliana – 5.84 (guili/whiptail parrot female)
12) Rueben Cruz/John Samiliano – 5.50 (bluefin jack/guili)
13) Brandon Murakami/Keith Perez – 5.50 (guili/tanface lagua)
14) Kelly Lizama/Roman Quinata – 4.29 (oriental sweetlips/gibbus parrot)
15) Ryan DiGiacomo – 3.78 (gibbus parrot/ rainbow parrot)
16) Darrell Quinata/Jason Paulino – 3.71 (guili/barred jack)
17) Ryan Reed 2.73 (gibbus parrot)
18) Mathew Siaz/ Jese Techira – 2.68 (bluefin jack/hugupao)
19) Bailey Ipock/Kyle Flowers – 1.05 (hangon/bullethead parrot)
20) Christian Quichocho/Mike Topasna – 0.97 (bullethead parrot/bullethead parrot)
21) Kevin Rodgers/Chaz Muna

Foody's Fun Facts
Favorites From Year 2
COMING SOON …
SATURDAY
Boys Volleyball: Champion vs. Champion
Saturday 6 pm: FD vs. Tiyan
UFC Fight
July 25: Trevin Jones vs. Tony Kelley
QUICK HITS
Nadine Del Carmen graduated from Santa Clara University on June 11. She was named captain of the Santa Clara women's tennis team in her senior year and she will be attending Georgetown University in the fall to pursue her masters and will be playing for the Hoyas women's tennis team.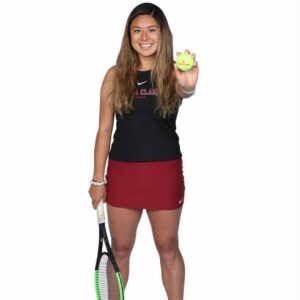 ——————————————————–
After a star-studded collegiate career at UCLA, Bubba Nickles turns her focus on the Tokyo Olympics with Team USA after the Bruins were eliminated in the College World Series. Nickles endured a broken arm on April 7 and worked her way back into the Bruins lineup for the WCWS. She will go down as one of UCLA's best softball players in its storied history.