By Asha Marie Robles
It was a battle between the Academy Cougars and GW Geckos as both teams went head to head at the Cougars gymnasium in Hagatna Tuesday night. The Cougars came out victorious as they overpowered the previous undefeated Geckos in a two set game 25-23, 29-27.
After coming off of a hard loss to Notre Dame last week, the Cougars came into the night resilient according to middle Cydni Scott , "It felt great to win, after our game against ND we all came together as a team and decided that we didn't want to feel that way after the loss, so tonight we started strong and finished strong."
With the win, the Cougars now have a record of 3-1, the same standing as the Geckos.
The Cougars kept their game strong in the first set with good passing by Jasie Villanueva, Juliana Nelson, and Meagan Maratita as well as fast kills by Cydni Scott as they led the game from start to finish. The closest the Geckos would get was when the score was at 24-20, as Sia Duenas put in three serves to get within one, 24-23 but with a Gecko error, the Cougars would take the first set at 25-23.
Cougar head coach Manny Guarin praises his team for the efforts they made and stresses that ball control was key in why they came out with the win., "We were able to pull through because of our ball control, which is something we focus on throughout the season."
During the beginning of the second set, both teams played to the best of their abilities. With the score tightly close together, the Geckos found the lead behind Colleen Quinata's fast serves and had the score at 7-5. The Geckos would lead for a short time until Cougars' Ha'ani San Nicolas got her team out of the rut from 13-13 to 18-13 with her well placed serves as well as a few kills from Villanueva and Scott. San Nicolas says, "Serving is something we practice everyday and I feel like even though it was me serving, it was really more of a team effort that got us out of a rut."
The Cougars didn't stop there as Scott then served eight consecutive serves with the help of more kills by Villanueva and had the score at 24-15.
Geckos Samantha Quinata came out on top with her serves to spark a comeback. Down 24-16, Quinata made several aces to give her team the motivation to get back into the game as she caught back up to the Cougars at 24-24.
The next few points would go back and forth between both teams until Cougars' Scott got in a big block giving her team the lead at 28-27, "That last block really gave me the confidence in order to win tonight's game in two sets." With a Gecko mistake after that, the Cougars would lock in the win at 29-27.
"It was a matter of trusting ourselves and we had to use every player on the team to figure it out and it was just a matter of that team chemistry in the end", says Cougars' Coach Manny Guarin.
Other Game
Southern def. GAA 23-25, 25-23, 25-15
PHOTO GALLERY:

Foody's 5 Fun Facts
Sanchez QB Jayton Penaflor
DID U KNOW?
Kein Artero has a list of who's who of Artero uncles who've starred in Guam's gridiron: Andre Artero UOG Tritons & Hals Angels OL, Bubba Artero UOG Tritons & Hals Angels OL, Kenny Artero SSHS DB/Baseball Pitcher, Jesse Sablan FD & Hals Angels FB, Roland San Nicolas FD & Hals Angels OL, Chuck Ada SSHS & Hals Angels DB,  Ed "Rock" Artero SSHS & Hals Angels MLB, "Wild" Bill Ada FD & Hals Angels ML, Jared Ada FD & Hals Angels WR/Utility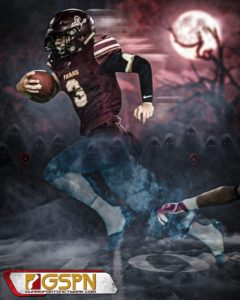 COMING SOON …
– 24th Marianas Fishing Derby
– NFL Week 3: Steelers at 49ers
– Jon Tuck's Bellator debut
QUICK HITS
UOG Athletics announced that head men's basketball coach Brent Tipton has stepped down due to personal reasons. UOG is now seeking for a replacement after Tipton's three years at the helm.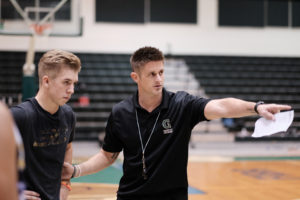 —————————————————-
Kyle Reyes brought the Boom to Russia and delivered a huge 1st round knockout in ACA 98.