[useful_banner_manager_banner_rotation banners=9,17 interval=8 width=120 height=600 orderby=rand]
By Michael J.A. Nauta Jr.
Regardless of the sport, the rival competition between the ND Royals and Academy Cougars never gets old.  As a matter of fact, to many it may seem that it just gets better each time.  Yesterday morning was another one of those exciting matchups as both teams took on one another in IIAAG/GRFU High School Rugby action at the JFK field.  After losing an early lead, the Cougars fought back and squeaked past their archrivals to pick-up the 17-14 victory.
"After losing the lead in the game, we just couldn't allow ourselves to give up," said AOLG's Mia Santos.  "We had to continue fighting and keep telling ourselves this game is not over until the final whistle is blown, and that's what we did and we were able to pull out a win."
Heading into the second half, the Cougars trailed their opponents 7-5.  In the opening minutes, Notre Dame increased their lead after Muneka Taisipic was able to strip the ball from Academy and sprint three-quarters of the field for the try making it a 12-5 game.  On the ensuing play, the conversion was good to give the Royals a two-possession lead.
Despite trailing by nine with the clock continuing to wind-down, Academy remained calm and composed while sticking to their game plan.  With a display of great passing execution, the Cougars managed to find an open Santos who sped her way through the Notre Dame defense for the try.  Moments later a converted kick by Mya Sanchez pulled Academy within two making it a 14-12 game.
"We have a very good passing game with our team, we've come a long way learning to communicate and look out for everyone on the field," said Santos.  "The opportunity for me to score was thanks to the efforts of my teammates as well."
With less than three minutes left on the clock, Notre Dame looked poised to steal a victory as their defense denied the Cougars a chance at scoring on to two good opportunities.  However, late in the game, Isabel Flores gained possession of the ball out of a scrum and blazed downfield to the five-meter line before being tackled by an awaiting Brittney Blau and Paris "Mames" Blas.  Continuing to fight, Academy was able to get the ball out of the ruck and into the hands of Ladera Linn who pounded her way through the Notre Dame defense for the try.  Linn's score proved to be the game-clincher as the final whistle was blown seconds later to end the game.
"Hard work, hard work, and a bunch of great teammates is how we were able to win this game," said Linn.  "Notre Dame is always a tough rival of ours and they pushed us to the limit, but we hung in there and battled it out for the victory."
Lady Dolphins shutout Lady Islanders
The Southern High Lady Dolphins took the JFK Lady Islanders in another scheduled match on the day.  When all was said and done, the girls from down south spoiled the hosting Lady Islanders chances of picking-up a win after defeating shutting out their opponents 21-0.  Leading the way for the Lady Dolphins were Colleen "Ning" Naden and Erika Eber.  Both players scored two and one try respectively.  Teammate Tonya Ascura was a perfect 3-for-3 on conversions.
IIAAG/GRFU High School Rugby League action resumes this week with games on Wednesday and Saturday.  On Wednesday, the Boys JV and Varsity teams taking on one another at the Guam High field.  First game is scheduled at 4pm.  On Saturday teams will be down south at Southern High School for a full day of action starting at 8am.
OTHER GIRLS VARSITY RESULTS:
GW Lady Geckos defeated Guam High Lady Panthers 37-0 (Maricia Mariano – 2 trys, Dyonii Quitugua – 2 trys, Geana Leon Guerrero, Gabrielle Muna, and Zea Nauta with one try apiece)
Okkodo Lady Bulldogs shutout Simon Sanchez Lady Sharks 7-0 (Jaicia Vita – 1 try)
AOLG Cougars shutout JFK Lady Islanders 28-0 (Mia Santos, Mylisa G., Isabel Flores, and Melva Calvo with one try apiece)
Okkodo Lady Bulldogs shutout Southern Lady Dolphins 10-0 (Erleen Bascon and Jaicia Vita with one try apiece)
ND Royals defeated Guam High 28-5 (Brittney Blau – 2 trys, Muneka Taisipic and Paris "Mames" Blas with one try apiece.  Guam High's Alyssa Mateo with one try)
GW Lady Geckos shutout Simon Sanchez Lady Sharks 17-0 (Zea Nauta, Dyonii Quitugua, and Maricia Mariano with one try apiece)
GW Lady Geckos defeated Okkodo Lady Bulldogs 20-5 (Maricia Mariano – 2 trys, Zea Nauta and Antoinette George with one apiece.  Okkodo's Jewelle Rojas with one try)
AOLG Cougars defeated Guam High Lady Panthers 37-7 (Mia Santos – 2 trys, Erin Wong, Isabel Flores, Mya Sanchez, and Gabby Avilla with one try apiece.  Guam High's Alyssa Mateo with a try)
PHOTO GALLERY:

Foody's Fun Facts
ISA Softball Champion Cougars
DID U KNOW?
Four of the six starters on the 2020 Middle School Volleyball Champion Untalan Wildcats met for the first time since winning a title together as the Tiyan Titans took on the Okkodo Bulldogs in the first game of the ISA Boys Volleyball Season. (#7 Samuel Carino, #9 Lance Mupas, #15 Nicholas Santos, #17 Nash Ericsson)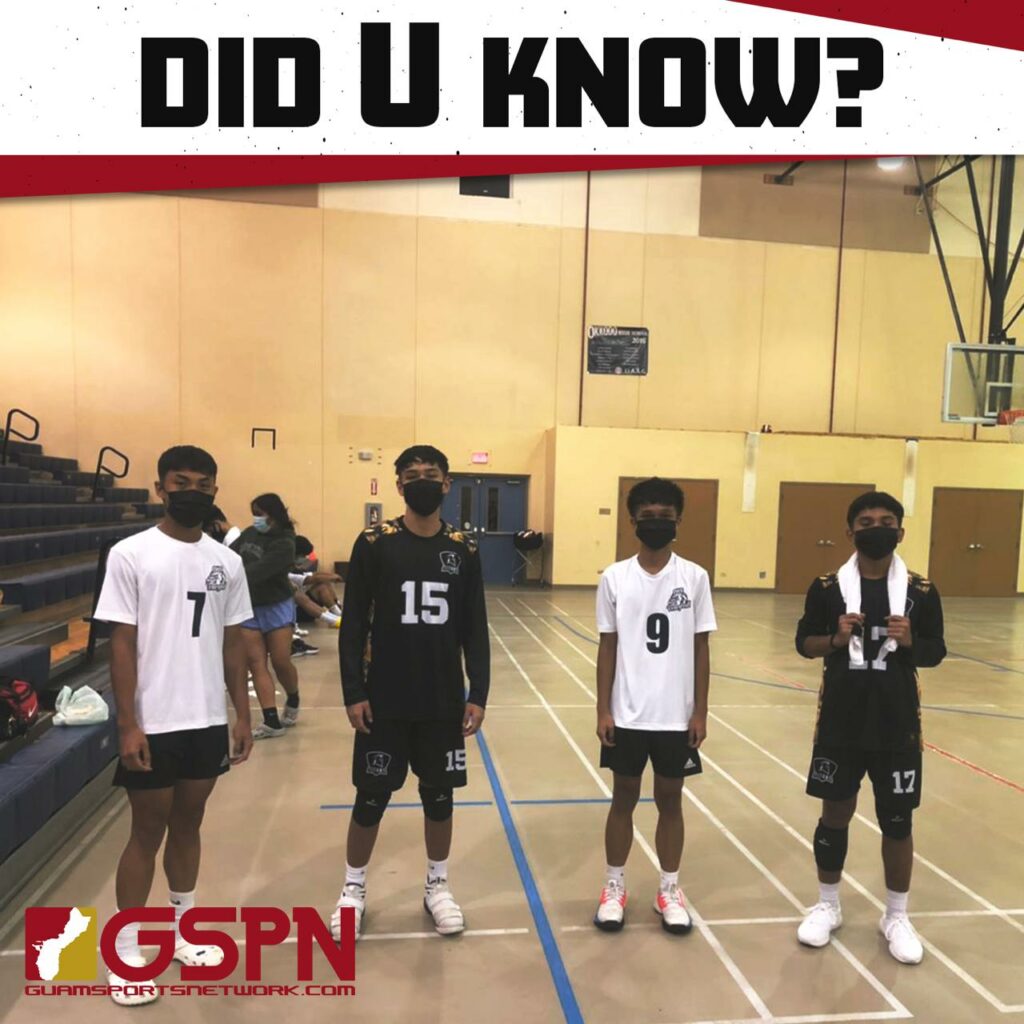 COMING SOON …
ISA Girls & Boys Volleyball
IIAAG Beach Volleyball
ISA/IIAAG Cross Country
ISA/IIAAG Tennis
QUICK HITS
Pro rugger Zach Pangelinan suffered a leg injury on his way to a try in the Houston SaberCats match vs. the L.A. Giltinis on Saturday in Major League Rugby action. The 32-year-old fullback in his fourth year with Houston is recovering and said he will be back on the pitch soon.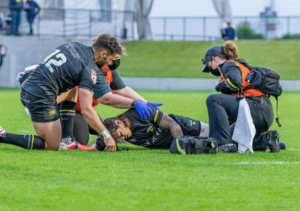 ——————————————————–
Free agency signing: Jamal Agnew joins the Jacksonville Jaguars on a reported 3-year, $21 million contract.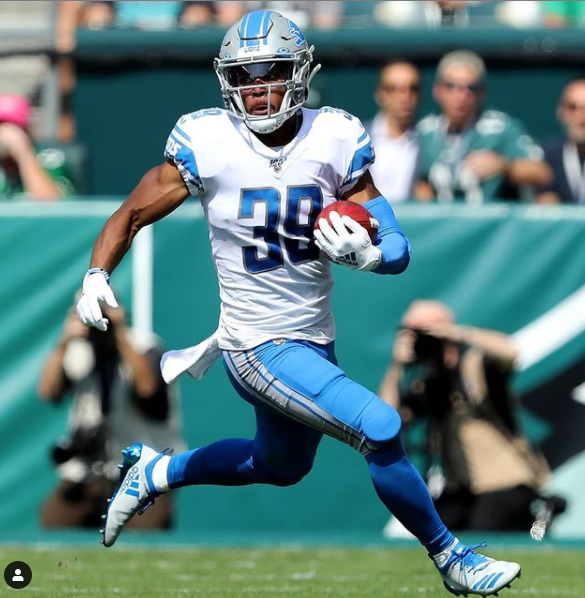 ——————————————————–
Roque Martinez will face off against Josh Parisian on June 19th!