[useful_banner_manager_banner_rotation banners=9,17 interval=8 width=120 height=600 orderby=rand]
PRESS RELEASE – The unseeded tandem of Joshua Cepeda and Chloe Gadsden rallied from a set down to upset No. 2 Brian Tuncap, Jr. and Michelle Pang, 5-7, 7-5, 10-8 for a spot in the finals of the Combined Mixed 10.0 Doubles division of the Quality Cup 2014 tennis tournament at the Hilton Guam Resort & Spa tennis courts.
The pair will meet No. 1 Torgun Smith and Yumika Sugahara, winners over Masakazu Takahashi and Atsuko Yamaguchi 4-6, 6-2, 10-5, for the title Sunday.
In other matches, No. 1 Daniel Llarenas and Derek Okuhama, 6-3, 6-4 winners over Nick Fok and SW Poon, will next play No. 4 Chris Cajigan and Joseph Cruz in the Men's Open Doubles division. On the other end of the draw, No. 2 Charles Oliver and Wendell Roden will next face No. 3 Joshua Cepeda and Brian Tuncap, Jr., after rallying to defeat Anthony John and Victor Tuncap 1-6, 6-3, 10-6.
In the Women's Open Doubles division, tennis veterans Rosalie Cao and Arn Diaz upset their younger opponents – No. 2 Chloe Gadsden and Margaux San Nicolas 5-7, 6-2, 10-7 to book a ticket to the finals against No. 1 Michelle Pang and Camdyn Nadler.
In the Women's 35+ Doubles division, Jenny Kwan and Jenny Lin defeated Arn Diaz and Margaret Terry 6-1, 6-2. In Friday evening's match, Atsuko Yamaguchi and Yuka Iwata defeated Diaz and Terry 6-1, 6-2.
In the Women's 45+ Doubles division, No. 1 Kayoko Sugahara and Migu Goodman advanced to the final of the division with a 6-0, 6-0 win over Liza Provido and Margaret Terry.
In the Combined Mixed 6.0 Doubles division, No. 1 Sindy Mok and Norman Tsang claimed their spot in the semifinals with a 6-1, 6-1 victory over Willie Chua and Melody Pugh. The team will next face No. 3 Camden Camacho and Gabby Camacho, 2-6, 6-3, 10-8 winners over Shane Schnabel and Tess Suh. Pedro John and Victoria Smith upset No. 4 Aaron and Kanasta Abrams 5-7, 6-3, 10-7.
In the Combined Mixed 7.0 Doubles division, Pete Cepeda and Dina Jacob upset No. 1 Louis Liu and Liza Provido to next face No. 2 Richard Smithers and Mimi Gaffney in the final. Smithers and Gaffney defeated Camden Camacho and Janay Masga 6-2, 6-1.
In the Combined Mixed 8.0 Doubles division, Jared and Diane Lee defeated Pete Cepeda and Julie Bollinger 6-3, 6-3 for a spot in the finals.
In the Combined Mixed 9.0 Doubles division, No. 1 Masakazu Takahashi and Kayoko Sugahara defeated Tera Tapu and Rosalie Cao 7-5, 2-1 (ret). David Lai and Jenny Kwan defeated Nick Fok and Yuka Iwata 6-2, 6-3. C.K. Wong and Migu Goodman defated Eddie Wu and Arn Diaz 6-4, 6-3. No. 2 Kam Chan and Jenny Lin defeated Ricardo Estella and Annie Wu 6-0, 6-0.
In the Men's 35+ Singles, No. 2 Wendell Roden upset No. 1 Torgun Smith 6-1, 6-3 for the division title.
Results from the day's late matches and from other venues were not immediately available.
The tournament concludes Sunday, with an awards banquet for players after the matches.
PHOTO GALLERY:

QUICK HITS
3rd place: Big ups to the Para Todu Rugby Club for finishing 3rd out of 16 teams in the Manila 10's Rugby Tournament today. Biba Guam Rugby!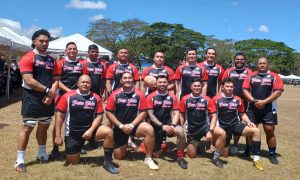 ——————————————
Guam MTB National Championship: Edward Oingerang and Jennifer Camacho are your 2023 MTB national champions. Oingerang finished the course in 1:13:24 while Camacho won her second straight title in 54:08.