By Niko Bulaon and Patrick Lujan
The soaring Harvest Eagles took to the court and defeated the Okkodo Bulldogs in three thrilling sets 13-25, 25-23, 25-18 at the Okkodo gymnasium Saturday night.
With only one loss under their belt, the Eagles stepped into the game with motivation, but the Bulldogs quickly took the first set from the visiting Eagles which inspired a rally.
Multiple errors by both teams had the lead changing, but two aces by Eagles Marlon Evans put his team up 7-4. Okkodo soon stepped up after aces and kills to take the lead, 11-7. A tip by Eagles Alex Wu against Bulldogs Ben Borja sparked his team until errors occurred, keeping Okkodo above Harvest, ending the first set 11-2 run, giving the Bulldogs the first set advantage.
The Eagles came back into the second set, starting the game at 5-0, but it wasn't long for Bulldogs Jeddou Antonio to put a kill passed his opponents, sparking a 8-0 run and taking the lead, 8-5. With Okkodo in front, kills by Eagles Jordan Javellana tied it at 15-15, but untimely errors kept Harvest from taking the lead.
With the Bulldogs up, 22-20, an Okkodo error and two aces by Wu put Harvest one point away, 24-22. A big block by Borja kept the second set going, but Javellana forced a third get after a monstrous kill.
"I used my teammates to motivate me," said Evans about his first set loss. "We always have each other's backs. Even though the first set was really bad, we didn't expect to come out that, but we knew that our teammates had our backs so my teammates and coaches were my motivater."
Harvest started the third set at 4-0, but kills by Antonio and teammate Gary Aromin put the Bulldogs ahead, 6-4. Errors by the Eagles and Bulldogs tied the game at 8-8, but back-to-back aces from Javellana put his team ahead of his opponents, 12-8, and sparking a Harvest run. With the Eagles on a scoring spree, the Bulldogs tried to keep up with their opponents after a kill from Antonio and an ace by Aromin.
However, Harvest answered with an ace of their own. An untimely error by the Eagles kept the game going at 24-18, but a quick kill by Eagles freshman Kobe Sotelo, giving Harvest the win and ending the Bulldogs winning streak.
With the Eagles still going with an impressive record of 6-1, Evans commented, "From this game, we were really humbled and I think that we have a lot to learn, have a lot to improve on, and that's what we're going to work on in practice. Hopefully we can practice the things we can implement in our team."
Javellana led the Eagles with six kills and three aces. Antonio led the Bulldogs with six kills, two blocks, and an ace.
GECKOS POUNCE ON FRIARS
Backed by Allen Camacho's 10 kills from all over the court, the three-time defending champion GW Geckos are heading down the stretch looking and feeling good.
GW stepped into the FD Phoenix Center against the Friars with identical 4-2 records. At the end of a 25-21, 25-15 win, it was clear who was the better team – at least on Saturday night.
It was a see-saw battle early in the first set with several Geckos unforced errors allowed the home team to creep out to a 14-10 lead when middle man Jeremiah Taitano put down a kill – with a smile.
The Geckos then found their rhythm on offense to go along with their steady backcourt defense that kept many plays alive. GW went on an 11-3 run capped off by a kill from Phillip Siguenza. A service error by FD's Eric Ada closed the set in favor of the Geckos.
It was all Geckos in the second set as back-to-back aces from Siguenza opened things off on a good note. The lead increased to 9-3 on the Friars fifth unforced error at that point.
Playing with a comfortable lead, GW started to feed their star outside hitter Camacho, who gladly took to the air to put down a series of kills that gave the Geckos an insurmountable 23-8 lead.
FD had one last fight as the Tai boys managed to go on a 6-0 run with a glimmer of hope, but the mountain was just too big to climb as middle blocker Devin San Agustin closed out the night with an emphatic kill.
In the JV game, the Geckos handed the Friars their first loss of the season 25-15, 21-25, 25-14.
REPORT: championship game on May 16th to be broadcast live on GSPN and Docomo!
GECKOS def. FRIARS 25-21, 25-15
1st set
Service errors: GW 2, FD 4. Unforced errors: GW 8, FD 9. Aces: GW 3 (Soulik 2, Siguenza), FD 1 (Rokop). Kills: GW 9 (Camacho 6, San Agustin, Siguenza, Suarez), FD 8 (Merrill 4, Taitano 3, Tenorio). Blocks: GW  0, FD 2 (Ju. Dimla, Taitano). Ties: 5
2nd set
Service errors: GW 3, FD 1. Unforced errors: GW 4, FD 8. Aces: GW 5 (Siguenza 2, Suarez, Blas, Duenas), FD 2 (Rokop 2). Kills: GW 10 (Camacho 4, San Agustin 3, Soulik 2, Frias), FD 4 (Taitano, Tenorio, K. Ada, E. Ada, Rokop). Blocks: GW  1, (San Augstin), FD 2 (Taitano 2). Ties: 0
PHOTO GALLERY:

QUICK HITS
The Guam Smokin' Hot women's softball team captured first place in the Asia Cup Softball Championships 2023 in Bangkok, Thailand.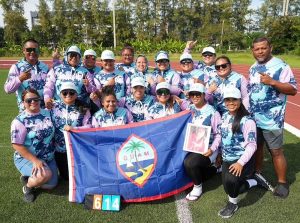 ——————————————————-
Roque Martinez gets the unanimous decision win Saturday night in his debut fight in South Korea's Black Combat promotions.
The 37-year-old controlled the tempo all three rounds and bloodied his opponent with some 3rd round ground and pound.