By Robert Balajadia
The FD Friars boys soccer team had as great a start as they could have hoped against the St. John's Knights after scoring their first two goals in the first three minutes of the game. The Knights never kept their heads down and battled back to tie the score, leading to an eventual 2-2 tie for the game.
With neither side completely happy about their performance, FD Friars head coach Jason Cunliffe gave props to the Knights for being able to battle back.
"Credit to [the Knights] for not keeping their heads down and continuing to push forward. Our goal keeper made an error coming out on a free kick which gave them a lucky break on their first goal, but they kept pushing. It's high school soccer, these kids are going to learn as they go so, it's a lesson learned for our guys," said Cunliffe
Down 2-1 in the final 10 minutes, Knights defender Xavier Kirksy was able to catch a ball that the Friar defense tried to clear, getting a clean shot from over 20 yards out to tie the game 2-2.
Kirksy was the second defender to score for the Knights after teammate, and defensive captain, Scotty Angoco scored off a free kick midway through the second half.
Angoco anchored the squad with key saves in the first half, but his biggest impact came off a free ball after an FD foul midway through the second half as it took one long bounce right over the Friar defense and goal keeper to get St. John's on the board.
The score proved to spark the team as the Knight's defense prevented the speedy Friar forwards in Escobar, Phillip Au, or Jake Benito from getting good looks in the games closing minutes.
"We started slow and we were losing the ball in the center. When we had our (4) Thomas Untalan come back in the center, and when he did come back I was able to move balls around. I was able to get a goal off one of those and the momentum in the second half just built off of that," said Angoco.
Friars forward Jestin Escobar wasted no time for FD by beating Knights goalie Sena Morimoto to a ball in the air, knocking it away from Morimoto to tap in an easy goal at just the 1:45 minute mark for the game.
Then, not even a minute later, Escobar took advantage of a perfectly placed ball on a long pass to head in the score to go up 2-0 at the 2:30 minute mark of the game.
It appeared to be going ugly for the Knights early on, but the defense settled down and prevented any more scores from the Friars starters or subs, who got a wealth of playing time as well.
FD nearly converted goals on three different occasions in the first half as Justin Johnson barley missed on a break away ball as his tap got past Knights' Morimoto, but sailed a little off to the right missing the goal.
Escobar also nearly came away with a header off a cross kick, as it took a slow bounce past Morimoto, but teammate Takumi Odell made a heads up play to stop the slow rolling ball right before it passed the goal line to prevent the possible 3-0 hole.
Au did receive a pass from Escobar late in the game, but the kick was too ahead of Au to make a play on it despite appearing to get a one-on-one with Knights' Morimoto.
Knights' Gen Fudo almost sunk the Friars heart with a near break away in the closing seconds as he got past the defense, but couldn't find the footing on his left leg shot attempt as the ball clanked the left post to go out of bounds, garnering the referees final whistle.
"We've been able to do some good things, but there's definitely room to grow. We've got to get back to the drawing board and make sure we work some things, and this one was more on the mental side of things than on the technical," added Cunliffe on the state of his team early on in the season.
"We wanted to support each other instead of yelling at each other. We wanted to play as a team and move the ball because when we play as a team we play better," said Angoco.
The Knights open the season at 0-0-1 while the Friars go 1-0-1 after winning a big game against the Southern Dolphins in the opener last week.
PHOTO GALLERY BROUGHT TO YOU BY:

2022 GSPN I MÅS METGOT COMPETITION
2022 GSPN I Mås Metgot Competition Recap
2022 GSPN I MÅS METGOT COMPETITION
2022 GSPN I Mås Metgot Competition Recap
2022 GSPN I MÅS METGOT COMPETITION
2022 GSPN I Mås Metgot Competition Recap
COMING SOON …
Sat: Origin Power Lifting Meet 
ISA Girls Volleyball/Boys Soccer Finals
QUICK HITS
Guam runners complete London Marathon. Former Guam top runners Charlie Epperson and Aysha Perez Epperson along with Cameron ONeal completed the 42nd London Marathon.
Charlie 2:47:56
Cameron 2:59:49
Aysha 3:51:04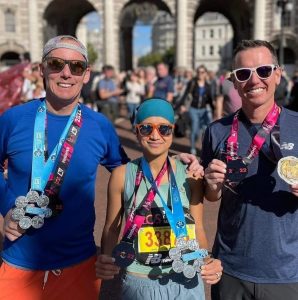 ———————————————–
Trevin Jones drops a unanimous decision 30-25, 30-27, 30-27 to Raoni Barcelos in UFC Fight Night 211 in Las Vegas.