By Jeffrey Ochavillo
It's time to roll out the mats with the 2014 IIAAG high school wrestling kicking off this Saturday with the entire day full of excited wrestlers from different schools like JFK, Simon Sanchez, George Washington, and Okkodo High School. From slams, reversals, and bridges, you could see it all. It was only day one at the JFK gym and these wrestlers already started to display high expectations for the upcoming seasons with the Islanders aiming to repeat as champs.
In the 1pm match, the George Washington Geckos were up against the JFK Islanders, however, with very limited players both teams were giving in to forfeits causing less matches to go on during the time. When there were matches, it usually ended with a quick pin or a three-round fight for survival.
Despite the many forfeits from both teams, the matches that went on had many people on the edge of their seats.
One specifically was in the girls' 127 weight class between GW's Brenisha Reyes and JFK's Jadine Mika Rosario. It was a close match in the match as they were both tied at 7-7 in the 3rd round. However, Rosario was able to find the strength to unhatch Reyes from her defensive stance after bear hugging through the course of match. It was coming down to the wire until Reyes found an opening and took the shoot to put Rosario in a bridged position, and finally got the pin after 1:17.
For the boys, the match of the day was grappled in the 106 weight class between JFK's Elijah Reyes and GW's Juan Ada. The two wrestlers exerted all their energy and were still able to reach a 3rd round. Reyes was in the lead with a score of 8-5 but it was not until Ada got a takedown to put the match to a 8-7 deficit. However, Reyes countered with a reversal and was able to find a hold for a pin at 1:30 to give him the win.
Throughout the day, there were been a lot of pins that took less than a minute. The fastest pin in this match has to go to Elijah Quichocho from GW who pinned Gavin Perez from JFK with one clean near fall under 19 seconds time.
Both teams played extremely well for the starting off the season, but with all the forfeits from both teams had to utilize the matches they had. But in the end, it was George Washington who triumphed for the boys with a final score of 72-12, but John F. Kennedy took the win with a 33-18 win for the girls.
FINAL RESULTS:
GWHS VS. JFK
Girls: 33-18
168: Double Forfeit
184: Beatrice Mata, JFK, wins via. forfeit.
225: Double Forfeit
97: Paradis Fejeran, JFK, wins via. forfeit.
102: Rosemarie Umagat, JFK, wins via. forfeit.
107: Double Forfeit
112: Double Forfeit
117: Jalana Garcia, GW, pins Ciara Taijeron, JFK. (1:29 First Round)
122: Kaedinn Quitugua, GW, wins via. forfeit.
127: Jadine Mika Rosario, JFK, pins Brenisha Reyes, GW. (1:17 Third Round)
132: Angelyssa, GW, wins via. forfeit.
138: Mai'ana Quengan, JFK, wins via. forfiet.
145: Chloe Taitano, JFK, dec. Taiann Tom, GW, 10-7.
155: Double Forfeit
Boys: 72-12
195: Donovan Fernandez, GW, wins via. forfeit.
220: Kyle San Nicholas, GW, wins via. forfeit.
285: Philip Siguenza, GW, wins via. forfeit.
106: Juan Ada, GW, pins Elijah Reyes, JFK. (1:07 Third Round)
113: Aaron Dela Rosa, JFK, wins via. forfeit.
120: Giovanni Taitingfung, wins via forfeit Clisstan Abraham, JFK, (injury)
126: Chandler Aguon, GW, pins Austin San Augustin, JFK, (1:20 First Round)
132: Alvin Collins, GW, pins Joseph Sarmiento, JFK (1:13 First Round)
138: Elijah Salong, JFK, pins Jason Quitugua, GW (1:22 First Round)
145: Kyle Samonte, GW, pins Jordan Sapp, JFK (1:40 First Round)
152: Eddie Wagthuth, GW, pins Stephen Guerrero (53 seconds First Round)
160: J. Weires, GW, pins, Pedro Aquiningoc, JFK (36 seconds First Round)
182: Devin Balabagno, GW, wins via. forfeit.
Other Results
Boys
First match – Fd 75,  Southern 6.
Southern 41, Tiyan 24
Tiyan 30, Guam High 30
Second match – FD 71, Guam High 9.
Girls 
Tiyan 60, Guam High 0
Tiyan 42, Southern 24

QUICK HITS
Guam MTB National Championship: Edward Oingerang and Jennifer Camacho are your 2023 MTB national champions. Oingerang finished the course in 1:13:24 while Camacho won her second straight title in 54:08.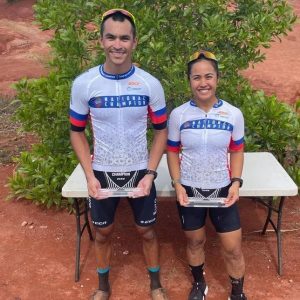 ——————————————
Kobe Miyashita, with St. John's coach Arvin Flores, was named the 2023 IIAAG Middle School Boys Volleyball MVP!