PRESS RELEASE – Guam's successful attacking style of play against former FIFA World Cup contender DPR Korea shocked millions globally and kept the Matao's opponents on their back foot for the majority of the teams' Day 2 match of the EAFF East Asian Cup semifinal round in Chinese Taipei.
Guam started the match positively, forcing a penalty kick opportunity in the opening minutes saved by goalkeeper Ri Kwang Il, fortunately for DPR Korea.
Down 1-0 at the half, the Matao leveled the match in the 58th minute on a follow up shot from captain Jason Cunliffe, coming off a Travis Nicklaw long-distance strike parried by Ri. Keeping the momentum alive, the Matao continued to put attacking pressure on DPR Korea's backline, forcing Guam's opponent to panic and change its strategy with substitute players.
"We went into the game to win it – we weren't going to be happy with just a tie – and when you do that, you open up gaps and get exposed," said Gary White, Matao head coach. "This was a risk we were willing to take to win the match. Three of their goals came late after we had first attacked and one from a set play. We refused to go against a quality team like DPR Korea like most other teams who sit back defensively and park the bus. That is simply not our playing philosophy against any team. Against quality teams like DPR Korea, you just can't give them any space or opportunities, but I wouldn't change our strategy if we played them again. Up until the 80th minute, we were toe-to-toe with them and I was proud of how our boys played. We played some great football, we sustained tremendous pressure on them – we had chances, they had chances.
"Not so long ago, they had beaten Guam 21-0 before I had come in as head coach, so the fact that we're now head-to-head with them, creating opportunities, and equalizing against them speaks volumes of our development in just a short time – we could have won the game. I think the difference today between the two teams is that DPR Korea was able to finish with quality when they got an opportunity. With 80 minutes gone and the score separated by just one goal, anybody who had watched the game would know that the final 5-1 score is not reflective of how the match was played – but that's football," White added.
Against Guam, DPR Korea's midfield proved to be the team's weakest link, limiting intended attacking plays and consequently placing additional pressure on its back line against Guam's speedy wingers.
"Going into the game, our strategy was to limit the impact that their creative midfielders had on the game," White said. "We succeeded in that objective and forced them to adapt their tactics."
Jong Il Gwan scored the eventual game winner in the 70th minute, but it wasn't until the 82nd minute when substitute player Ri Sang Chol's goal shifted the game's momentum to DPR Korea. Ri scored again in the 86th minute and teammate Kye Song Hyok added another in stoppage time.
"In the first half and through to the 70th minute, it was not easy to create scoring opportunities," said Jo Tong Sop, head coach of DPR Korea, through a translator. "No. 10 (Cunliffe) and No. 9 (Marcus Lopez) were defending very intensely against our usual playmakers No. 8 (Ri Chol Myong) and No. 9 (Pak Song Chol) and they could not organize the match perfectly. Also, as seen in Guam's previous matches, they have powerful attackers, so we had to change our plan and use our defenders to set up quick counterattacks instead.
"Our midfielders could not connect from the defensive line to our attacking line and they had to shift their movements to get to our attacking line. It wasn't working well for most of the match, so after that, we changed our players and strategy according to Guam's strategy, and fortunately, that worked for us in the end," Jo added.
The Matao still have a chance to win the tournament with a win against Hong Kong Nov. 19, coupled with a DPR Korea loss to Chinese Taipei. Chinese Taipei, already with two losses in the tournament – a 2-1 loss to Guam in the team's opener and a 1-0 loss to Hong Kong on Day 2 – are mathematically eliminated from winning the tournament.
"When we played Hong Kong the last time – two years ago – we lost 2-1, but we were hitting the post, the bar, it could have easily been a tie," White said. "We obviously want to beat Hong Kong and step up against the next level of opposition.
"A couple of years ago, it was impossible to think that Guam could beat Chinese Taipei, but now, after three games, we haven't lost to them. Our next goal is to follow that same path against Hong Kong and DPR Korea. We've got to reach our next objective and succeed at the next level. With the support of GFA president Richard Lai and GFA executives, I fully believe that this is an attainable goal," White added.
Guam will kick off against Hong Kong at 4 p.m. Nov. 19 Chinese Taipei time (6 p.m. Guam time). The match will be streamed live from the EAFF Web site www.eaff.com for all viewers outside of Chinese Taipei.
PHOTO GALLERY:

QUICK HITS
The Guam Smokin' Hot women's softball team captured first place in the Asia Cup Softball Championships 2023 in Bangkok, Thailand.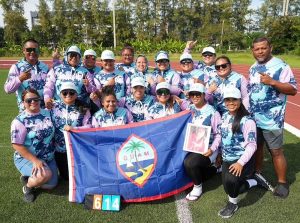 ——————————————————-
Roque Martinez gets the unanimous decision win Saturday night in his debut fight in South Korea's Black Combat promotions.
The 37-year-old controlled the tempo all three rounds and bloodied his opponent with some 3rd round ground and pound.