PRESS RELEASE – It keeps getting bigger and better. The Marianas Open Brazilian Jiu-Jitsu Tournament sees more and more competitors with every event and the next installment of the tournament will now be aggressively finding off-island competitors with the help of GracieMag, the original Jiu-Jitsu magazine. But to top it off, there will be a $10,000.00 purse in the black belt division.
"This is going to be the biggest BJJ Tournament Guam has seen," says Steve Shimizu, Marianas Open coordinator. "We've been struggling to get black belts to participate in the tournament and for good reason. They would rather see their students  articipate and sharpen their tools while representing their gym. There's a lot of personal reward seeing your pupils excel."
"But the Marianas Open touts the best BJJ players," Shimizu went on to say, "and hopefully a $10,000.00 prize will entice the best black belts to join and we're putting an ad in GracieMag to help get the word out to the BJJ world."
Shimizu went on to share that there are not a lot of jiu-jitsu tournaments that offer a prize purse of that amount. He brought up the example of the recent Metamoris 5, which offered $10,000.00 to the winner of anyone who can beat Vinny Magalhaes because his competitor, Kevin Casey, got injured. They decided to send out an open invitation to all black belts, but even that match was awarded to only one competitor who they deemed worthy. The main event for Metamoris 5 was Kazushi Sakuraba versus Renzo Gracie who are jiu-jitsu's elite. "So the potential to see a good number of jiu-jitsu's top black belts on Guam is enormous," said Shimizu, "Hopefully, Guam's black belts will be a part of the competition."
The Marianas Open is set for March 28, 2015 at the Father Duenas Phoenix Center. For more information about the tournament you can visit marianasopen.com.

QUICK HITS
Guam MTB National Championship: Edward Oingerang and Jennifer Camacho are your 2023 MTB national champions. Oingerang finished the course in 1:13:24 while Camacho won her second straight title in 54:08.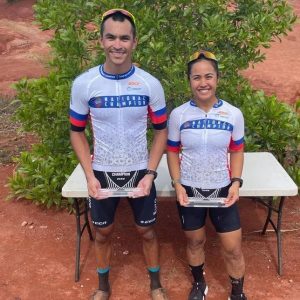 ——————————————
Kobe Miyashita, with St. John's coach Arvin Flores, was named the 2023 IIAAG Middle School Boys Volleyball MVP!