[useful_banner_manager_banner_rotation banners=9,17,18 interval=8 width=120 height=600 orderby=rand]
PRESS RELEASE – One of Guam's premier tennis tournaments – the Quality Cup put on by Quality Distributors – returns Jan. 24 with a weekend of matches in the USTA points-earning junior event and age singles event for adults.
Tournament organizers expect over 200 tennis players to register for the biennial tournament that also will feature a variety of other singles, doubles, and mixed doubles events spread over four weekends at the Hilton Guam Resort & Spa tennis courts, Sheraton Laguna Guam Resort tennis courts, Hyatt Regency Guam tennis courts and the Rick Ninete Tennis Center.
"The Quality Cup is one of the 'Grand Slam' tennis tournaments of Micronesia," said George Lai, president of Quality Distributors. "This tournament has really grown over the years to become one of Guam's most popular tournaments and the competitiveness of all players participating continues to increase. The tournament also has attracted tennis players from the region to play. We have some players from Japan and Hong Kong committed to play in some of the events and Lydia Tan is organizing a group of junior players from Saipan, fresh from playing in the Tan Holdings Tennis Classic in November last year, to compete in the opening weekend of the Quality Cup. Particularly for elite youth tennis players from Guam and Saipan, valuable USTA points can be earned in the junior event during opening weekend.
"I really would like to also thank all of the tournament sponsors for making this event possible, notably presenter sponsors – Docomo Pacific, Haagen Dazs, Tan Siu Lin Foundation, Richmond Wholesale and California Sunshine," Lai added.
The tournament's opening ceremony will be held at 5:30 p.m. Jan. 24 at the Hilton tennis courts. The ceremony also will include a one-point tournament and fastest serve contest. All in attendance are welcome to complimentary Haagen Dazs ice cream during the opening ceremony. Official tournament matches will begin at 7 p.m. following the opening ceremony and continue through the weekend, with the divisions' championship matches scheduled for Sunday.
The deadline to register for the opening weekend junior events and the age singles event is 6 p.m. Friday at the Sheraton tennis courts. The fee to register is $20 for one event and $10 for each additional event. Players may not register for more than two events per weekend. Registration forms may be picked up at Hilton, Sheraton, Hyatt, RNTC, Shirley's Coffee Shop (Tamuning location only), or may be downloaded from www.tennisacademyguam.com. For the USTA points-earning junior events, players registering must have current a USTA membership card, said Joe Cepeda, tournament director. The age singles event will feature draws in Men's 35+, 45+ and 55+ age divisions, as well as Women's 35+ and 45+ divisions.
Skill singles events and high school doubles events are scheduled to begin Jan. 31. Skill, age mixed doubles, and family doubles events will begin Feb. 7. The tournament's final weekend, beginning Feb. 14, will feature men's and women's open doubles, age doubles and combo mixed doubles events. The deadline to register for the aforementioned events is the Friday one week prior to the event's start date. Draws will be posted online each Wednesday before the start of the events' weekends.
In the 2012 edition of the tournament, visiting Japanese player Takuya Saito won the men's singles crown. On the women's side, Charlyne Espinosa earned the open title. In doubles play, Saito and older brother Yusuke won the men's open title. Michelle Pang and Liza Provido were the winning combination for the women's doubles title. Wendell Roden and Vivian Lee were the 2012 winners in the mixed doubles division.
In the junior events, Emil-Christian Penafiel and Chloe Gadsden won the boys and girls U18 singles titles, respectively. Penafiel and Anthony John won the boys U18 doubles championship, while Alyssa Bristol and Paulani Lansing won the girls U18 doubles championship.
A detailed information sheet about the tournament is available for download on the www.tennisacademyguam.com Web site. Inquiries may also be directed to Cepeda by calling 988-7479 or through E-mail at joe@tennisacademyguam.com.

Athletes Birthdays by W5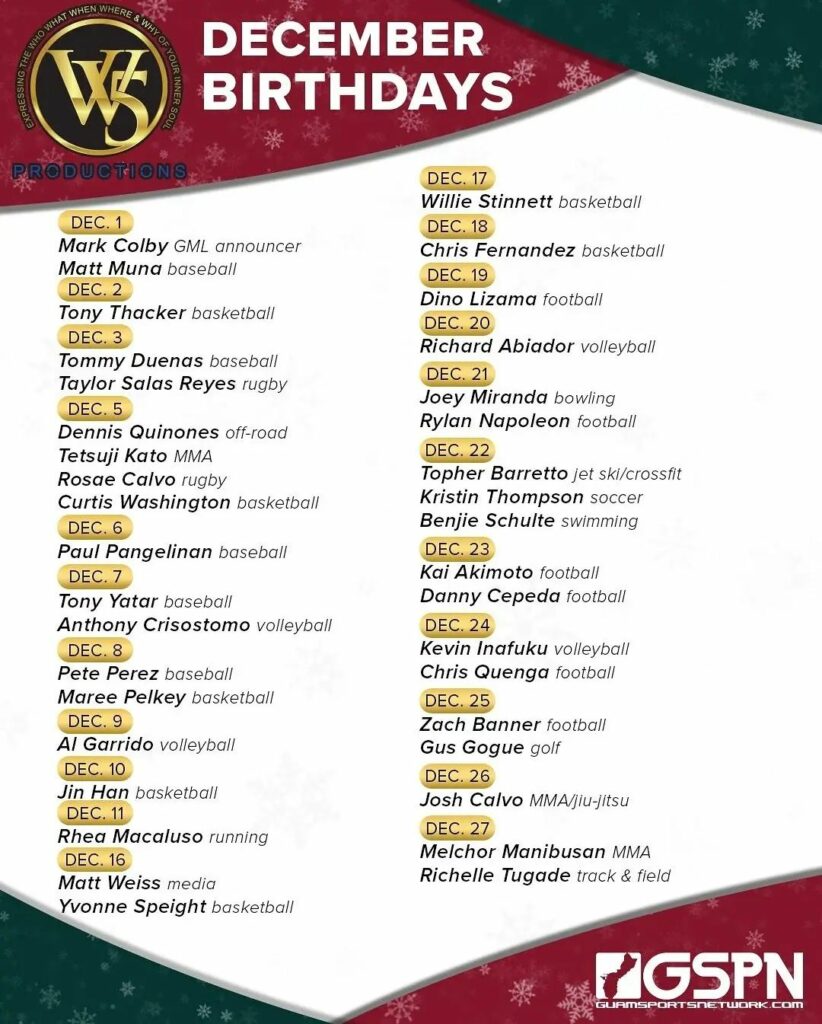 GPS Sports Calendar
SU

MO

TU

WE

TH

FR

SA
Events for December
5th
No Events
Events for December
6th
Events for December
7th
Events for December
8th
No Events
Events for December
9th
Events for December
10th
Events for December
11th
06:00 AM - 08:00 AM
Umatac
Events for December
12th
No Events
Events for December
13th
No Events
Events for December
14th
No Events
Events for December
15th
No Events
Events for December
16th
Events for December
17th
Events for December
18th
19

20

21

22

23

24

25
Events for December
19th
No Events
Events for December
20th
No Events
Events for December
21st
No Events
Events for December
22nd
No Events
Events for December
23rd
No Events
Events for December
24th
No Events
Events for December
25th
No Events
26

27

28

29

30

31

1
Events for December
26th
No Events
Events for December
27th
No Events
Events for December
28th
No Events
Events for December
29th
No Events
Events for December
30th
No Events
Events for December
31st
No Events
National Guard Athletes
Scott Eclavea
Scott Eclavea is a jiu-jitsu black belt and an accomplished MMA fighter. The Guard has given him an outlet in combatives to display his martial art skills, where he's become a head instructor for that program. Eclavea has served since coming out of high school and the Guard has only changed his life for the better.
COMING SOON …
LIVE FOOTBALL ON GSPN
Semifinals: #1 FD vs. #4 Southern (Friday 7 pm)
GSPN Preseason Basketball Tournament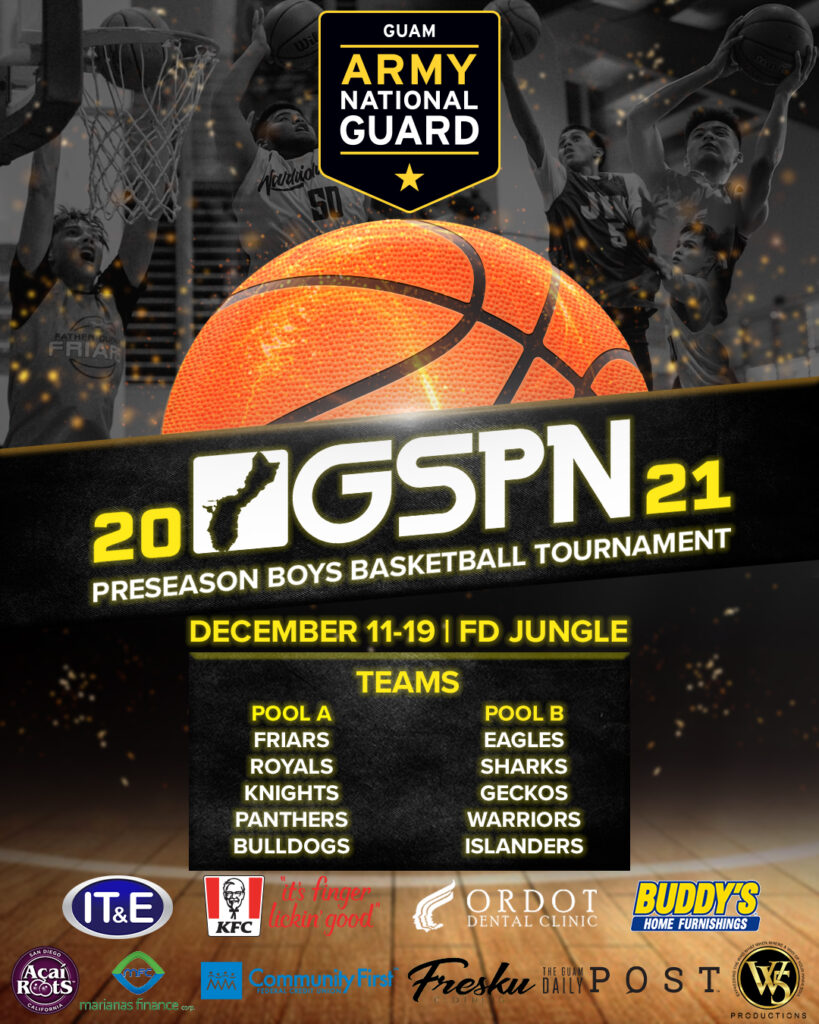 QUICK HITS
Robert Artero Maley recently captured the 182-lb. division of the Costa Mesa Classic, winning via pin in 4 out of 5 matches. Robert is a 4-year varsity wrestler at San Clemente HS (Tritons) and is currently ranked 15th in California's high school scene. He is the son of Jacque Artero Maley (AOLG 1991).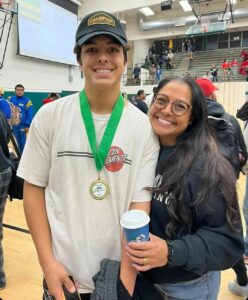 ——————————————–
Pat Taitano and Rich Abiador, teammates on the 1995 SPG volleyball team, have led their high school girls volleyball teams to the Washington State Championships in Yakima, Wa.
Taitano coaches Mt. Rainier High while Abiador leads North Creek High.
There for support is Dr. Mark Perez, a health professor at Central Washington University and a former UOG volleyball player.