[useful_banner_manager_banner_rotation banners=9,17 interval=8 width=120 height=600 orderby=rand]
PRESS RELEASE – The members of the John family made the Hilton Guam Resort & Spa tennis courts their home Sunday, combining for eight doubles matches and two singles matches for the day in the Quality Cup 2014 tennis tournament and capturing three different division titles.
David John and son Pedro upset No. 2 seed Darren Talai and Francisco San Nicolas in the Men's 3.0 Doubles semifinals and later in the day, upset No. 1 seed Mason Caldwell and Gabriel Tan, 6-4, 6-3 in the division final. The winning pair also played two matches in the Family Men's Doubles division, defeating Darren and Tyler Talai 10-2 and in the final match of the day, winning against Ray and Shane Schnabel 10-5.
David and Teresa John reached the finals of the Family Mixed Doubles Challenger division, defeating Darren and Cindy Talai 10-5, but later in the day, lost in the final to father/daughter duo Ray and Alyssa Merletti 10-7.
Teresa John also played in two other doubles matches in the day – first partnering with Ashley Roland to defeat Margaret Leon Guerrero and Melody Pugh 6-3, 6-4 in the semifinals of the Women's 3.0 Doubles division, but later in the day, the tandem fell to No. 1 Lory Tydingco and Millie Leon Guerrero 6-3, 6-2 in the final.
In the continuation of rescheduled junior division matches, Anthony John powered his way to a 10-7 upset victory over No. 2 Joshua Cepeda in the Boys' 18 Singles and later won the division title after defeating Andrew Chung 10-4 later in the day.
In other matches, Khay Sung and Derek Okuhama claimed the Men's 4.5 Doubles title with a 6-2, 5-7, 10-8 win over Jorge Alcantara and Benson Au-Yeung.
In the Men's 4.0 Doubles division, Dennis M and Carlos Suing won over Sidney Gadsen and Gavin Lee in a shortened match due to an injury.
Ray and Shane Schnabel won the Men's 2.0 division title with a 6-3, 6-3 win over Josh Tan and Kevin Zhu.
Arn Diaz and Diane Lee won the Women's 4.0 Doubles title, winning all two of their matches in the division's round-robin format. The pair defeated Margaux San Nicolas and Emmanuelle Haurillon 6-0, 6-2, and earlier defeated Migu Goodman and Yuka Iwata 6-2, 6-3.
No. 2 Yoko Bailey and Yasuko Schrader upset No. 1 Carla Bordallo and Lisa Brooks in the final of the Women's 2.0 Doubles division, 6-2, 6-1.
In the Family Mixed Doubles Open division, father and daughter Landon and Camdyn Nadler won the title after opponents Sidney and Chloe Gadsden retired with an injury.
Torgun Smith nabbed two doubles titles Sunday – first the Mixed 45 Doubles title with partner Kayoko Sugahara following a 6-0, 6-0 win over Ricardo Estella and Liza Provido and next, the Mixed 35 Doubles title with partner Migu Goodman. Smith/Goodman defeated George Lai and Atsuko Yamaguchi 6-4, 7-5.
In singles matches, No. 1 Raymond Miranda defeated No. 2 Jeff Bristol 6-3, 6-3 to claim the Men's 55+ Singles division title.
Mason Caldwell won the Boys 14 Singles title with a 10-4 win over Camden Camacho.
Kian Malakooti won the Boys 12 Singles title with an 8-1 win over Justin Kim.
No. 1 Joshua Cepeda will meet unseeded Derek Okuhama in the final of the Boys 16 Singles. Cepeda defeated Camacho 10-3 and Okuhama upset No. 2 Brian Tuncap 10-2 in the semifinals.
No. 1 Camdyn Nadler will face Margaux San Nicolas in the final of the Girls 18 Singles. San Nicolas defeated No. 2 Alyssa Bristol 10-1 to make her way to the final. Nadler also is in the final of the Girls 16 Singles division and will face either San Nicolas or Bristol.
Quality Cup tennis action continues Friday.
PHOTO GALLERY :

QUICK HITS
The Guam Smokin' Hot women's softball team captured first place in the Asia Cup Softball Championships 2023 in Bangkok, Thailand.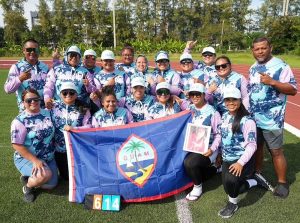 ——————————————————-
Roque Martinez gets the unanimous decision win Saturday night in his debut fight in South Korea's Black Combat promotions.
The 37-year-old controlled the tempo all three rounds and bloodied his opponent with some 3rd round ground and pound.