By Jose Terlaje
After losing to the JFK Islanders on Monday night, the Guam High Panthers, who started their season later than most teams, bounced back from the loss and improved their record to 1-1 after defeating the George Washington Geckos (3-1-1). The Panthers dominated the possession game and used solid defense throughout the game to pick up a clean sheet against the Geckos, winning the match 2-0 at their home field.
GHS keeper Dante Banes, who had nine saves in the game, said that his team's defense is one of their strongest points and that they worked on passing drills and communication during his team's practice this week in preparation for the game. Banes stated that even with the win, his team still has some things to work on especially with opening up more on the field in order to stop being so clustered in the midfield. Banes said that his skills as a keeper just come purely from the hours of practice he puts in.
Both teams struggled to get an offensive rhythm going in the early minutes of the first half, giving up many possessions of the ball due to poor passing. After a few minutes of sloppy play, the Panthers stepped up their offense, controlling the ball and finding holes in the Geckos' defense.
After a Guam High throw-in, GHS striker Trever Riney had a clear shot on goal but put too much lift on the ball, blasting it high above the goal. A few moments later, Riney received a good through ball from midfielder, Leon Bamba, but was unable to find the back of the net, kicking it straight to GW's keeper.
GHS continued to apply the pressure on the GW defense, giving good passes and maintaining control of the ball on the Geckos' side of the field. Riney had another opportunity to score after weaving through the Gecko defense but GW keeper Tevin Santos remained calm and kicked the ball out the side.
The Geckos then got possession of the ball and had the opportunity to score off a cross from defender, Jacob Frias, but the effort was stopped by GHS center midfielder, Hunter Yatar. The Geckos were awarded a corner kick but could not capitalize on it. GW midfielder Ryan Quitugua attempted to set the pace of his team, using his excellent ball control to try to maintain possession of the ball and find an opportunity to score but the Geckos could not come together on offense.
Finally in the 20th minute the Panthers' Riney was able to slip past the GW defense after a throw-in from Erret Bainum, shooting a rocket past the GW keeper to the back of the net that put his team up 1-0. Moments later at the 25th minute, GHS' Bamba sent a shot from 35 yards out and caught the GW keeper sleeping. Bamba's shot bounced right past an unready Gecko goalie to put the Panthers up 2-0.
The Geckos felt the sense of urgency after finding themselves down by two points and started to use the speed on their team to try to break through the Panthers' defense. GW was able to get past GHS' first line of defense but was eventually stopped by the Panthers' Zack Olmstead.  The Geckos continued their aggressive play to close out the half but were unsuccessful in finding any scoring opportunities.
In the second half, the Panthers did not ease up one bit. They continued to apply the pressure on the Geckos despite leading by two points. GHS increased its defensive effectiveness with TJ Tisdale picking up many Gecko passes and sending them down the field to his fellow Panthers who were consistently finding good shot opportunities throughout the half but were not lucky enough to rack up anymore goals.
GW's Quitugua continued to work the midfield, weaving through the Panthers' defense but was unable to connect with teammates after creating space with the ball. Quitugua tried to set the pace for his team but the chemistry was not there. GW's Frias was also a factor in his team's efforts, making big defensive stops and getting clean passes to the midfielders but the Geckos were unable get into a position to score on GHS. Midway through the second half, it seemed like the Geckos were starting to give up and the Panthers kept up their defense and were successful in maintaining possession, killing the clock and winning the game 2-0.
Guam High's Bamba was dominant throughout the game, playing a high level of soccer both offensively and defensively."I just do my best to keep my team together and to make sure that we don't fall apart", said Bamba when asked about his efficiency on the field.
Bamba, who was never took a break throughout the game, said he gives it his all in his games because the other team leaders are giving it 100% so he feels he has to do his part. He mentioned that his mother, who is also his coach, is one of his biggest motivations to keep going on the field and never keep up no matter the situation.
PHOTO GALLERY:

Athletes Birthdays by W5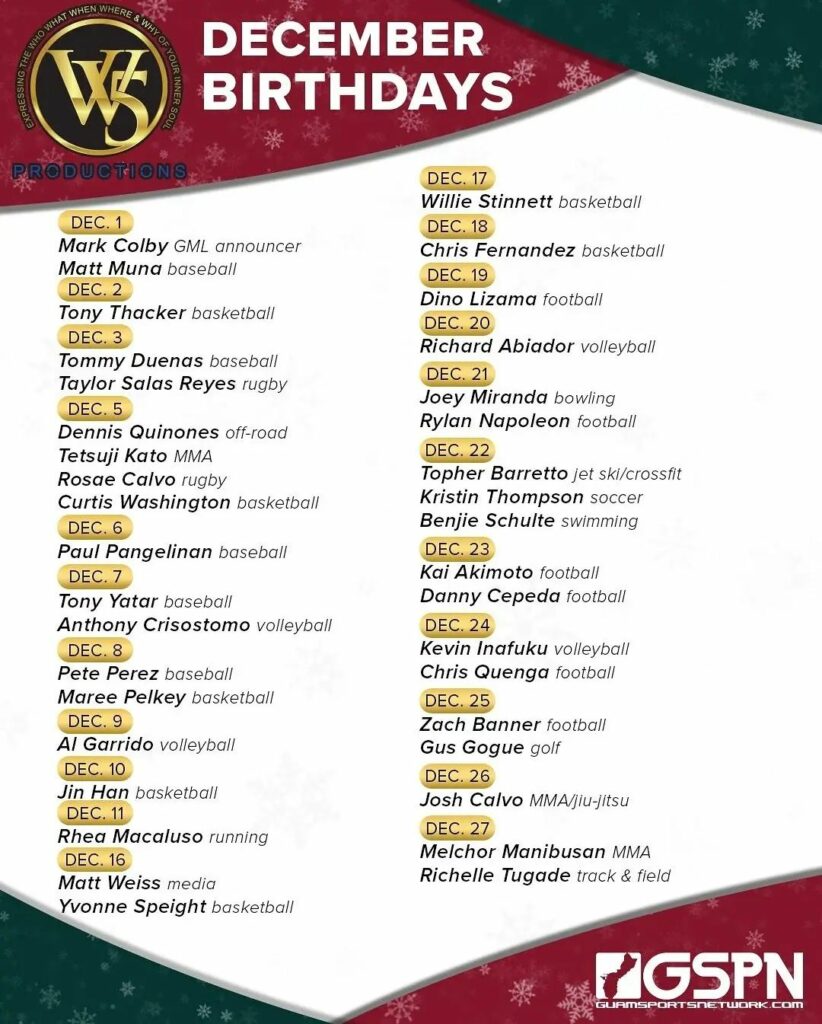 GPS Sports Calendar
SU

MO

TU

WE

TH

FR

SA
Events for December
5th
No Events
Events for December
6th
Events for December
7th
Events for December
8th
No Events
Events for December
9th
Events for December
10th
Events for December
11th
06:00 AM - 08:00 AM
Umatac
Events for December
12th
No Events
Events for December
13th
No Events
Events for December
14th
No Events
Events for December
15th
No Events
Events for December
16th
Events for December
17th
Events for December
18th
19

20

21

22

23

24

25
Events for December
19th
No Events
Events for December
20th
No Events
Events for December
21st
No Events
Events for December
22nd
No Events
Events for December
23rd
No Events
Events for December
24th
No Events
Events for December
25th
No Events
26

27

28

29

30

31

1
Events for December
26th
No Events
Events for December
27th
No Events
Events for December
28th
No Events
Events for December
29th
No Events
Events for December
30th
No Events
Events for December
31st
No Events
National Guard Athletes
Scott Eclavea
Scott Eclavea is a jiu-jitsu black belt and an accomplished MMA fighter. The Guard has given him an outlet in combatives to display his martial art skills, where he's become a head instructor for that program. Eclavea has served since coming out of high school and the Guard has only changed his life for the better.
COMING SOON …
LIVE FOOTBALL ON GSPN
Championship Game – FD vs Guam High @ 7 pm
GSPN Preseason Basketball Tournament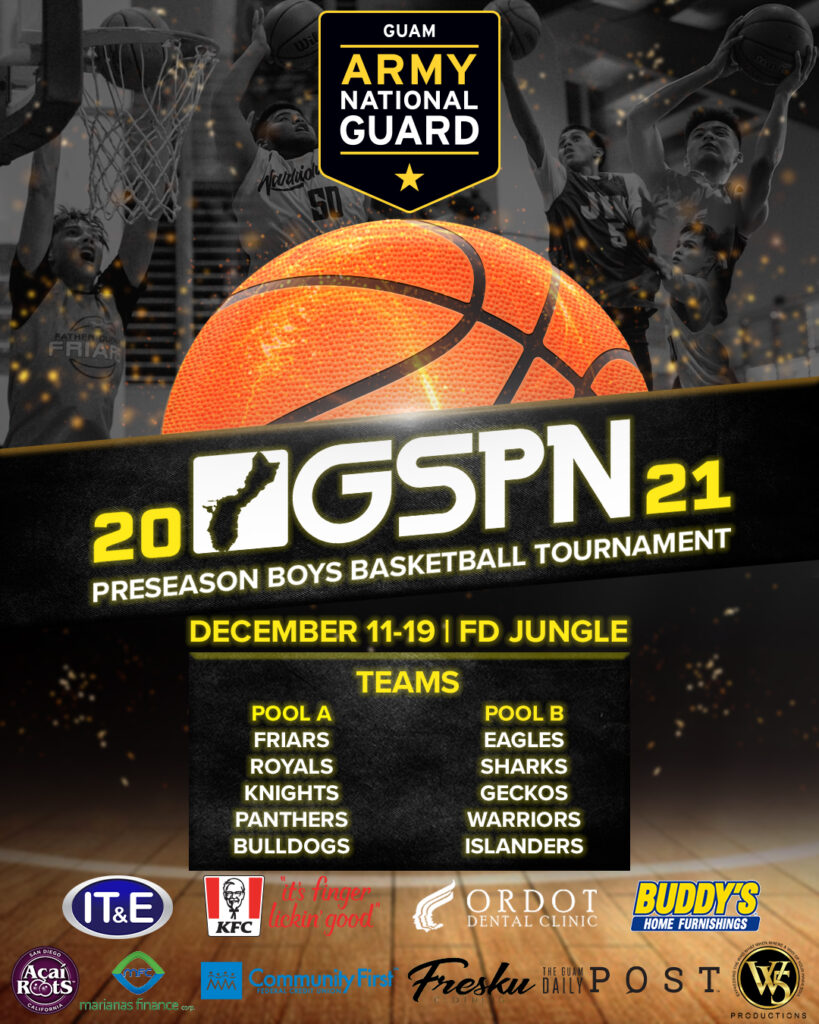 QUICK HITS
Robert Artero Maley recently captured the 182-lb. division of the Costa Mesa Classic, winning via pin in 4 out of 5 matches. Robert is a 4-year varsity wrestler at San Clemente HS (Tritons) and is currently ranked 15th in California's high school scene. He is the son of Jacque Artero Maley (AOLG 1991).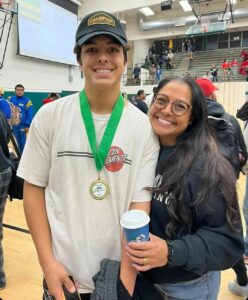 ——————————————–
Pat Taitano and Rich Abiador, teammates on the 1995 SPG volleyball team, have led their high school girls volleyball teams to the Washington State Championships in Yakima, Wa.
Taitano coaches Mt. Rainier High while Abiador leads North Creek High.
There for support is Dr. Mark Perez, a health professor at Central Washington University and a former UOG volleyball player.