PRESS RELEASE – Wednesday November 12, 2014 – Organizers of the this Saturday's 9th annual Triple J 5k Family Fun Run Walk, expect to draw thousands to this weekends 5k event!
The 9th Annual Triple J Family Fun/Run/Walk themed "These Colors Run" is confirmed for this Saturday, November 15th at the Triple J Auto Group Main Location in Upper Tumon (in front of K Mart), Showtime 5:15 am and start time is 6 am.
We are excited to bring back a splash of color to Upper Tumon! These 'clolor runs' are a growing rave on Guam and stress happiness over competition, with three paint-blasting stations along the race route. Triple J was the first to introduce it to Guam last November, with a total of 2332 runners crossing the finish line! These runs encourage participants to wear white, ensuring the paint-splattered clothing they wear home are the trophies. It's about enjoying life, something everyone can do, and it provides instant, healthy, communal gratification. We've got six different colors and almost 1,000 lbs of color confirmed this year, so we guarantee that participants will be happy, have fun and not worry about getting messy!
This year marks Triple J's 30th Anniversary
Triple J's "Customers First" commitment extends to our community involvement. Hand in hand with our business expansion and success, we have for three decades strived to improve lives and build better communities through our philanthropic contributions, financially and voluntarily with time and personal involvement, to various nonprofit causes as well as to individuals.
Our beneficiaries for this year's 9th Annual Triple J 5K Family Fun/Run/Walk
Guam Cancer Care – Every year, approximately 316 Guam residents are diagnosed with cancer. Statistics have shown that they've been diagnosed at the later stages of cancer and that caner accounts for nearly 1 in every 5 deaths. That's one person dying from cancer every 2 to 3 days here in our island. Guam Cancer Care was created for the primary purpose of birding the gaps in serves that our local cancer patients face. Their key objective is to provide direct services to cancer patients, with an immediate vision of helping save lives, one person at a time!
Boy Scouts of America Guam Chapter – Service above self is one of the many good traits that Scouts put in to practice in their daily lives. With all the issues our island youth are expose to on a daily basis, it is more important than ever to increase Boy Scout activities and to attract even more boys to become Scouts. There are over 8 outreach units in Guam serving different locations. Their ultimate goal is to increase awareness and expand Scouting in our communities.
The Race starts at Triple J Auto Group Main Location in Upper Tumon and proceeds north on route 1. Runners will proceed north passing lipog Street, Saint John Street, Tumon Lane and Carlos Heights Street. Runners will turnaround near American Medical Center and then head south on Marine Drive back to Triple J Main Location. There will be two lanes for the entire racecourse, the inside lane for color runners and the outside lane for competitive runners, and runners who do not want to participate in that part of the event.
Registration is open at all Triple J Auto Group locations – Honda/Acura showroom in Tamuing, next to McDonald's, the Main Headquarters located next to Kmart in Upper Tumin and Used Car Mart along airport road. Free event t-shirt to the first 2000 registrants upon sign up. Download the registration form and FAQ kit on our Triple J Auto Group Facebook page.
Free food and beverages from Outback Steakhouse and Five Star Wholesale, free activities like the Rock Wall and Zipline from Pitshop Rental, awesome raffle prizes, and a Grand Prize draw of a United Airlines round trip ticket to Asia, Micronesia or Cairns, Australia.
RUNNERS ARE ENCOURAGED TO CAR POOL. PARKING WILL BE AVAILABLE IN THE KMART PARKING LOT, JFKHS PARKING LOT, AND DPW PARKING LOT. Please plan on extra traffic and be courteous and safe.
For more information, please contact Kristine Lujan at 688-5845.

QUICK HITS
Guam MTB National Championship: Edward Oingerang and Jennifer Camacho are your 2023 MTB national champions. Oingerang finished the course in 1:13:24 while Camacho won her second straight title in 54:08.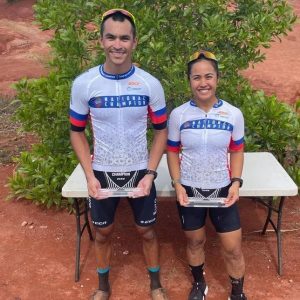 ——————————————
Kobe Miyashita, with St. John's coach Arvin Flores, was named the 2023 IIAAG Middle School Boys Volleyball MVP!