[useful_banner_manager_banner_rotation banners=49 interval=5 width=120 height=600 orderby=rand]
By Derek Mandell
Registration for 2014 Guam Ko'ko Road Race Half Marathon & Ekiden Relay ends on October 15, or about two weeks from now if you read this article the day it is posted. If you registered early and saved a few bucks, good for you. You completed the first step in a 13.1 mile journey that seems a lot more pleasant on paper, regardless of your fitness level. If you are still undecided about running the race and haven't signed up yet, then this would probably be the best time to get moving and register.
So, for the newly registered runners, try to remember these simple 13.1 ways (in no particular order) to cope with your decision to run a half marathon.
1: Figure out your goal.
Long distance races are a lot easier if you have a goal in mind. Do you want to finish under a certain time? Finish before the free food and drinks run out? Write it down and look at that goal every day before you train.
2: Run 13.1 miles in training at least once.
If you've never completed 13.1 miles in training, try it once. It will build some much needed confidence for the big day.
3: Run the duration of estimated finish time.
If you can't run 13.1 miles in training, then run the duration of your estimated finishing time. In a race day situation there are number of factors that can lead to a faster pace. With a goal time of 2 hours for 13.1 miles in a race situation, you may only be able to complete around 12 miles in 2 hours during a training run. The most important thing is that your body will be familiar with running for that set duration.
4: Plan to reward yourself after the race.
The best part of running a half marathon or full marathon is the part where you don't have to run anymore. It gets even better when you are rewarded for your achievement. Plan to do something or buy something special that you couldn't use while training for the race.
5: Look forward to carbo loading.
Carbo loading is a ritual many runners partake in that involves eating copious amounts of pasta a few days before a long race. Researchers claim it helps store needed energy for endurance efforts over 90 minutes long. But for the everyday runner, it's a good excuse to eat more than you should, normally.
6: Social media the heck out of it.
Need some encouragement or peer validation in your journey? Do you feel the need to post some pictures of your GPS watch? Well, this is the best time for your social media activity. You will not be alone. Trust me.
7: Talk about your decision to run the half marathon with your coworkers.
Nothing ends awkward silence like small-talk about an upcoming race. "Are you going to run the Ko'ko?" "Have you started training yet?" and so on. This small-talk repertoire can continue even after the race ends. For example, "How did you do yesterday?" or "I didn't see you yesterday! Did you sleep in?"
8: Buy a new pair of running shoes.
New running shoes make going out for a run seem a lot easier. Whether it's justifying your purchase or feeling confident in the way you look, new shoes some how lead to more running. It's best to buy them a few weeks before the race, which will give you enough time to break-in the shoes or realize that they aren't the right pair for you.
9: Read an article about running.
If you read up to this point, mission accomplished.
10: Don't read an article about running.
If the headline says "Run your best half marathon in only 12 weeks," and you only have 2 weeks until the race, DO NOT read the article. It will only discourage you. However, it's a good idea to save that article for your next half marathon. But make sure you read it 12 weeks out.
11: Get good sleep two days before the race.
The Ko'ko half marathon has a go time of 5:00 a.m. on a Sunday, so it's highly likely you will not get much sleep the night before the race. Go to bed early on Friday night and you'll feel refreshed for Sunday's race.
12: Practice your finishing pose.
There's usually a camera at the finish line, so take the opportunity to make a memorable profile pic. Remember number 6 in this article?
13: Accept your training a few days before the race.
Why add unneeded stress? If you are worried you didn't train enough, there's nothing you can do about it a few days before the race. In fact, trying to fit in hard training might do more harm than good at that point. Accept your training and work with what you put in.
13.1: Make it to the starting line.
Once you are at the start, there is no turning back on your decision. Finish what you started and enjoy the race!

QUICK HITS
Guam MTB National Championship: Edward Oingerang and Jennifer Camacho are your 2023 MTB national champions. Oingerang finished the course in 1:13:24 while Camacho won her second straight title in 54:08.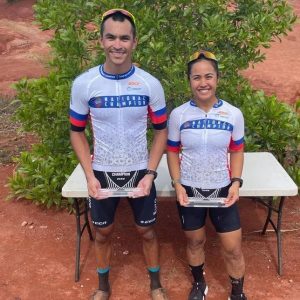 ——————————————
Kobe Miyashita, with St. John's coach Arvin Flores, was named the 2023 IIAAG Middle School Boys Volleyball MVP!