PRESS RELEASE – The Wings FC's dominant performance in the Marianas Invitational Tournament, a U18 youth soccer tournament, culminated in a 6-0 trouncing of visiting team Tan Holdings FC for the championship title at the Guam Football Association National Training Center.
The Wings opened scoring in the 12th minute with an Agustin Choi follow up shot on teammate Marlon Evans' free kick. The Wings tacked on another goal before the halftime whistle built up from a long ball from defender Shane Healy to Gen Fudo. Fudo eluded a few defenders and sent in a cross from the left side, finding both Choi and Isiah Lagutang, with the latter winning the goalmouth scramble.
Lagutang later began the Wings' scoring campaign in the second half capitalizing on a miskick by a Tan Holdings defender attempting to clear the ball out of the box. Five minutes later, Ricky Katsumata launched a volley shot for the 4-0 advantage. Next, Choi earned his second goal of the contest after connecting on a Katsumata corner kick in the 59th minute. Donovan Reyes scored the Wings' final goal in the 65th minute off a phenomenal free kick from the right side that managed to float over his teammates and opposing defenders who crashed the goal on the play.
A defense-heavy Tan Holdings team relied mostly on long passes from its defenders out to its designated striker, but the speedy Wings defense quickly quelled most attacks. Sean Perez and Yoshi Mafnas had some opportunities, but neither was successful in their attempts.
"With constant practice together and matches through a few youth league seasons, we've come to the point where we've not only developed as a team, but as a family – we've built a great deal of trust among ourselves out on the field and have good leadership from key players," said Choi, who was honored as the tournament's Golden Boot winner with five goals. "With the addition of a few other players like Donovan (Reyes) and Ricky (Katsumata), we knew that we would be coming into the tournament as a very strong team.
"Tan Holdings played with a lot of heart and stayed positive. They showed great sportsmanship even though they were down by a few goals. Overall, it was a great tournament. I only wish we could have extended the tournament to play each team at least twice, but I look forward to more tournaments like this one," added Choi, an incoming senior at John F. Kennedy High School.
In the day's other match, the ASC Trust Islanders' 2-1 win over the Strykers catapulted the winning team to a silver finish in the tournament. Jestin Escobar and Ryan Quitugua scored for the Islanders and Shawn Charfauros scored for the Strykers.
The Tan Holdings U18 team, visiting from the Northern Mariana Islands, settled for a bronze finish after playing to two draws and one loss over the weekend. In the Golden Boot race, Choi finished first with five goals, followed by Tan Holdings' Sean Perez with four. Lagutang and Tan Holdings' Yoshi Mafnas finished the tournament tied with three goals each in three matches.
PHOTO GALLERY:

Foody's 5 Fun Facts
ND Royals Volleyball Setter Gabrielle Piper
DID U KNOW?
Guam National Track & Field sprinter and St. John's Cross Country/Track Star Madison Packbier is the daughter of former Track Star Tara Steffy granddaughter of GNOC's Bob Steffy.
COMING SOON …
– Marianas Open Aug. 31
– FIFA: Guam vs. Maldives Sept. 5
– Submit VI on Sept. 6
QUICK HITS
Former JFK All-Island lineman Christopher Parker transfers to De Anza College in Cupertino, CA. De Anza finished last season 10-1 and won the American Conference Championship Bowl. Good luck Chris!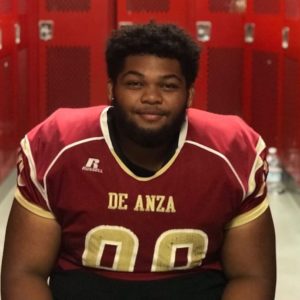 —————————————————-
Die-hard Rams fan Kenny Artero is in Hawaii to catch his beloved team play the Cowboys at Aloha Stadium in a preseason NFL game. Artero got a chance to meet Hall of Fame running back and Rams legend Eric Dickerson.