by Kyle Eckert
Harvest Christian Academy has had 27 classes walk out of its halls with a diploma in their hands and "Pomp and Circumstance" in their ears.  27 years worth of alumni have spread out around the world, but last Friday night many of those alumni returned to their alma mater to compete in the first annual HCA Alumni Volleyball Tournament.
"The whole point of this tournament is to foster a family bond amongst the alumni: old and new.  Yes, there is some stiff competition amongst the teams, but in the end we are a family.  You could say the tournament is kind of like those intense game nights with the uncles, aunties, and cousins," quipped Tournament Director Kylon Eckert.
"Probably the best sight was one team that had classes represented from the 80's, 90's, and 00's.  That's what we are aiming for with this tournament: Bonding, Family, Connection."
Competition, concessions, and conversation proved to be a winning formula as most stayed till the tournament's end around 11pm.  When asked about the overall tournament experience Alumnus Cliff Paulin responded, "I believe the alumni & families that came had a wonderful evening.  The competitiveness brought a reconnect with other fellow classmates & other graduates.  I hope that we can continue to have more of these types of sporting events to help bring other Harvest alumni members together."
Although the family atmosphere was prevalent it did nothing to dampen the competitive mood of the seven teams in the tournament.  The championship match set between the WanDuffs and How I Set Your Mother was nothing short of exhilarating and really flexed Harvest's volleyball muscles.  A high level of excitement was to be expected since the two teams consisted of a slew of volleyball all-islanders, two IIAAG MVP's, and a couple Micronesian Games gold medalists.
HISYM, led by setter Josh "Go Pro Bro" Madrid , took an early lead due to debilitating WanDuff errors and dominating net play by Matt Perez, Kaipo Sotelo, and Bryce Guerrero.
Down 19-10 an alumni championship seemed out of reach for Marlon Evans and the WanDuffs, but minimizing errors and capitalizing on matchups allowed them to grasp at life as a sideout put them closer to striking distance at 22-16.  From that point on the WanDuffs seemed unstoppable.
The deep serves of Misaki Cramer consistently kept the fierce HISYM attack off the net, and when the ball was rallied back setter Aaron Filush let two-time gold medalist Christian Mailloux finish what Cramer started.  Cramer's serving, stalwart digging, and the Filush-Mailloux connection confounded HISYM's front row and drove the WanDuffs back into the lead and to match point.
Down 24-22 HISYM made one more furious attempt to put the ball away and wrest match control from the WanDuffs, but Filush made a game-saving dig.  The resulting attack led to the fatal HISYM net error giving the WanDuffs bragging rights of being the first HCA Alumni Volleyball Tournament Champions.
With the tournament concluded, nets taken down, and gym cleaned families returned to their homes, but anticipation for next year's tournament is already brewing: eagerness to not only see growth in the size of the volleyball tournament but also growth to Familian Harvest.
PHOTO GALLERY:

QUICK HITS
3rd place: Big ups to the Para Todu Rugby Club for finishing 3rd out of 16 teams in the Manila 10's Rugby Tournament today. Biba Guam Rugby!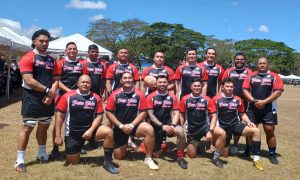 ——————————————
Guam MTB National Championship: Edward Oingerang and Jennifer Camacho are your 2023 MTB national champions. Oingerang finished the course in 1:13:24 while Camacho won her second straight title in 54:08.