By Robert Balajadia
On Sunday, March 8th, the Guam Pro Jiu-Jitsu Tournament will be on full display at the Hotel Nikko Ballroom in Tumon to feature over $80K in prizes and travel packages, including an unprecedented chance to compete in the Abu Dhabi Championships on April 23.
The Pro Jiu-Jitsu tourney will be shelling out the most money in prizes than any other tournament pervasively held on Guam. Roughly $15K is set aside for just the white belts!
The opportunity to host such a tournament was dawned upon to Guam's Melchor Manibusan after showcasing his clothing and sporting brand Cauliflower Culture at the UFC Fan Expo in July of 2014. From there, he drew all the right attention, namely from legendary jiu-jtsu practitioner Sheik Tahnoon and brother Sheik Muhammed.
After many meetings, phone calls, and contacts on social media, Muhammed and Manibusan got the ball rolling on hosting the upcoming tourney on Guam, being the first ever exclusive Abu Dhabi qualifiers to the Marianas/US regions.
News of such a big opportunity presumably would bring a wave of competitors, but the list of competitors thus far is much lower than Manibusan anticipated.
"If you come first place in this tournament then there is no need to fundraise for a plane ticket to go out and compete in Abu Dhabi," stressed Manibusan on the opportunity.
In order to register for this tourney, competitors would need to register on www.uajjf.com under the Guam event. Deadline for registration is on March 6, and registration takes no more than 15 minutes.
The Pro Jiu-Jitsu Tourney is not the only jiu-jitsu tournament set to go down this month with the annual Marianas Open also happening at the end of March on the 28th. Competitors might be put in a situation where they would seemingly have to choose either or tourney to compete in, but the near three week rest in between should allow the ambitious to compete in both.
Manibusan expressed that March 8th was the only date that the Pro Tourney could be held.
"Imagine being flown out to America to compete in a sport in front of President Obama, that's what it would be like to compete in Abu Dhabi," said Manibusan.
There are two competitors who are flying in from the states to compete this Sunday, but the majority of the competitors are going to be right on island.
Doors at the event open at 10 am and each match will be showcased as the feature event with only one match going on a time.
Check out what some of the competitors will be fighting for this Sunday!
National PRO champion's packages include:
• Entry for 2015 Abu Dhabi World Professional Jiu-Jitsu Championship in April
• Event Registration
• Flight tickets from GUAM main Airport to Abu Dhabi
• Accommodation
• Meals
• Transportation
• Insurance
• Visa
For during championship days only (no exceptions)
TRAVEL PACKAGES
WHITE/BLUE BELT ( ADULT MALE )
*OPEN LIGHT ( under75) *OPEN HEAVY ( over75 )
PURPLE BELT ( ADULT MALE )
*OPEN LIGHT ( under75) *OPEN HEAVY ( over75 )
BROWN/BLACK BELT( ADULT MALE )
*OPEN LIGHT ( under75) *OPEN HEAVY ( over75 )
WHITE/BLUE BELT ( ADULT FEMALE)
*OPEN LIGHT ( under65) *OPEN HEAVY ( over65 )
PURPLE/BROWN/BLACK BELT ( ADULT FEMALE)
*OPEN LIGHT ( under65) *OPEN HEAVY ( over65 )
Other Event Info
Winner's Packages:
– The Winners package includes a flight from the same location of the championship or cheaper place only. (Have to be approved by the UAEJJ Federation).
– Winner's packages include accommodation, meals, transportation and visa for tournament days only (no exceptions).
– The package winners have 2 weeks deadline after the championship to send all information through www.uaejjf.org otherwise the package will be cancel or give to the second in the rank. (Information on the Winners Package Form).
– The Package Prize will be change to second place in any case of lack of documentation, problems, injuries, etc.
– The winner's details have to be in the UAEJJF System (membership details) in maximum 2 weeks.
– Winner' form has to be sent contends the players and departure information (form to be provide by UAEJJF).
– Passport and Photos for the visa have to be in good quality and resolution in the UAEJJF System.
– No changes, extends or upgrades on the tickets and visas will be made by UAEJJF.
– Tickets from the Country Main Aiport Only.
OPEN WEIGHT ENROLLMENT
With the exception of Brown and Black Belts, only those who reach the semifinals will be allowed to compete in the Open Weight Division
Athletes are eligible only to fight open weight if they compete on the weight division, if the athlete didn't make the weight, or didn't show up for the division they are not allowed to participate in the open weight.
To participate in the open class division the athletes must apply their registration at the event center table according to the event schedule.
No registrations will be accepted after the closing time scheduled.

QUICK HITS
Guam MTB National Championship: Edward Oingerang and Jennifer Camacho are your 2023 MTB national champions. Oingerang finished the course in 1:13:24 while Camacho won her second straight title in 54:08.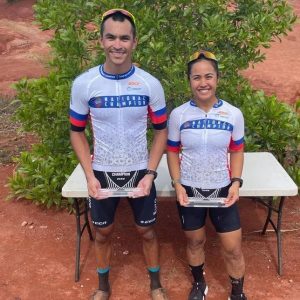 ——————————————
Kobe Miyashita, with St. John's coach Arvin Flores, was named the 2023 IIAAG Middle School Boys Volleyball MVP!