[useful_banner_manager_banner_rotation banners=74,72,79 interval=10 width=120- height=600 orderby=rand]
By Patrick Lujan
Just in case someone was shooting to break Guam's national marathon record – it just got harder from the man who already held it.
Wayne Blas smashed his very own Guam marathon record by 35 seconds Sunday in the California International Marathon in Sacramento, California.
Blas set the Guam record in the same race last year, this time crossing the finish line in two hours, 31 minutes, 54 seconds.
"My training for this mararthon was by far my best training ever," Blas told GSPN after his record-breaking performance. "Leading up to it, I did a few races and set my PR's in those races (10-mile and half marathon) so going into this race, I was in the best shape ever. I was certainly confident going into this."
Running in his second marathon of the year – the other being the Boston Marathon in April – Blas was right on his race pace at the halfway mark at 1:15:12. "That was perfect, it was exactly where I wanted to be," said the Army Major stationed at Aberden Proving Ground, Maryland.
As a net downhill elevation race with hills throughout the race Blas calls 'mini Boston', his hamstrings started to tighten up at mile 10.
"I was very fortunate that my hamstring held up – it's still very sore way past the race."
Blas' mile splits were 5:45 for the first half. "Every mile after that, I was doing ok, but once I started seeing my splits go up to 5:47/8 and up to 6:00, those slower miles add up quickly.
"At mile 22, realizing that I had four miles left, I tried to stay mentally tough and kept grinding and fortunately brought back my splits below 5:50's. My last mile was 5:48."
That's blazing for mile 26!
Sub 2:30
One goal was reached as he broke his own National record. His other goal of running sub 2:30 was just out of reach.
Disappointed?
"Not at all. I had a cold at the beginning of the week. I was worried as to how bad it would affect me in the race. I was trying to be smart as the week progressed. I did what I can, but I always had a positive attitude.
"I thought my fitness was definitely capable of breaking the 2:30, but a marathon is a marathon. Anything can happen. I wasn't down or disappointed, because even though I was in shape, running a sub 2:30 is still difficult."
Post Marathon
After running his 24th marathon, the 38-year-old JFK graduate (Class of '95) will take a few days off to make the body recover.
"I like to make sure I do a full recovery. I won't run for the next three days. I'll still do a lot of walking and stressing with active recovery, but I'd like to take two to three days off. I'd eat a lot of protein and carbs and stay hydrated over the next few days. Then do some very easy running after that, just doing a few miles to get the oxygen back into the muscles."
As for the future, Blas still has the magical 2:30 mark in sight.
"The last few marathons have been my best marathons. I still think I have a 2:30 in me. As long I'm still progressing and enjoying what I do, I'll keep going for it. I'm getting closer."

QUICK HITS
Guam MTB National Championship: Edward Oingerang and Jennifer Camacho are your 2023 MTB national champions. Oingerang finished the course in 1:13:24 while Camacho won her second straight title in 54:08.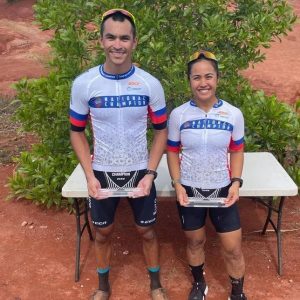 ——————————————
Kobe Miyashita, with St. John's coach Arvin Flores, was named the 2023 IIAAG Middle School Boys Volleyball MVP!