By Jay Leon Guerrero
Last week Friday, a pair of green and gold high school female athletes inked their names into the record books after meet 2 of the IIAAG High School Track and Field league. Multi-sport athlete Alison Bowman and sprinter Regine Tugade achieved high school track records in their respective events.
Bowman broke her own high school record she set last year at Leo Palace. Her previous record was 2:28 set last year, she smashed her own record and clocked in at 2:24 Friday night at Okkodo.
"Week 1 was a big wake up call," said Bowman who lost her 800 meter heat in week one to a Guam High runner. "I was definitely motivated to do better," she said.
Tugade, who also shattered the 100 meter record with an official time of 12.26 was shocked at her performance. "I travelled to a pre-season Meet in the Philippines and actually accomplished a PR (personal record) there. I think being exposed to sprinters at my speed and/or faster in the Philippimes made me better," said Tugade. "But I really was surprised by that performance, I didn't expect it".
Tugade broke Pollara Cobb's 100 meter record set at the World Championships in South Korea in 2011. Cobb, a former Shieh scholar athlete of the year, currently has two records in the long jump (5.34m) and the triple jump (10.88m) set in 2014.
Both girls acknowledged that records are good, but the goal is to be at the best during the all-island meet.
Coach Jay Antonio agrees and he's hoping for the pair to improve their performances. "I'm proud of the two not only for breaking the records but for putting in the hard work that comes along with it. It's an easier task to get to the top but it's maintaining that's hard. It takes a lot of effort from their part both physically and mentally," said Antonio.
Three-peat goals
The Islanders are still focused on the main goal which is to get to the dynasty status and achieve that "three-peat" status. "The good thing about both of them is that they're not at their peak yet. As a coach, all I try to do is provide them with them workout and guidance. What they do with it is their choice; I don't go to practice and talk about records. Our coaching staff creates a workout schedule that benefits the entire team," added Antonio.
"We had two speed workouts in practice (last week), we are just going to move forward and continue to work hard," said Bowman. Both Bowman and Tugade are excited for the latter part of the season because of the increase in female participation which creates good competition. "This season will be more competitive as compared to last year, there are really good teams out there," said Bowman.
"I'm really happy that this sport is growing, Guam High has a really good team and I'm also proud of my former BMS teammate Shania Bulala who now runs for Okkkodo," said Tugade. Tugade praised Bulala, a sophomore, after she won her heat with a fast time of 13.03 seconds.
With the IIAAG all-island meet scheduled for next month, expect several PR's and maybe more records to be broken. "Sure, I expect to get better; hopefully I'll break the 11-second mark".

QUICK HITS
Guam MTB National Championship: Edward Oingerang and Jennifer Camacho are your 2023 MTB national champions. Oingerang finished the course in 1:13:24 while Camacho won her second straight title in 54:08.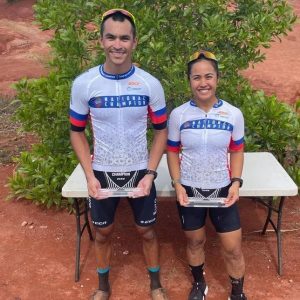 ——————————————
Kobe Miyashita, with St. John's coach Arvin Flores, was named the 2023 IIAAG Middle School Boys Volleyball MVP!