PRESS RELEASE – After the final whistle of the Triple J Auto Group Robbie Webber Youth Soccer League U14 division intra-club match between Wings Red and Wings Black, coaches Ross Awa and Frank Toves gathered all players for a collective cheer for Wings instead of the usual post-match handshake line.
The players from both teams, who train with each other twice a week, took to the pitch in an official league match with Wings Red coming out on top over their Black counterparts tallying goals from Niclas Vavra, Leon Morimoto, Taiga Simon, Kyle Halehale, Mark Iseke, Kainoa Ferguson, and Kaito Atsuta.
"We want all Wings teams to win, but when we have to play against players from the same club, they are like any other opponents," said Halehale after the match. "For me, it's the same feeling going out on the field against any other club team – we play our style and we don't underestimate any team in the league.
"So far, we have one loss and one draw, and wins in every other match, but there are other teams with better records than us. Our goal for this season is to continue improving as a team – with the exception of one player who will be moving, our entire team will be back next season. We're training hard to improve in each match and I hope we'll come back strong enough to win the U14 championship in the fall if we aren't able to catch up for the title this season," added the 12-year-old student at Bishop Baumgartner Memorial School.
In other U14 division matches, the ASC Trust Islanders Betde defeated their Asut counterparts 8-1 with goals from Jonathan Sevilla, Marley Cruz, Jenna Han, Shawn Sablan, and Gabriel Tan. Melvin Tandoc scored for Asut.
The Strykers continue undefeated with a 6-0 win over the Sidekick SC. Joshua Calvo scored five goals and Micah Hennegan scored the team's other goal.
Community First Dededo Soccer Club edged Islanders Apaka 4-3 with two goals from James Eddington and one each from Allan Aranas and Logan Bracamonte. Brennan Finona scored twice and Aaron Gogo once for Islanders.
The Guam Shipyard Wolverines defeated the Southern Cobras 4-0 with two goals from Michael Lee and one each from Emma Pleadwell and Chloe Salas.
The Tigers defeated Tsunami with goals from Seung Min Kim, James Lee, Luke Kim, Michael Chung, and Jacob Lee.
In the U17A division playoffs, Quality Distributors stay in the title hunt with a 1-0 win over Wings Black. Joshua Cepeda scored the contest's lone goal.
The No. 2 Strykers prevented a potential upset with a 4-3 edge over the Southern Cobras. Clayton Mitchell scored twice and teammates Xavier Naputi and Justin Johnson also scored. Napu Topasna scored twice and Seth Surber once for Cobras.
Wings Red defeated Islanders Asut 11-3 with three goals each from Jordan Jasmin and Shashikant Kotwal. The team also tallied goals from Derek Okuhama, Ricky Katsumata, Marlon Evans, Eric Kim, and an Islanders own goal. Aaron Roque, Kennedy Macatuno, and Angelo Cortez scored for Islanders Asut.
In the U12A division, Islanders Asut edged Tsunami 5-4 with four goals from Jadyn Palomares and one from Mia Taitano. Shawn Juntunen scored twice for Tsunami and Jaden Pagan and Yan Ortiz also scored.
Dededo defeated the Orange Crushers 7-3 with three goals from Yuuki Kubo, two from Patrick Haimin and one each from Kaden Rivera and Alanna Barnhart. Robert Haddock, Nate Morgan, and Caeden Wood scored for the Crushers.
Wings Black defeated the Strykers 7-3 with two goals from Martin Iseke and one each from Sergio Vavra, Ernest Cho, Kyle Takano, Kai Pahl, and Daisei Watabe. Zion Quitugua scored twice and Toa Youngpin once for the Strykers.
The Wolverines defeated the Tigers 5-0 with three goals from Lauren Phillips and one each from Alina Gumataotao and Kaden Slack.
The Wings Red defeated Islanders Betde 7-2 with three goals from Taiyo Kanekatsu and two each from Justin Joseph and Nainoa Norton. E.J. Sablan and Jacob San Agustin scored for the Islanders Betde.
Youth league action continues Saturday.
PHOTO GALLERY:

QUICK HITS
Guam MTB National Championship: Edward Oingerang and Jennifer Camacho are your 2023 MTB national champions. Oingerang finished the course in 1:13:24 while Camacho won her second straight title in 54:08.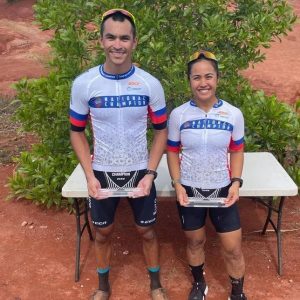 ——————————————
Kobe Miyashita, with St. John's coach Arvin Flores, was named the 2023 IIAAG Middle School Boys Volleyball MVP!