By Robert Balajadia
The 2015 Marianas Open made history Saturday as the biggest tournament ever hosted in its existence. The headlines prior to all the good-rolling competition the tournament brings every year was the huge $10,000 cash prize between black-belts. This was the first time that a competition on Guam has brought out eight black-belt jiu-jitsu practitioners.
In the end, it was the four-time double-gold medalist and just 22-year-old Keenan Cornelius taking the cash prize over former Guam resident Mike Fowler. Cornelius played masterfully through the first two rounds and worked his game slowly, but surely to submit the shorter Fowler.
"[Fowler] has a special guard he calls the unstoppable position and it is unstoppable if you attack it with conventional methods, so I used an unconventional method of just standing up straight, which takes away a lot of the leverage. I was waiting for him to ware down a little bit, and once he did I was able to pass and attack the back. Once I got the choke in it felt pretty tight and I knew I had it. [Fowler] is a super nice guy, but unfortunately you have to fight people you know in this industry," said Cornelius on the finish.
Though competing on Guam is mostly new, Cornelius is no stranger to the island as he previously came through for training seminars in 2014. If competitions were to have it, Cornelius would love to come back to the island and compete again, but this time with more preparation.
"I wasn't sure if my teammate JT Torres was going to come out and if he was then I wasn't going to come here and 'cramp his style.'  I only found out four days ago that he wasn't going to go, and there's a lot of traveling involved. If they have this one again out here then I'll definitely come back and do it," said Cornelius.
Purebred also took the team titles for an unprecedented 15th time in a row.
Sian Takes Brown Belt Gold
Purebred's Eric Sian is already heading to the Abu Dhabi Championships later this year, but competing and winning the Mariana's Open was still something he always looks forward to and really wanted to do.
"I planned it that way," said Sian on coming out on top. "I believe in myself all the time and I trust in the technique that I do and I didn't doubt myself once."
Sian was also the recipient of a $1000 prize and explained that the Open is a great tournament, but his sights are now set on the Abu Dhabi World Championships and is ready for the fight of his life, "A good day to die" mentality as he puts it.
Sian has emerged as Guam's top brown-belt and is an aspiring black-belt, a feat that many believe is going to happen sooner than later. With some of Guam's finest black-belts and world-champion-off-island competitors putting on display world class jiu-jitsu, Sian too was in astonishment.
"These guys are the best in the world right now. To have these guys compete on the island is huge and I feel proud to be here. This means were obviously doing something right for them to come out here to compete."
Brothers Battle For Purple Gold
It's never easy going up against a fellow teammate during the Marianas Open, and some even opt to just hand off the medal to their teammate if ever matched up. Though, those rules didn't apply for Figo's purple belts Chris Thomas and younger brother Isaac Balajadia.
Shortly after getting a close win over Trevin Jones in the semifinals, Thomas was told by a teammate that his younger brother Isaac had made it to the finals as well. Thomas put on a huge smile and shouted in excitement hinting that no rock, paper, scissors was going to determine the gold medalist in the family.
Thomas and Balajadia wrestled around with Thomas leading in points just before he sunk in a heel lock to force his younger sibling to tap. The two greeted in hugs afterwards.
Gondoali Battle Through Teammates
Purebred's Jayronne Gandaoli took home the women's absolute blue belt gold title, but this year she had to do so going through three of her own teammates. It's almost unavoidable to face fellow gym-mates, especially when some of the best ladies in the sport on Guam train out of Purebred!
"[My teammates] already know how I play so during the tournament you have to shake it up a bit. It's harder compared to most of the others competing!" said Gandoali, who is still nursing a knee injury. "I've been going through physical therapy with Ryan Claros at custom fitness, but this tournament has been a tough one for me. My knee is still a little tender which brought a pretty tough challenge."
Gandoali faced off against friend and training partner Rebecca Tomada in the finals for the second time this month. Earlier in March, the two met in the finals of the Abu Dhabi Trials where Tomada took top honors. Gandaoli's win was not an equalizer against her teammate, but she did admit that she wasn't deviating from winning regardless.
"It's not like that at all, we're friends on and off the mat. When it comes to the tournament we always give it our all…but, of course I wanted to win," chuckled Gandaoli.
Complete Results (courtesy of Marianas Open FB)

2022 GSPN I MÅS METGOT COMPETITION
2022 GSPN I MÅS METGOT COMPETITION
2022 GSPN I MÅS METGOT COMPETITION
2022 GSPN I MÅS METGOT COMPETITION
2022 GSPN I MÅS METGOT COMPETITION
2022 GSPN I MÅS METGOT COMPETITION
COMING SOON …
GNYFF Championship Saturday
2nd Annual Greg D. Perez Fishing Tournament on Saturday
GML Playoffs
1st Quarter Sports
QUICK HITS
Team Onslaught represented Guam at the National X-Ball League paintball tournament in Sacramento, CA. The squad finished in 3rd place out of 12 teams in the Division 5 category.
Front L-R: Frankie Borja, Robert Delos Reyes
Back L-R: Marvin Reyes, Ericka Camacho, Gavin Santos, Nick Rivera, Nikki Tan, Adrian Mora, Ralph Sgambelluri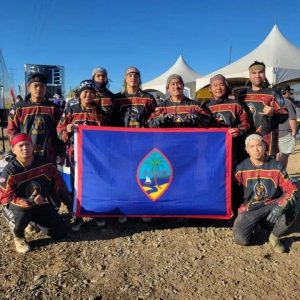 ———————————————–
Purebred Jiu-Jitsu Guam adds three more to their black belt stable. Daniel Cayanan, Cameron Mantanona and Peter Ungacta received their black belts on Saturday from Professor Stephen Roberto.