By Robert Balajadia
The game between the Southern Dolphins and Harvest Eagles didn't end at the 38th minute, but the score after Colleen "The Score-ceress" Naden's second goal of the evening to go up 3-0 would eventually be the games final.
The visiting Dolphins displayed their potent offense once again throughout the course of the game with their stars Naden, Zoe "Z-Bow" Surber, and April "Speedy" Talledo all getting into the scoring action.
Naden notched her goals in the 9th and 38th minute with both of her goals coming off assists from Talledo. The tandems recipe for success was explained with, well, a type of food certain type of food.
"[April] is my beef tapa, she is the beef and I'm the tapa, because I top it off." said Naden on her relationship with Talledo. "We spend most of our lunches and day together, we've got a good bond. She's a senior and I'm a sophomore, but we've just got that type of chemistry."
Surber scored the Dolphins second goal at the 36th minute off a rebound of her own attempt. Her first shot got through the defense but clanked along the right goal post which had the crowd gasping at the opportunity. Surber stayed vigilant and chased down her own miss and fired away a more successful shot to go up 2-0.
"They were playing really physical with us, but we just needed to come out and play harder. We need a fast and efficient start and we eventually pulled through together," said Surber on her offense.
The second half was dominated by defense, but the Eagles had a hard time cracking the Dolphins' tough defensive exterior, led by Kim Malalis.
"We couldn't score without our defense saving us today. They are the ones that make our offense look good," admitted Surber.
Southern's offense was also a key reason the Harvest offense couldn't find a rhythm with the Dolphins playing keep away from the home team.
The Dolphin offense continues to look strong behind the triple-threat of Naden, Talledo, and Surber, which could give any defense a headache on who to pay more attention to. With the offense finding a grove in the later parts of the season, it's going to be hard to keep Southern from taking in a fourth-straight title.
"When we are all on top of it I feel we're really strong," said Naden on the prolific offense. "There are some days where we get off to a late start, but we do have our good days where we play real strong."
The Dolphins improve to a league best (6-0-1) while the Eagles fall to (2-3-1).
PHOTO GALLERY:

QUICK HITS
Guam MTB National Championship: Edward Oingerang and Jennifer Camacho are your 2023 MTB national champions. Oingerang finished the course in 1:13:24 while Camacho won her second straight title in 54:08.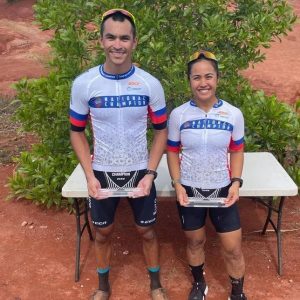 ——————————————
Kobe Miyashita, with St. John's coach Arvin Flores, was named the 2023 IIAAG Middle School Boys Volleyball MVP!