PRESS RELEASE – With thousands of athletes across the U.S. signing national letters of intent to play collegiate sports, very few, if any, can boast of a call-up to their country's national team squad before receiving a high school diploma like Guam's Marlon Evans.
In the same week Evans officially signed a national letter of intent to play men's soccer for North Greenville University, a NCAA Division II college in Tigerville, South Carolina, he also received a call-up to the Matao, Guam men's national football squad, for the team's upcoming FIFA friendly match against Hong Kong later this month. From this month's friendly, Matao head coach Gary White will make his selections for Guam's roster for the 2018 FIFA World Cup qualifiers beginning in June.
"Being given these two huge opportunities – in the same week – I felt like I was on top of the world," said Evans, a 17-year-old senior at Harvest Christian Academy. "I really felt like anything was possible with the hard work and dedication I've put into soccer. I look forward to using these opportunities to continue to build my character on and off the field, and also to help Guam Football Association continue to grow as an organization."
Evans received dozens of offers from universities across the country, but selected NGU, which offered him a full-ride athletic soccer scholarship. Coaches at NGU first started tracking Evans after he was selected to the Matao training squad for the EAFF East Asian Cup First Round last year. Evans will declare Biology as his major in the hopes of entering the medical field, but he will continue to keep his aspirations of professionally playing soccer, he said. He currently is in the top ten in his graduating class with a 4.13 GPA.
"Marlon is the perfect example of an intelligent and creative individual in the classroom and on the field who has worked tremendously for the opportunities given to him," said Gary White, GFA technical director and Matao head coach. "From club and interscholastic football, GFA's youth national program, through to selection to the Matao, Marlon has really set the standard for thousands of youth soccer athletes in Guam looking to reap the true benefits of the sport at the collegiate and professional level through GFA's Elite Player pathway.
"The country has made massive steps in football development in such as short time, and our young athletes have been given more opportunities now than many believed possible just a few years ago. The elite player pathway is much clearer now than it ever has been and Marlon has taken advantage of that," White added.
Evans began playing soccer at the age of 10. While playing in the IIAAG Middle School Boys Soccer League, he was spotted by coaches from the Wings FC and invited to play for the club. With his rapid football development in club soccer, he was selected to play on Guam's youth national teams starting from the U13 level. In the summer he turned 16 years old, he played in the EAFF U18 Youth Championship, held in Guam, where he started at the central defender position. He next made waves last year after a call-up to the Matao's training camp for the EAFF East Asian Cup First Round, before his recent call-up to the team's traveling squad this year. At last year's camp at LeoPalace Resort Guam, he trained with Matao captain Jason Cunliffe and other professional players, Ryan Guy and Shawn Nicklaw, as well as successful collegiate athletes from Guam like Micah Paulino, Bijan Gloston, Dallas Jaye, and Travis Nicklaw.
During this time, Evans also excelled at other sports, but became increasingly serious about soccer through his involvement in Guam's national program.
"I really got serious about soccer about three years ago with the program Gaffer (White) had developed for Guam's athletes," Evans said. "When I saw the opportunity to play alongside professionals like A.J. DeLaGarza and Ryan Guy, players who I've only previously seen play on TV, I knew this was the path I wanted to go. Also, when we played well in the U18 tournament against some of the best players the same age as me from bigger countries, I knew that I could do so much more to help GFA as an organization to grow and for Guam to continue to rise in FIFA rankings – if I worked hard enough, I would be given those opportunities.
"As an elite athlete, I learned to prioritize my time with school and athletics. This has helped me build character and has moved me in the right direction to achieve some of my biggest goals right now, like getting a free college education through soccer. GFA offered a clear pathway for me to achieve this, and I am grateful," added Evans.
In addition to international duty, Evans plays for the Payless Supermarkets Strykers FC in the Men's Premier Division of the Budweiser Soccer League and Wings Red in the Triple J Auto Group Robbie Webber Youth Soccer League U17A division. The Wings Red are poised to three-peat in his final youth league season.
"It doesn't matter how old you are or where you are from – if you are good enough, the GFA will identify you and find opportunities for you like the ones I've been afforded," Evans said. "Develop a love for the sport at a young age, and when you're ready, take advantage of all the programs GFA has to offer. Get involved in a good soccer club, and surround yourself with coaches and teammates with the same aspirations of success you have.
"I would really like to thank GFA President Richard Lai and the executives, GFA technical director and Guam's national team head coach Gary White, and all others at GFA who have helped me develop into becoming an elite player, my parents (David and Hiroko) and my younger brother Sean, who also is moving up through Guam's national program, for constantly supporting me in everything I do, Mr. (Kevin) Inafuku at Harvest for guiding me every step of the way, Coach Jimmy Okuhama for constantly motivating me and my teammates to strive to be the best, all other coaches I've had growing up, and my friends at school," Evans added.

QUICK HITS
3rd place: Big ups to the Para Todu Rugby Club for finishing 3rd out of 16 teams in the Manila 10's Rugby Tournament today. Biba Guam Rugby!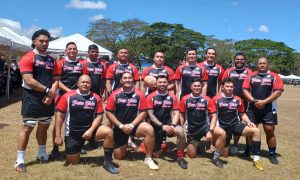 ——————————————
Guam MTB National Championship: Edward Oingerang and Jennifer Camacho are your 2023 MTB national champions. Oingerang finished the course in 1:13:24 while Camacho won her second straight title in 54:08.