By Robert Balajadia
For the past week, the best players of the 2015 tennis season have been locked into an All-Island tournament. Wednesday evening concluded the tournament with FD Friars Brian Tuncap Jr. and St. John's Knights Margaux San Nicolas claiming top honors in the singles division.
Tuncap Jr. had to battle the league MVP in Guam High Panthers Sydney Gadsden for the title, and Micronesian Games gold medalist Tuncap Jr. started to pull away after a close few sets with a bunch of his FD classmates and family members cheering him on.
"I tried my best not to notice [my classmates] because they would have tried to make me laugh, so I try not to lose my focus. I'd lack to thank coach Dan for a successful year and also thanks to coach Joe and Pete Cepeda from Guam Tennis Academy for training me," said Tuncap after the win.
Tuncap took a 7-4 lead after a slicing shot, pulling him just one game away from taking the All-Island title. Gadsden fought back to get one last game at 7-5, but Tuncap finished in the following game after employing a strategy to try and avoid as many rallies with Gadsden as he could.
"I was expecting him to out rally me, but I stopped it by coming up closer to the net. Some of those balls are 50/50 so some balls I tend to hit just in case it doesn't go out," said Tuncap Jr. on what he was seeing from his opponent Gadsden.
For San Nicolas, winning the All-Island title came at the expense of her own teammate in Kanasta Abrams. San Nicolas won the match 8-2, and admitted that the friend-switch gets turned off in the state of competition.
"Once we're in there, she doesn't want to be my friend and I don't want to be her friend! It's not a bad thing, but that's our job as competitors. We're not going to be mean to each other, but we're also not going to be pushovers. We just had to play tennis, there's no slowing that down," admitted San Nicolas.
San Nicolas has had a terrific senior year of tennis, winning the MVP for the season, drawing attention form college tennis scouts, winning the team title for the Knights, and closing it out with an All-Island victory.
"This is the perfect ending, it feels like something from a movie. In my mind, this is everything I wanted to win since I started playing tennis. After this season, I've gained a lot more confidence, and I'm prepared to face many different opponents. It also gives my potential college coaches more confidence knowing that, 'hey look, this girl can play!'," said the animated San Nicolas.
Doubles Matches
The doubles titles were equally exciting, especially the Boys Doubles B title winning match where Panther duo Joseph Connelley/Daniel Perez defeated FD Friars Lucas Martin and Chris Hattori 8-5. The tandem finished the last two sets strong to break away from the close contest.
The Harvest duo of Gavin Lee and Nathan Zhao defeated Knights John Pedro and Fujin Shimoda 8-3 for the Boys Doubles A title.
Harvest also took the Girls Doubles A  title with Kimberly Johnson and Sophia Takasu after sweeping St. John's Bella Moon and Christina Song 8-0 in Doubles A. JFK Islanders Rocel Molina and Jennifer Suh took the Girls Doubles B title over Eagles Melissa Balagtas/Mayuko Tsuboyama.
All-Island Medalist
Team Titles:
Boys:
1st – FD
2nd – St. John's
3rd – Harvest
Girls:
1st – St. John's
2nd – Harvest
3rd – Academy
Boys Singles:
GOLD – Brian Tuncap Jr. (FD)
SILVER – Sydney Gadsden (GHS)
BRONZE – Anthony John (STJ)
Girls Singles:
GOLD – Margaux San Nicolas (STJ)
SILVER – Kanasta Abrams (STJ)
BRONZE – Alyssa Bristol (GHS)
Boys Doubles A:
GOLD – Gavin Lee/Nathan Zhao (HCA)
SILVER – John Pedro/Fujin Shimoda (STJ)
BRONZE – Nho Jaein/Alex Wu (HCA)
Girls Doubles A:
GOLD – Kimberly Johnson/Sophia Takasu (HCA)
SILVER – Bella Moon/Christina Song (SJT)
BRONZE – Mika Rosario/Grace Yoon (JFK)
Boys Doubles B:
GOLD – Joseph Connelley/Daniel Perez (GHS)
SILVER – Kenny Cheon/Danny Kwan (FD)
BRONZE – Tatsuya Cepeda/Kyle San Nicolas (GW)
Girls Doubles B:
GOLD – Rocel Molina/Jennifer Suh (JFK)
SILVER – Melissa Balagtas/Mayuko Tsuboyama (HCA)
BRONZE – April Talledo/Colleen Naden (SHS)
PHOTO GALLERY:

Foody's Fun Facts
Favorites From Year 2
COMING SOON …
WENDY'S ALL-STAR BASKETBALL
Friday, June 18
FIBA Asia Cup Qualifiers
June 18: Hong Kong vs. Guam
UFC Fights
June 20: Roque Martinez vs. Josh Parisian
July 25: Trevin Jones vs. Tony Kelley
QUICK HITS
After a star-studded collegiate career at UCLA, Bubba Nickles turns her focus on the Tokyo Olympics with Team USA after the Bruins were eliminated in the College World Series.
Nickles endured a broken arm on April 7 and worked her way back into the Bruins lineup for the WCWS. She will go down as one of UCLA's best softball players in its storied history.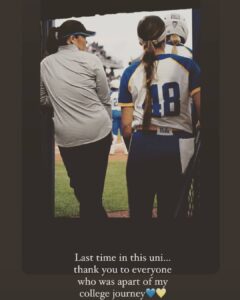 ——————————————————–
Nine years as Portland Trail Blazers head coach, Terry Stotts and the team mutually part ways.