[useful_banner_manager_banner_rotation banners=72,74,77 interval=10 width=120- height=600 orderby=rand]
By Robert Balajadia
After nine straight seasons the FBLG Hawks boys cross country team still stands above the rest. A first place and second place finisher in the boys A team in Jerald Bagain and Erjan Sanchez and a ninth overall team title to wrap up 2015 was the kind of Monday evening the Hawks and head coach Milven Jamindang had.
The runners weren't too familiar with the Okkodo course, but runners proved to adapt by still posting solid numbers.
Winning the overall team title for the girls was the Agueda Johnston Pirates with the top finisher in that division coming from Jose Rios in Mya Tolerson. Agueda managed to grab three of the top 10 spots to secure their team title.
The distance was 1.5 miles and the speed group of top 10 finishers completed the course in under 10. The Hawks grabbed four of the top 10 finishers in their ninth-year siege.
Top 10 Boys A Team
1. Jerald Bagain FBLG – 8:48
2. Erjan Sanchez FBLG – 8:53
3. Joseph Laxamana BMS – 8:58
4. Cody Villegas FBLG – 9:03
5. Samuel Quan UMS – 9:06
6. Jeremiah Rosario AMS – 9:07
7. Isaiah Malig FBLG – 9:08
8. Joseph Aguon UMS – 9:10
9. Donavin Lamb AJ – 9:11
10. Carlsen Ponce AMS – 9:12
Top 10 Girls A Team
1. Mya Tolerson JR – 9:43
2. Molynn Marcus UMS – 9:56
3. Rian Guzman UMS – 10:10
4. Ashlem Rhodes FBLG – 10:12
5. Gissa Dumaraog AJ – 10:18
6. Daeline Pangelinan AJ – 10:19
7. Kiana Rivera BMS – 10:27
8. Chastiy Tenorio JR – 10:30
9. Kedisha Kanemoto FBLG – 10:31
10. Elizabeth Desingano AJ – 10:35
PHOTO GALLERY BROUGHT TO YOU BY:

2022 GSPN I MÅS METGOT COMPETITION
I Mås Metgot Athlete Spotlight: April Flores
2022 GSPN I MÅS METGOT COMPETITION
I Mås Metgot Athlete Spotlight: April Flores
2022 GSPN I MÅS METGOT COMPETITION
I Mås Metgot Athlete Spotlight: April Flores
QUICK HITS
Guam boys Kekoa Toves and Matias Calvo went head-to-head on the rugby pitch as American International College took on Dartmouth College, both top-ranked men's rugby programs in the country.
Calvo (FD) is the captain of Dartmouth and scored, but Toves (Sanchez) and his AIC squad came away with the win in Springfield, Mass.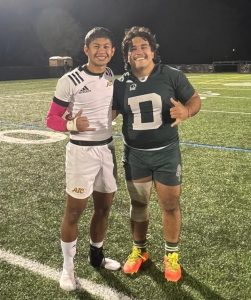 ———————————————–
1LT Belizabeth Nicole V. Rengiil is known to be the first female from Guam and Palau to make the All-Army Women's Rugby Team. She is an active duty Signal Officer with the US Army and is stationed at Joint Base Lewis-McChord in Washington.
Her team won the Armed Forces Women's Rugby Championship with a 4-0 record.
Belizabeth is the daughter of Edwin and Juliana Rengiil with siblings Johanna and Edwin-Isaiah Rengiil from Mangilao.