By John Baza
Boy's high school volleyball action unfolded tonight at the JFK gym as the Islanders took to the court against the streaking GW Geckos this Tuesday night. Despite a great outing from both teams, it would be the Geckos who would outmatch the Islanders and emerge with the win in straight sets (25-16, 25-14).
"We wanted to focus on our defense, like coach says 'when defense comes, offense will too' ", replied the Geckos' Allan "Arm Cannon" Camacho on tonight's victory.
"Our defense, passes and sets were there tonight and that's what helped us get the win tonight" added Camacho.
With playoffs around the corner, both teams were eager tonight to close the regular season on a high note. Both squads came out firing from the get-go as each traded monster kills.
The matchup was definitely a heated one as the Geckos' Camacho opened the game with a bang, connecting with a beautiful set and sending the ball hurdling to the floor for the first point of the game.
The Islanders' Belger was able to find a whole in the defense on the ensuing play to spark a small run for the home team as they went up (5-2).
But errors on JFK's end proved beneficial for the Geckos as they found the game tied at 6-all.
The islanders' setter, Jared Weilbacher, was able to connect with teammate Chris Conner on a perfectly timed quick set, which Conner sent through the Gecko defense (7-6).
But GW's Mat Soto answered right back with a monster kill that rolled right down the block.
The Geckos' Camacho lived up to his nickname tonight, as he sent in monstrous kills from all angles. He would go on to spark a run that helped his team catch a 14-10 lead that they would go on to build upon.
The visiting team would go on to cap off a strong first set with a block (25-16).
Geckos jump to lead
The Geckos got action started early in the second set as they jumped to a (5-1) lead.
Looking to cut the momentum, JFK's Conner sent in a thunderous kill down the center of the court (5-2).
But the Geckos exploded to 9-4 lead after a couple of points courtesy of Jacob Frias and highlight kills from Soto.
Belger sent in a kill in an effort to close the gap (14-8), but a textbook "bump set spike" play and a line shot from GW's Camacho only furthered the visiting team's lead.
The Islanders saw some life as they were able to keep the ball in play with impressive digs and hits, but the Geckos' attack was relentless as Soto buried in the game clinching kill (25-14).
"We're really not trying to anything fancy with playoffs approaching, we're just going to stick to the basics and work our way from there", concluded Camacho on the team's aim with playoffs approaching.
With the win, the Geckos improve to 10-1.
Monday Scores
FD def. ND 25-23, 25-17
Harvest def. Tiyan 25-16, 25-20
PHOTO GALLERY:

Foody's 5 Fun Facts
Sanchez QB Jayton Penaflor
DID U KNOW?
Kein Artero has a list of who's who of Artero uncles who've starred in Guam's gridiron: Andre Artero UOG Tritons & Hals Angels OL, Bubba Artero UOG Tritons & Hals Angels OL, Kenny Artero SSHS DB/Baseball Pitcher, Jesse Sablan FD & Hals Angels FB, Roland San Nicolas FD & Hals Angels OL, Chuck Ada SSHS & Hals Angels DB,  Ed "Rock" Artero SSHS & Hals Angels MLB, "Wild" Bill Ada FD & Hals Angels ML, Jared Ada FD & Hals Angels WR/Utility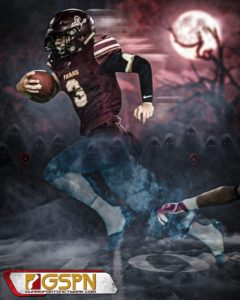 COMING SOON …
– 24th Marianas Fishing Derby
– NFL Week 3: Steelers at 49ers
– Jon Tuck's Bellator debut
QUICK HITS
UOG Athletics announced that head men's basketball coach Brent Tipton has stepped down due to personal reasons. UOG is now seeking for a replacement after Tipton's three years at the helm.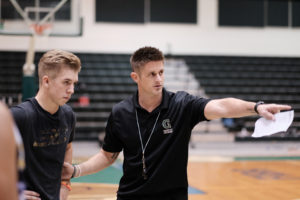 —————————————————-
Kyle Reyes brought the Boom to Russia and delivered a huge 1st round knockout in ACA 98.