PRESS RELEASE – Army Guard Specialist Sheryl Padilla from the Army Guard's 105th Troop Command's 721st Signal Company, was the shining star for the Guam National Guard at the 38th Annual National Guard Marathon.
Finishing the marathon in 3 hours, 28 minutes, SPC Padilla placed first in her division (Female 25-29) and was the third overall female finisher. With that performance, Padilla was named to the 2015 All-National Guard Elite Marathon Team.
Air Guard Staff Sgt. Roby Garrido, from the Air Guard's 254th Red Horse Squadron, finished in 4 hours, 9 minutes; Air Guard Staff Sgt. Deborah Hurchanik from the Guam Air National Guard's Headquarters, finished in 4 hours and 22 minutes and Army Guard Captain Jocelyn Cabe from the Guam Army National Guard Element, rounded out the team with a time of 4 hours, 54 minutes. They were accompanied by Army Guard Lt. Col. Esther Aguigui, Commander, Recruiting and Retention Battalion, who also served as their team coach and coordinator.

QUICK HITS
Guam MTB National Championship: Edward Oingerang and Jennifer Camacho are your 2023 MTB national champions. Oingerang finished the course in 1:13:24 while Camacho won her second straight title in 54:08.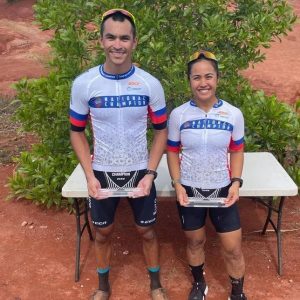 ——————————————
Kobe Miyashita, with St. John's coach Arvin Flores, was named the 2023 IIAAG Middle School Boys Volleyball MVP!