By Robert Balajadia
The 2nd Annual ND Alumni Coed Volleyball Tournament in honor of Blaine Flores Afaisen made an even bigger splash over the 2015 Thanksgiving weekend than it's first ever event in 2014. With the rosters opened up to allow more participants, the 2014 defending champion Team 'Mix Plate' once again reigned supreme.
Full of veterans who were coached directly under the late Blaine Afaisen, Team Mix Plate first overcame the much younger and pool-play unbeaten stars in Team I Got Your 6 to then grind out a win over the even younger Head Hunters in three sets.
"We just play basic volleyball the way coach Blaine had thought us and I think that has come a long way," said Bernie Afaisen Santos, sister of the late Blaine Afaisen.
The crafty veterans stuck to their basic principals and nearly swept the Hunters after taking a commanding 25-20 first set lead. The Hunters had a 15-10 lead in the second set before Mix Plate went on a 5-0 run to tie the game only to eventually take their first lead of the set at 23-22.
A serve ace put Mix Plate in match point, but the Hunters refused to go away after two long rallies gave the young guns the 27-25 second set win.
Proving that they had much more in the tank, Mix Plate took control in the final set to take a 20-10 set lead. Errors by the Head Hunters gave Mix Plate the 25-16 win to conclude the weekends event.
"Just being a part of this tournament is enough for me, but to actually win the tournament two years in a row is a home run for me. The tournament can only get better from here. We're hoping to double the teams participating and also maybe have it twice a year," added Santos.
Blaine's All-Stars def. ND Varsity
Sunday belonged to the veterans once again in the All-Star game between Blaine's best and current members of the ND Varsity Volleyball team.
Blaine's All-Stars never trailed and never let up winning in two sets 25-18, 25-12.
PHOTO GALLERY BROUGHT TO YOU BY:

Foody's 5 Fun Facts
ND Royals Volleyball Setter Gabrielle Piper
DID U KNOW?
Guam National Track & Field sprinter and St. John's Cross Country/Track Star Madison Packbier is the daughter of former Track Star Tara Steffy granddaughter of GNOC's Bob Steffy.
COMING SOON …
– Marianas Open Aug. 31
– FIFA: Guam vs. Maldives Sept. 5
– Submit VI on Sept. 6
QUICK HITS
Former JFK All-Island lineman Christopher Parker transfers to De Anza College in Cupertino, CA. De Anza finished last season 10-1 and won the American Conference Championship Bowl. Good luck Chris!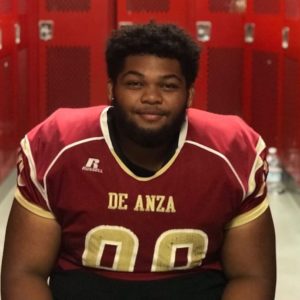 —————————————————-
Die-hard Rams fan Kenny Artero is in Hawaii to catch his beloved team play the Cowboys at Aloha Stadium in a preseason NFL game. Artero got a chance to meet Hall of Fame running back and Rams legend Eric Dickerson.