By Robert Balajadia
The first ever GSPN Masters Softball Tournament commenced Friday night despite the constant drizzles throughout the day. The tournament is set to take place all weekend long with the Championship game scheduled to close out the event on Sunday.
"We wanted to host an event like this mainly just to get people out and enjoy the game of softball. Baseball can be a little bit more time consuming, but this tourney is going to be more fast paced. You don't have to be the best players on island to play, this is just for fun and we encourage everyone to enjoy the camaraderie," said event coordinator Peter Torres.
There are a total of 12 teams of 40+ years players, eight men's teams and four women's. The ladies will play their games on Sunday while the men finish up pool play on Saturday to determine seedings.
The overall turnout has been great, but pulling the strings to get everything together was not as easy and smooth as the tournament appeared to play out on opening night.
"The Guam Masters Baseball League is going on right now so the coordination for just the weekend was really challenging. We managed to gather a good group teammates, former players, and family and friends," Peter Torres.
In the first game of the evening, Team Sindalu defeated the Masters of 50+ 14-1 after going run crazy in the first and second innings.
The unique set of rules state that no team is allowed to score more than five runs in an inning, which will in-turn end the inning once five runs have been reached. The home plate has been adjusted to avoid injury, and a white line has been placed near the plate and runners who make it past the line before the throw to home will be awarded the point.
The turnout Friday was a small group of softball faithful, but Torres is encouraging more of the public to come out and enjoy what these iconic ball players have to offer.
"These are some of the most talented baseball and softball players that have been playing over 20 years. Some of these guys are iconic within the island, it's going to be very encouraging to watch these guys play," ended Torres.
PHOTO GALLERY:

QUICK HITS
3rd place: Big ups to the Para Todu Rugby Club for finishing 3rd out of 16 teams in the Manila 10's Rugby Tournament today. Biba Guam Rugby!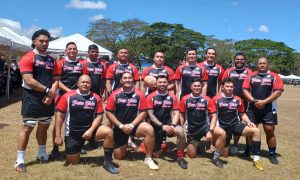 ——————————————
Guam MTB National Championship: Edward Oingerang and Jennifer Camacho are your 2023 MTB national champions. Oingerang finished the course in 1:13:24 while Camacho won her second straight title in 54:08.