PRESS RELEASE – Strong, physical play kept thousands of spectators at the Mong Kok Stadium in Hong Kong on the edge of their seats Saturday and sealed a true, on-going rivalry between Hong Kong and Guam.
The host country escaped with a 1-0 victory following an early first-half goal from Jaimes McKee, allowing Hong Kong fans to breathe a sigh of relief, but leaving them anxious to know the teams' next fixture date.
"Although we aren't satisfied with the result, the team – a mix of our veterans and several new players on trial – integrated well, with the new ones adopting and executing Guam's playing style in just two days of training before the match," said Gary J. White, head coach of Guam's national team. "As with any team with new players, there were some miscues early on and Hong Kong managed to convert an opportunity. It's unfortunate, but as the players train more together and play more matches together, these errors will be fixed. We have a big game against Singapore on Tuesday, so we're looking forward to that match now. It will be a historic moment for Guam, as we've never played against Singapore before – let alone receive an invitation to play them in Singapore.
"We're grateful for all the support from Richard Lai and the GFA Executives to realize this pair of friendly matches for Guam – these will help the Matao prepare for the upcoming 2018 FIFA World Cup Qualifiers starting in June," White added.
In the three years White has been at the helm of Guam's national program, Hong Kong has barely scraped by Guam, leading in goals scored just three to one in three matches. Before Saturday, the teams had battled to a scoreless draw at the EAFF East Asian Cup semifinal round in Chinese Taipei last year.
Six players made their debut internationally for Guam in Saturday's fixture – Brandon McDonald, Alexander Lee, Nathaniel Lee, and Justin Lee as starters, and local-based players Jan-Willem Staman and Min Sung Choi as second-half substitutes.
Following the match, thousands of fans congregated in the stadium's Mixed Zone for a rare chance to meet players, take photos with players, and ask for their autographs, as they left the pitch to their respective locker rooms.
The Matao's next match will be played against Singapore Tuesday evening at 7:30 p.m. Singapore time.
Singapore currently is ranked No. 153 in the FIFA/Coca-Cola World Ranking table, well within striking distance of the Matao. Aside from affording an opportunity to new players to play more matches, a positive outcome from the match may also help Guam improve its world ranking further ahead of the 2018 FIFA World Cup qualifier draw, White said.
PHOTO GALLERY:

QUICK HITS
Guam MTB National Championship: Edward Oingerang and Jennifer Camacho are your 2023 MTB national champions. Oingerang finished the course in 1:13:24 while Camacho won her second straight title in 54:08.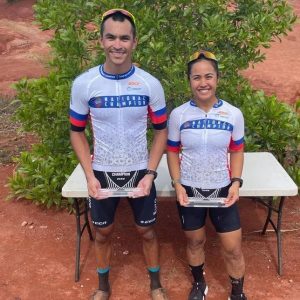 ——————————————
Kobe Miyashita, with St. John's coach Arvin Flores, was named the 2023 IIAAG Middle School Boys Volleyball MVP!