[useful_banner_manager_banner_rotation banners=72,74,77 interval=10 width=120- height=600 orderby=rand]
By Mike Nauta Jr.
Sunday afternoon marked the final day of volleyball competition in the 2015 Governor's Youth Athletics Invitational 15-under division. After defeating their opponents in their respective semifinal matches, two of Guam's teams earn their right to battle one another for the title. Manhoben advanced after defeating Pampanga Youth Select and Team Hawks downed De Le Salle-ST.
In the "all Guam" finals, fans in attendance were looking forward to a highly anticipated matchup. From start to finish it was nothing but exciting action dealt by both teams. However, only one could walk away champions. When the final whistle was blown, it was Manhoben who clinch the gold medal after defeating their opponents 25-17, 25-20.
"It was a very good match by both teams," said Manhoben's Jojo Cruz. "We stuck to playing our style of volleyball and we just executed on things we needed to do."
In the opening set, both teams came out trading points keeping the game close early on. With the score tied at 4-4, Cruz went to work from the service line to give her team a five point lead. However, the Hawks' responded with laser sharp serves from Kiyoko Afaisen who equalized the game at 9-9.
After a cross-court kill by Manhoben's Callia Concepcion, teammate Samyra Duenas paid her dues from the service line as she rebuilt her team's lead to 16-9. The Hawks looked to put up a fight late in the set, but the strong defense of the Geckos led by Gabrielle Cruz and Evita Laguana kept their opponents at bay. Manhoben outscored the Hawks 9-8 to close out the set.
The Hawks came storming out in the second set led by the serving of Afaisen and teammate Ella Balajadia who combined for nine points giving their team a 9-2 lead. Manhoben found some difficulty finding answers and eventually trailed 13-3 midway through after back-to-back kills by the Hawks' Johnia Siguenza. It wasn't until after a timeout by Manhoben that things got a bit interesting. Led by the serving of Duenas and Cruz combined with the hitting of Concepcion, Manhoben managed to knot the score at 13-13.
"Our coach just reminded us during the timeout that one of our biggest strengths is staying poised and focus even during tough times in the game," said eventual finals MVP Concepcion. "We knew that staying in line with our team's expectations of one another will allow us to fight back."
Manhoben did just that in the last half of the set, going back to work. With a slew of assists from Duenas, Concepcion and company went to the offensive and managed to pull away. Despite valiant efforts by the Hawks, Manhoben proved to tough for the opponents and closed put the match to clinch first place and the right to wear their gold medals.
"This was a great tournament as teams were able to gain all types of experience. More importantly friendships were made between our Guam teams and teams from Philippines." said Cruz.
In the third-place match, the all-Philippines game witnessed De La Salle-ST defeating Pampanga in straight-sets.

Foody's Fun Facts
Favorites From Year 2
COMING SOON …
FRIDAY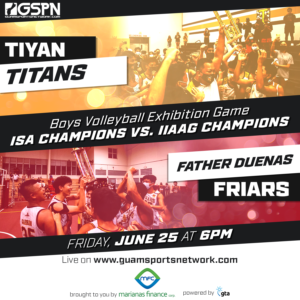 UFC Fight
July 25: Trevin Jones vs. Tony Kelley
QUICK HITS
The Guam Legislature recently paid homage to Michael Reidy, who passed away stateside in March. Reidy was instrumental in getting Guam into the Olympics in 1988 as well as a founding father of the island's paddling community.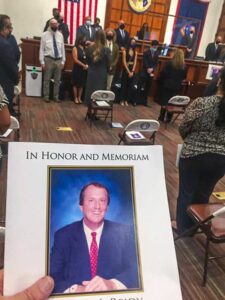 ——————————————————–
Nadine Del Carmen graduated from Santa Clara University on June 11. She was named captain of the Santa Clara women's tennis team in her senior year and she will be attending Georgetown University in the fall to pursue her masters and will be playing for the Hoyas women's tennis team.