[useful_banner_manager_banner_rotation banners=72 interval=5 width=120- height=600 orderby=rand]
By Robert Balajadia
Through four World Cup Qualifer matches the Matao remains unbeaten on home turf.
Guam's latest game against Oman (#100 in the world) Tuesday evening ended in a scoreless affair in front of the island faithful. Matao goalie Dallas Jaye came through in a big way, holding off all 24 shot attempts by the Oman offense, 14 of which coming in the second half alone.
Jaye was in for the recently suspended Doug Herrick, who drew his second yellow card against Iran, forcing him to miss the showdown with Oman. Jaye's stellar play was much needed which makes White's decision on his roster moves even harder for the Matao's upcoming matches.
"Dallas has always been waiting in the wing. He relished in the opportunity and it's great to have two elite individuals like [Dallas] and [Doug] on your team. My job is now to decide who to start next game, but that's what good teams have to do, make tough decisions like that," commented head coach Gary White.
Defense was key for the home team despite losing a couple of key defenders due to injury late in the game. White explained that he saw a lot of good things from this team against Oman that line-up change isn't out of the question.
Measuring Offense
Matao's offense came out firing in the first 25 minutes of the game, putting pressure on the Oman defense early and often. Guam produced five shots to Oman's single attempt in the first 20 minutes, but then the visitors started to better plan their attack to meet Guam at 10 shots at goal each.
The second half proved much different for the Guam offense, getting just five shots at goal compared to Oman's 14.
"These are two massive countries we just played and it's just a part of the game. We had a lot of opportunities to put up points today, we just didn't convert on them. The higher competition you face the harder it is to get points on them, which is why it's imperative that we put those chances away when given the opportunity," added White.
Guam's best looks in the first half came in the first two minutes of the game after Jonah Romero threw a ball in that rode the strong wind right over the Oman midfielders, falling right at the feet of teammate Brandon McDonald, who let loose a big boot kick that flew way over the Oman goal.
Their second came from Alexander Lee, who got a clean look from the left side of the defense that curved wide right. Lee would get another great look in the 30th minute that also went wide right.
Oman's Saad Al Mukhaini was pestering the Matao defense from the right side of the field, getting off six shots while centering the ball for teammates repeatedly. Teammate Imahd Al Hosni also provided busy feet attempting four shots.
The homework done in preparation against Oman was thoroughly examined from habits of players to habits of their coaches. White and Matao were well prepared for what Oman was bringing to the table.
"We broke it down to a fine science. It worked perfectly in the first half it just so happened that the legs and lungs started to go and Oman was more experienced than we were in this situation which is why they came out strong in the end," White added.
The Next Step
Guam made over 64 hours of traveling over the course of four days. They arrived on Guam just two days before their showdown with Oman after suffering their first loss of the WCQ to Iran 6-0 last week in Tehran.
Guam's loss to Iran and tie with Oman still puts them in contention for Pool D's top spot. Oman (2-0-1) stands ahead of Guam (2-1-1) with Iran behind them (1-0-1).
The Matao's next venture is on October 13 where they will travel to Turkmenistan. Guam defeated the visiting Turkmenistan team so White believes that the Turkmenistan will be ready and out for vengeance.
"Our goal is to put up three goals on Turkmenistan, but that is a tall task in a hostile environment. We'll be heading out to Qatar on October 5th to begin training. Every game from this point on is going to be extremely difficult."
Important Dates:
October 13, 2015 – Guam vs. Turkmenistan @ Turkmenistan
November 12, 2015 – Guam vs. India @ India
November 17, 2015 – Guam vs. I.R. Iran @ Guam
March 24, 2016 – Guam vs. Oman @ Oman
PHOTO GALLERY BROUGHT TO YOU BY:

QUICK HITS
Guam MTB National Championship: Edward Oingerang and Jennifer Camacho are your 2023 MTB national champions. Oingerang finished the course in 1:13:24 while Camacho won her second straight title in 54:08.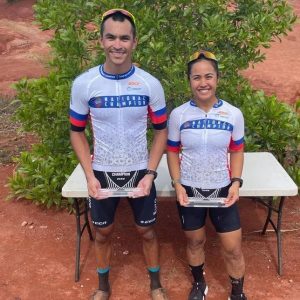 ——————————————
Kobe Miyashita, with St. John's coach Arvin Flores, was named the 2023 IIAAG Middle School Boys Volleyball MVP!