By Robert Balajadia
The latest buzz in the world of football (soccer) over the past week has been Guam's (The Matao) two big wins over Turkmenistan and India in the first ever pair of World Cup Qualifier (WCQ) matches on Guam soil, or turf if you will.
The win has garnered coverage from other major international sports media outlets such as FIFA.com, the-AFC.com, BBC.co.uk, ESPN, CNN, Sky Sports, The Guardian, FourFourTwo, Wall Street Journal, NBC Sports, Yahoo! Sports, and many more.
The island has a lot to be celebratory for as the two wins will surely give Guam a big boost in its current FIFA ranking, currently sitting behind Turkmenistan at #174. The highest Guam has gotten in FIFA rankings was #161 in August of 2014, but the new rankings set to release on July 9th are sure to give Guam a favorable jump since beating India (#141).
What's Next For Guam?
The next big feat for the Matao will be their toughest yet. The team will next play I.R. Iran, currently the top-ranked country in Asia (No. 41 in the world) on September 3 in I.R. Iran. The two WCQ matches in Guam were the first of 8 total matches that span to March 2016 for the team.
Iran is a long way for Guam fans to travel, but there is a possibility that the Matao could be playing in front of their home crowd at least once more during the rest of their WCQ tour. Their match against Oman on September 8th is a home game for Matao, but the venue for the game has not been announced hinting that Guam could host their third ever WCQ game.
Guam has only played two WCQ games BUT they are 2-0 at home.
After September, the Matao will then travel to Turkmenistan on Oct. 13th and then India on Nov. 12. Guam will play I.R. Iran again on Nov. 17. The final match of Round 2 Qualification will be on March 24, 2016 when Guam plays Oman in Oman.
The top countries in each group will automatically qualify for Round 3 Qualification, and the top four second-ranked countries also will qualify for Round 3 Qualification.
The matches the Matao are playing also count for qualification to the AFC Asian Cup 2019 in United Arab Emirates, so the teams that don't make it to the next round of WCQ, there is still an opportunity to make it into the Asian Cup.
Magnitude Of A WCQ
Though it's too early to start celebrating for Guam securing a World Cup 2018 berth, the fact that the World Cup had come to Guam has opened up many doors for the sport in being recognized as a football destination to an audience of over 1 billion people.
The exposure of Matao to the world had also brought exposure to the organizing committees.
Jill Espiritu, Media & Marketing Officer for the Guam Football Association put it all in perspective saying, "For the Local Organizing Committee in Guam, it also provided experience in preparing and executing world-class events. Local businesses that assisted Guam Football Association in the staging of these two matches in Guam also received rare international and local exposure; in addition to the thousands of people who watched the games at GFA, tens of thousands more tuned in to the games via local broadcast or international live stream."
"The proper staging of the two world-class matches in Guam would not have been possible without the full support of GFA President Richard Lai and GFA Executives, LOC Chairman Joe Cepeda and the entire LOC, GFA staff and volunteers, local business sponsors, and the local community," Espiritu continued.
Important Dates to Remember 
September 3, 2015 – Guam vs. I.R. Iran @ Iran
September 8, 2015 – Guam vs. Oman @ TBD
October 13, 2015 – Guam vs. Turkmenistan @ Turkmenistan
November 12, 2015 – Guam vs. India @ India
November 17, 2015 – Guam vs. I.R. Iran
March 24, 2016 – Guam vs. Oman @ Oman
Relive Guam's Two WCQ Wins

QUICK HITS
Guam MTB National Championship: Edward Oingerang and Jennifer Camacho are your 2023 MTB national champions. Oingerang finished the course in 1:13:24 while Camacho won her second straight title in 54:08.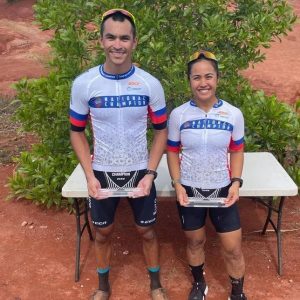 ——————————————
Kobe Miyashita, with St. John's coach Arvin Flores, was named the 2023 IIAAG Middle School Boys Volleyball MVP!