[useful_banner_manager_banner_rotation banners=72,74 interval=10 width=120- height=600 orderby=rand]
By Robert Balajadia
As Guam prepares for it's slowly approaching opponent in Typhoon In-Fa, set to arrive Saturday afternoon, the Friday night fights in Preba Hao carried on despite the cancelling of all other major sporting activities this weekend.
28 fighters, 14 fights, and one cage with hundreds of fans made Novembers instalment of Preba Hao at the Guam Greyhound Park a budding success. PXC veterans made for an exciting main event, but other hopefuls made a name for themselves in the eyes of PXC CEO EJ Calvo.
"A lot of these guys showed tonight that they have PXC potential. Not only did the winners impress, but we're observing both winners and losers. I have to say, there were some fighters that didn't win tonight that showed they have what it takes to make it to the next level. We'll be paying close attention to how those who didn't win will come back from this and it'll show a lot about their character. From the winners, there's a bunch of great prospects," said Calvo.
PXC fighters Eric Gatmen and Ryan Toves provided instant action the second referee Justin Benavente gave the go-ahead with Gatmen getting the 2nd round TKO. The fight opened with each fighter exchanging significant blows before a wrestle to the ground rounded off the 1st round.
Both fighters came out with the same intensity in the 2nd round with Gatmen scoring on a takedown midway through. Gatmen eventually flattened out Toves while sinking in the Muay-Thai rear-naked choke.
In the Co-Main Event, Preba Hao veteran Jose Ramirez defeated Dexter Isaac Balajadia via TKO referee stoppage in the 1st round. Balajadia, the jiu-jitsu purple belt, quickly went for a takedown at the fights start. Ramirez weathered the storm and managed to break free of Balajadia's holds late in the round to force a stand up.
Ramirez then tagged Balajadia, dropping him long enough for Ramirez to chase Balajadia to the ground. Ramirez then began to open up with elbows and heavy hands from the top of Balajadia's full guard as the 10-second warning ensued.
The strikes Ramirez was landing was enough for the referee to call the fight a TKO for Ramirez. Balajadia disagreed with the final call as he sprung up in disappointment, shaking his head at the early stoppage.
Ramirez had made it on to the PXC card in 2014, but his opponent was a late scratch which forced Ramirez out of Guam's premiere fight card. After yet another win in Preba Hao Friday, Ramirez may have just punched his ticket to the bigger stage.
"[Ramirez] is one of those high level fighters that is knocking on the door. It's just a matter of a spot opening up and that happens sometimes in the professional ranks. We have a lot of respect for the guys who were able show tonight that they have big fight potential tonight, including Jose," added Calvo.
Fight Results
Vic Taitano def. Justin Quichocho via 1st round submission (armbar)
Jay Duenas def. PJ Muna via 1st round TKO
Don Rossa def. Rob Bumagat via 1st round submission (rear-naked)
Jay Gumabon def. Junior Jesus via 2nd round submission (triangle)
Mark Viddauri def. Jerome Paras via 1st round submission (rear-naked)
Jeremy Hernandez def. Anson Charfaurous via decision
Vince Camp def. Robert Ignacio via 1st round submission (rear-naked)
Khalil Toves def. Torsten Imasa Rosse Jr. via decision
Vince Campos def. Jesse Gogo via 1st round submission (guillotine)
Rob Alvarez def. Kyle Paulino via 1st round submission (rear-naked)
Frank Meno def. Jay Pizarro via 2nd round TKO
Pejo Camacho def. Mark Anthony Blas via 1st round TKO
Main Events
Jose Ramirez def. Dexter Isaac Balajadia via 1st round TKO
Eric Gatmen def. Ryan Toves via 2nd round submission (rear-naked)
PHOTO GALLERY BROUGHT TO YOU BY:

QUICK HITS
Guam MTB National Championship: Edward Oingerang and Jennifer Camacho are your 2023 MTB national champions. Oingerang finished the course in 1:13:24 while Camacho won her second straight title in 54:08.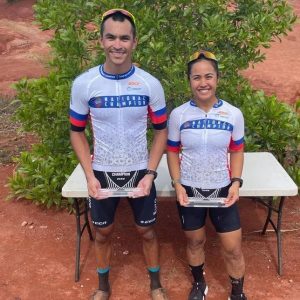 ——————————————
Kobe Miyashita, with St. John's coach Arvin Flores, was named the 2023 IIAAG Middle School Boys Volleyball MVP!