[useful_banner_manager_banner_rotation banners=72,74,79 interval=10 width=120- height=600 orderby=rand]
By Robert Balajadia
Former Guam resident and current USA Women's Rugby Defensive Assistant Coach Peter Baggetta is back on island for the first time in five years.
The graduate from JFK has been busy with the Guam Rugby community over the past two days after meeting with the players and coaches for an interactive learning experience from both high school and at the national level.
"Guam has some phenomenal rugby talents," said Baggetta after spending three separate sessions with the Guam rugby community.
"We had a great classroom session where we talked about the modern game and I just had them think about the game differently. I put a lot of ownership on the players for them to try and figure out how to drive a team without a coach. My motto is that the leadership should come from the players and not the coaches."
Baggetta met with the players on Tuesday and then met with the coaches on Wednesday evening.
"We have guys that can compete with anyone in the world. The challenge is exposure, experience of playing a lot of games, and the mindset of adapting a high performance life style. If we can expose more of our athletes then that will allow them to pursue their dreams. The only limitations that our athletes have are those imposed on ourselves, even though we'd like to think otherwise," added Baggetta.
Coaching For Coaches
Baggetta's Wednesday evening meeting with the current and hopeful rugby coaches was mostly about finding a coaching identity and coaching philosophies.
"Philosophy drives decisions which drive actions. The need to think about why they coach and role of the coach. An effective coach creates a positive experience for their players and that's what it's all about at the end of the day," said Baguette on what's on tap for his Wednesday night coaching session.
All the important questions were asked from 'why do the you want to coach?' to 'what are your players playing for?'. Baggetta's focus on the matter was finding out the players motives and for the coaches to be the ones to adjust instead of having the players adjust to the coaches standards.
The clinic wasn't just a clinic for rugby coaches, but for coaches one in the same. Each of Baggetta's philosophies apply to each sport and those in attendance were coaches from volleyball, basketball, and rugby.
The Tuesday and Wednesday sessions have come full circle for Baggetta who has been able to give back to Guam in such a positive way.
"I follow everything that happens with Guam and you just can't explain how it feels to come back here and give back to the community. That's what everyone wants to do, give back to the island, and I'm just fortunate enough to be able to share my knowledge with the community."

QUICK HITS
Guam MTB National Championship: Edward Oingerang and Jennifer Camacho are your 2023 MTB national champions. Oingerang finished the course in 1:13:24 while Camacho won her second straight title in 54:08.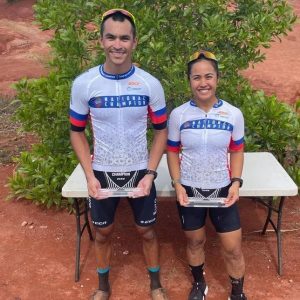 ——————————————
Kobe Miyashita, with St. John's coach Arvin Flores, was named the 2023 IIAAG Middle School Boys Volleyball MVP!