By Jay Leon Guerrero
It took three sets. It wasn't a fancy win, but nonetheless, the Tiyan Titans made history by getting their first IIAAG boys volleyball league regular season victory at the Dededo Sports Complex over the St. Paul Warriors in three sets (25-15, 19-25, 25-21).
The young Titans, composed of two juniors and 10 underclassmen, held off a third set rally by the Warriors to improve to 1-2 in the league.
Giovanni Manglona led the way for the Titans with seven kills and an ace to help his team get their first taste of victory.
On the other side of the net, the Warriors displayed heart and tried to rally in the last set but errors haunted St. Paul and they fell to 0-3 for the season.
Titan setters went to Manglona during crunch time in the last set to help maintain a slim lead. "After losing the second set, our coach told us we can play better; we showed that we could play better in our practice," said Manglona.
The Titans came out fired up in the third set and opened up a 6-1 advantage. "We listened to our coach and kept our heads up and played harder," said Manglona.
Both teams played sloppy to open up the contest, but it was the Warriors who had difficulty putting a serve in play that resulted them to trail 14-8. Jerrico Aguon provided a spark to the Tiyan offense, serving two aces at the service line during a 4-0 run to increase their lead to 18-9. Jude Cruz also recorded an ace to close out the first set for the Titans winning comfortably by 10 points.
Manglona found his groove in the second set with the Titans looking to win easily in straight sets, going up early 10-5. But the Warriors lived up to their name and fought back scoring 10 straight points. Zachary Ilek served ten straight points and he was backed by the defense of Ian Miller and Jonathan Llarenas to go up 15-10.
The Titans were stunned by the run and committed five more errors as they surrendered the second set to the Warriors 19-25.
In the sudden death third set, the Titans received a wake up call from their Coach Rod Pama and answered his calling to go up 6-1. Ian Panganiban recorded a kill during the run that forced the Warriors to regroup.
Dominik Caguioa carried the Warriors on his shoulders, recording a kill that led him to serve three straight points from the service line to cut the lead to 10-7. Caguioa continued to play well on both offense and defense for the Warriors as they stayed within striking distance and trailed 16-13.
The Titans separated themselves after Manglona recorded his seventh kill of the game followed up with his only ace to get to game point at 24-21 in the final set. The game ended with an out-of-bounds service error by Warriors.
Rod Pama, who also coached Untalan Middles School, looks to build a solid foundation for the future with his young team. "We have a young group of athletes that have that desire to play competitively," said Pama.
"Our goal this year is to at least make the playoffs. I want to emphasize that in our boys, but they have to believe in themselves".
Caguioa led the Warriors with three kills and three aces. Aguon had three aces for the Titans, Cruz contributed two kills and two aces.
Other Scores
Okkodo def. St. John's 25-21, 25-10
GW def. Guam High 25-9, 25-12
Harvest def. JFK 25-15, 21-25, 25-16
PHOTO GALLERY:

2022 GSPN I MÅS METGOT COMPETITION
I Mås Metgot Athlete Spotlight: Tim Nauta
2022 GSPN I MÅS METGOT COMPETITION
I Mås Metgot Athlete Spotlight: Tim Nauta
2022 GSPN I MÅS METGOT COMPETITION
I Mås Metgot Athlete Spotlight: Tim Nauta
QUICK HITS
Guam boys Kekoa Toves and Matias Calvo went head-to-head on the rugby pitch as American International College took on Dartmouth College, both top-ranked men's rugby programs in the country.
Calvo (FD) is the captain of Dartmouth and scored, but Toves (Sanchez) and his AIC squad came away with the win in Springfield, Mass.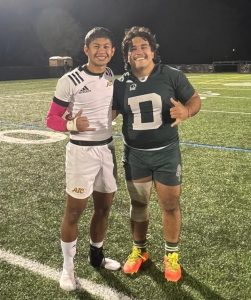 ———————————————–
1LT Belizabeth Nicole V. Rengiil is known to be the first female from Guam and Palau to make the All-Army Women's Rugby Team. She is an active duty Signal Officer with the US Army and is stationed at Joint Base Lewis-McChord in Washington.
Her team won the Armed Forces Women's Rugby Championship with a 4-0 record.
Belizabeth is the daughter of Edwin and Juliana Rengiil with siblings Johanna and Edwin-Isaiah Rengiil from Mangilao.