By GSPN Staff
The top eight teams of the boys volleyball season have battled their way into the playoffs, which officially start on Saturday May 9th. Due to conflicting schedules with senior and junior proms, only one game will be played to start the playoffs with Okkodo playing host to the Guam High Panthers. The rest of the games will be played on Tuesday May 12th at the higher seeds home court.
May 9th (Saturday)
Guam High @ Okkodo 6pm
May 12th (Tuesday)
ND @ GW 6 pm
Southern @ Harvest 6 pm
FD @ JFK 6 pm
GSPN's beat writers have examined all four matches and breakdown each quarterfinals game and what to expect for one wild, sure fire playoff series.
#1 Okkodo Bulldogs vs. #8 Guam High Panthers @ 6 pm
By Robert Balajadia
The undefeated Okkodo Bulldogs only appeared to get stronger at seasons end, taking out teams in their final two weeks in straight sets. Going unbeaten all season long was something that outside hitter Gary Aromin said would be nice, but their intent from the beginning has been reclaim the title in back-to-back years. They can officially begin that journey Saturday against the 8th seeded Guam High Panthers.
Okkodo's unblemished record was well earned and many will be watching to see if they can carry through to the finals with the same type of success. A lot can be learned from a loss, but the Bulldogs have been playing every game like they're fighting for their lives.
If it wasn't clear enough how bad they want to win as far as their record is concerned, a finals repeat is the only thing any of these players can talk about in the post-game interviews.
From power hitter Aiden Ferrara and Aromin, to lengthy middle blockers like Bryan Crow and Ian Ilagas, and a stable setter in Rai Santos, Okkodo's fans have plenty reasons to believe in their repeat chances.
The Panthers have been a competitive bunch and are looking to shock the Island by upsetting the top seeded Bulldogs. The Edusada brothers can ball, but it's going to take a whole lot of defense to try and stop the Bulldogs heavy hitters. Look for Ferrara and Aromin to have a big game as the two broke loose for multiple kills against the Panthers earlier in the season for a big win in straight sets.
#2 GW Geckos vs. #7 ND Royals (@ GW)
By John Baza
With the Geckos ending the season on a strong note, it seems like they are ready and set for what is sure to be an intense playoffs.  The team has been peaking and that has definitely come at the right time.
With the Geckos' captain, Allan "Arm Cannon" Camacho leading the way for the team, they look strong as ever with fellow heavy hitters Mat Soto and Devin San Agustin in the mix.
This matchup will be interesting, as the Geckos will have to mix it up a bit on their attack with the Royals being a great defensive team.
The Royals are surely a team to be reckoned with as they have put up a good fight against some of the league's best.
The Royals' Jason Javelosa and Roland Balajadia do an excellent job of helping their team get the defensive coverage they need, giving them an opportunity to get solid hits from heavy hitters like Kyle Henricksen and Hance Barcinas to spark the runs that they will need in this playoff matchup.
Defense wins games, but going up against a powerhouse team like the Geckos, the Royals might have to up their game a notch on both ends, which I'm sure will not be an issue with this scrappy team.
#3 Harvest Eagles vs. #6 Southern Dolphins (@ Harvest)
By Jay Leon Guerrero
The Southern High Dolphins and the Harvest Eagles are set to take each other on in the 6 vs 3 seeding of the boys IIAAG Volleyball Playoffs. The Dolphins are very underrated and their record is not indicative of their capabilities.
They will look to get the upset over the Eagles with go-to guys Phil Jardaleza and underclassmen Napu San Luis.
The Eagles will need to get an early lead and control their emotions in order to go far in the playoffs. They will be playing at home and they seem to be more comfortable in their house.
Setter Marlon Evans and libero Misaki Cramer have been consistent all year and they will look to lead the way with outside hitters Isiah Lagutang and Brandon McAuslen smashing from all angles.
It's anybody's ball game, expect this one to be a hard fought battle that will probably go to three sets.
#4 JFK Islanders vs. #5 FD Friars (@ JFK)
By Mike Nauta Jr.
With the regular season all wrapped-up in the IIAAG High School Boys Volleyball League, the eight best teams are set to get their fight on as post-season action is set to begin. In one of four quarterfinal matches scheduled, the Father Duenas Friars and JFK Islanders will go to battle against one another. With both teams filled with superb talent, fans can expect a great matchup when these two collide.
The last time the Islanders and Friars met, it was JFK who made the trek to the Phoenix Center in Mangilao and upset the home team picking up a 25-23, 25-23 victory. This time around the boys in maroon and gold will head north to the JFK campus hoping to extract revenge and come out with a "W" and advance in the playoffs.
"We pretty much have used our regular-season as our way of fine-tuning and preparing for whatever cards we are dealt with," said JFK's Chris Conner. "FD is a team with a lot of talent, so we can't take anything lightly. We just have to stick to our game plan and execute."
Finishing the fourth-seed, the Islanders will enter the post-season with a lot of fire power and talent. From offense to defense, JFK has got the tools needed to move-on. With setter Jay Wielbacher running the Islanders offense, the Friars will have to buckle down defensively and be prepared for the array of attacking that JFK possesses from left to right. Wielbacher will have go to guys like Chris Conner, Billy Belger, and Wayne Jesus.
However, the choices don't stop there as JFK can turn to a bench that is ready and willing to enter the game at the summons of Coach Alden Bautista.
The Friars are looking to return to the finals, but in order to do that they must take things in stride and go at it "one game at a time". Despite finishing the season as the fifth-seed, fans can expect the Friars to be playing top-notch volleyball.
With hitters like Leon Shimizu, Eric Ada, and Kole Ada, the Friars can be a force to reckon with. Calling the plays for FD will be setter R.J. Rokop. Aside from the big three hitters, Rokop can also turn to freshman De'Aundre Cruz for some offense in the middle.
Most would think the true excitement to post-season action will be in the finals. However, that may not be the case for the IIAAG Boys Volleyball League as this is one of four matches that is sure to keep you at the edge of your seats.

QUICK HITS
3rd place: Big ups to the Para Todu Rugby Club for finishing 3rd out of 16 teams in the Manila 10's Rugby Tournament today. Biba Guam Rugby!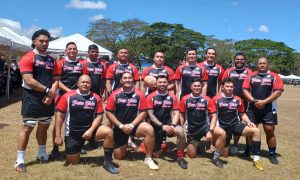 ——————————————
Guam MTB National Championship: Edward Oingerang and Jennifer Camacho are your 2023 MTB national champions. Oingerang finished the course in 1:13:24 while Camacho won her second straight title in 54:08.