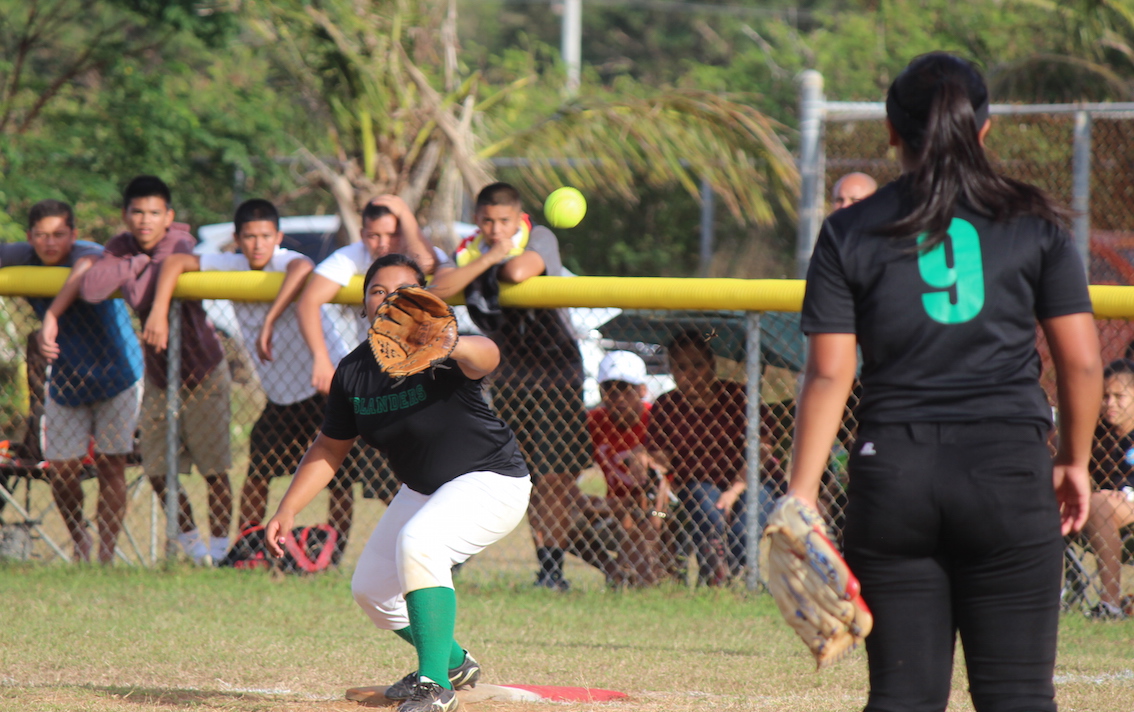 [useful_banner_manager_banner_rotation banners=72,74,79 interval=10 width=120- height=600 orderby=rand]
By Robert Balajadia
The IIAAG girls softball defending champion JFK Islanders stayed perfect in the season's early goings (3-0) with their Wednesday evening win over the GW Geckos 16-3 via 10-run mercy rule after six complete innings at the GW field.
It was a redemption story for Islanders starting pitcher Janise Santa Romana, who's last visit to the Gecko field ended in a 7th inning loss a year ago.
"I made a bad throw to first base in that game which allowed them to bring in the winning run. I was so upset at myself that I cried after that game so today I wanted to play well," said Santa Romana.
From letting up the game winner to holding the Geckos to just three runs all game was quite the turnaround for the now senior, who says the team is still working on its current chemistry.
"The bond we had last year was really well and we're still working on that this season. Our bond was what allowed us to be so successful last year and we understand how important it is," Santa Romana continued.
Errors plagued the Geckos with seven of the Islanders total runs coming off GW errors. JFK managed to steal home on three different occasions throughout the game while piling on seven runs in the 5th and and five runs in the 6th.
It was a close 4-3 game heading into the 5th inning before a big at bat from Olivia Iriarte gave the Islanders a much needed momentum swing. Iriarte smashed a deep shot to right field to bring in Santa Romana off an RBI double to go up 5-3.
"Coach told me to hit is as far as I could because he knows we have the sticks. When your adrenaline is jumping you just want to lay a good hit on the ball. It's big for me since I struck out every single time at bat last year," said Iriarte of her big inning.
The Islanders then scored on a pass ball, three errant throws to first base and home, and a sac-fly to jump to an 11-3 advantage.
Both teams made substitutions in the 6th inning before the Islanders piled on the games final five scores.
In the 2nd inning, GW's Niko Castro brought in Samyra Duenas with an RBI single and older sister Sia Duenas made a heads up play to shoot home after an error on the play to quickly put GW up 2-1. The Geckos committed two costly errors in the 3rd inning that surrendered the lead trailing 4-3.
For the Islanders, capitalizing on errors was half the battle. Iriarte attributes her teams high level of focus to the teams practices, which turns out to be a test of will and perseverance.
"If we don't make those plays in practice then we have to do a lot of running. We run three-hour practices in the blazing sun with coach yelling at us and the last thing any of us want to do is do extra workouts right after practice," laughed Iriarte.
The Islanders will next venture down south to face off against the Southern Dolphins this Saturday while the Geckos welcome the Bulldogs on Saturday was well.
PHOTO GALLERY BROUGHT TO YOU BY:

QUICK HITS
3rd place: Big ups to the Para Todu Rugby Club for finishing 3rd out of 16 teams in the Manila 10's Rugby Tournament today. Biba Guam Rugby!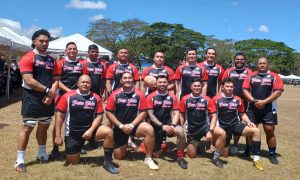 ——————————————
Guam MTB National Championship: Edward Oingerang and Jennifer Camacho are your 2023 MTB national champions. Oingerang finished the course in 1:13:24 while Camacho won her second straight title in 54:08.