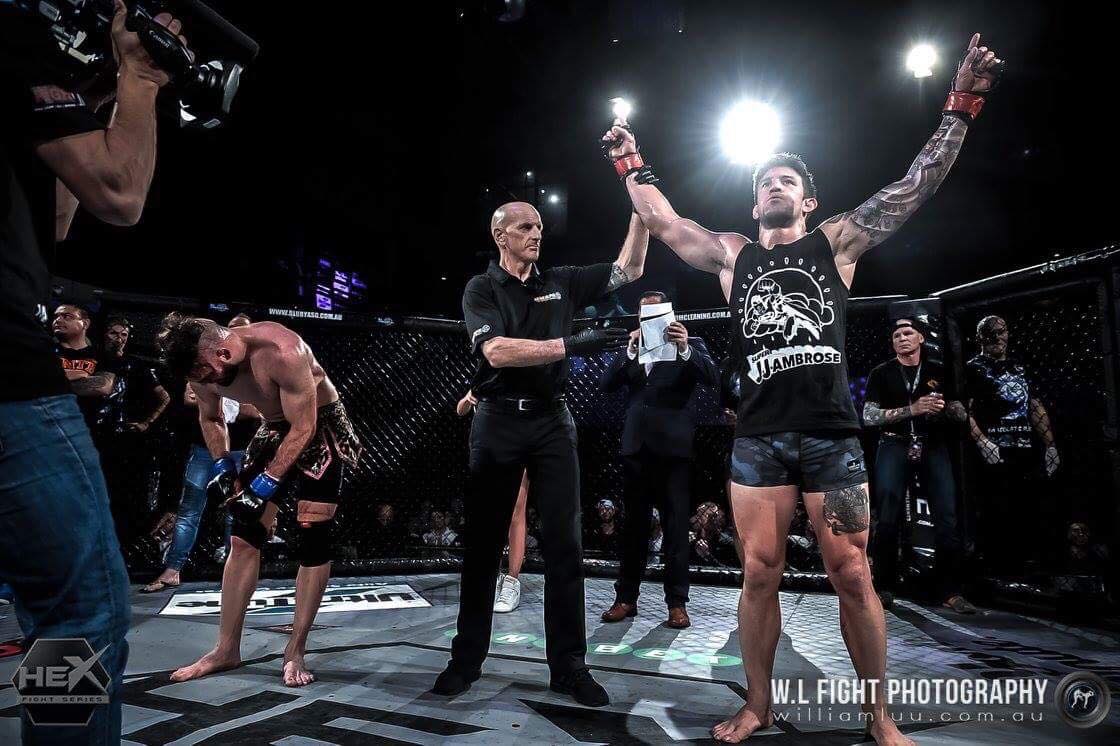 By Patrick Lujan
JJ Ambrose is heading back to Bellator.
After a unanimous decision win Friday night in HEX Fight Series 9, the reigning PXC lightweight champion announced that he's signed a contract with Bellator – considered the second highest MMA promotion in the world, right behind the UFC.
"My longtime friend and manager, Tracy Hess, had been speaking with both Sean Shelby (UFC) and Mike Kogan (Bellator) about a long term deal for me for some time now. After consideration, we both agreed that Bellator was the right career move for me at this stage," Ambrose said. "With a more lucrative contract as well as being able to wear my own logo on my shorts as opposed to the mandatory Reebok deal, Bellator is the right choice."
Ambrose previously fought three times in Bellator in 2012 and 2013. The owner of Steel Athletics has fought in over a dozen promotions, accumulating a 29-7 pro record.
"I've been fighting for a long time, I've made my mistakes with fight camps, technical problems, mental, etc. I feel like I'm a late bloomer, but my time is now. Since moving to Guam last year I've been on a five-fight win streak. I'm 30-years-old, have almost 40 fights under my belt and never have I been more mentally complete. This island has done wonders for me. This makes the second signing with a major company since we opened our doors three months ago, with Frank Camacho being the first a couple of weeks ago and me last week."
Ambrose, who has notified Bellator that he would be ready for any fight after September, will give his body some time to rest after an active 16 months that saw him in five fights.
He said that this signing and Frank 'The Crank' Camacho's UFC signing recently will only open doors for other local fighters.
"Our signings is going to not just open up doors for us, but all of the fighters out of Spike 22/Steel Athletics. We're on the right track. Fighters like Kyle Aguon, Roque Martinez, who are both long overdue, as well as guys like Ricky Camp and Jeff Mesa who are just a couple of fights away from being signed themselves. Nothing will change in our day-to-day operation, we train like we're about to fight the biggest fight of our lives every camp. It's all about getting better each day and helping each other get to the next level. That's been the mission statement since we opened, everything for the good of the team. I wasn't born here, but this is my home now and I'm going to do my best to make it a better place. I'm grateful to the people of Guam, my team, my family, for allowing me to pursue my dream."

QUICK HITS
The Figo Islanders 40s women's softball team took gold in the Senior Softball World Championship in Las Vegas. Figo came out of the loser's bracket and beat the Arizona Belles 17-3 in the AA division championship game Sunday afternoon.
Other Guam teams that played in the 40s tournament were: Team SOTTA (women's) and Bud Light Guam, Friars 671 and Sindalun Guahan (men's).
Sindalu finished a respectable 4th out of 24 AAA division teams.