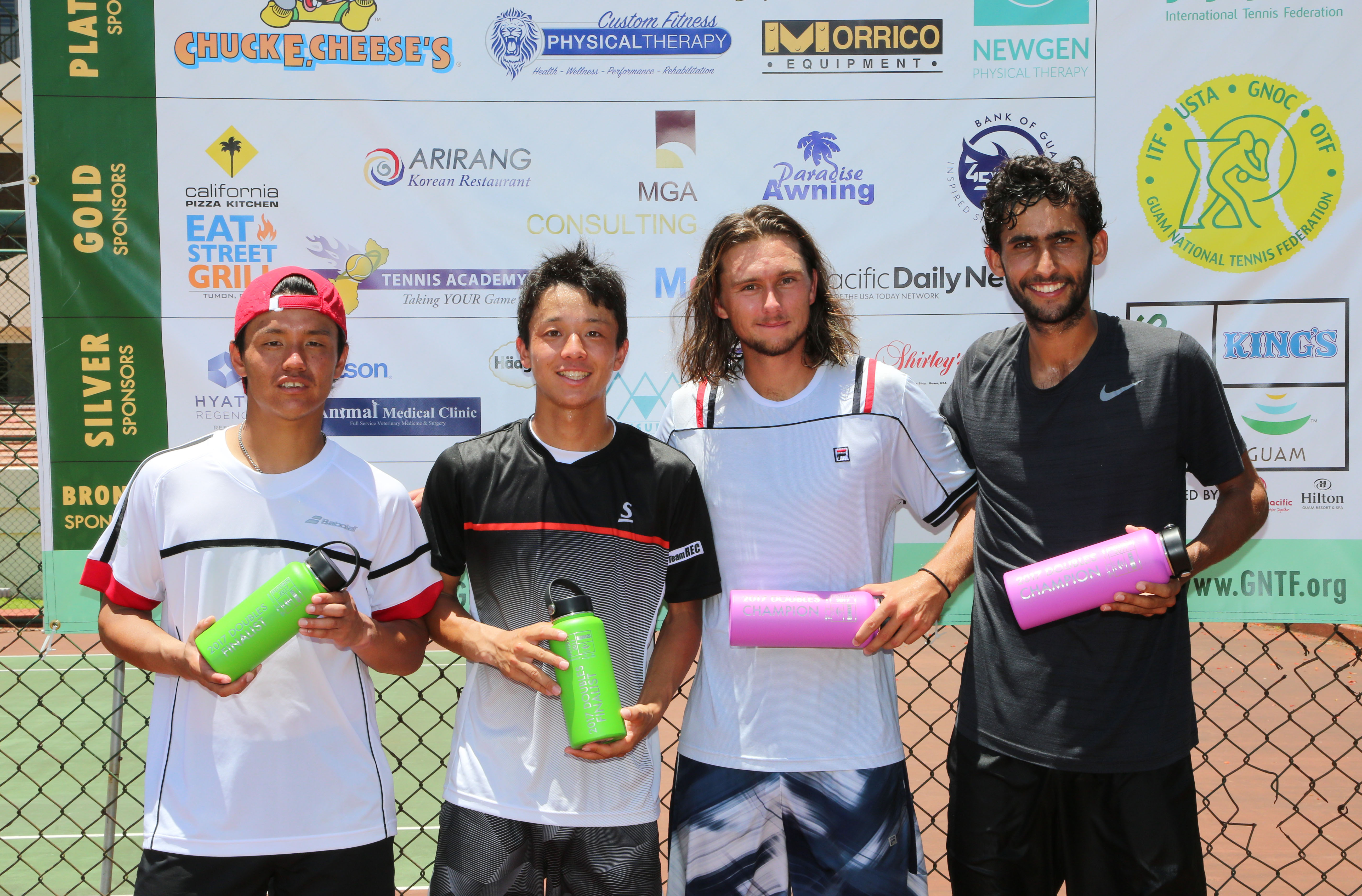 PRESS RELEASE – Connor Farren of the United States and Bernardo Saraiva of Portugal stayed perfect in the doubles draw to be crowned 2017 doubles champions of the King's Guam Futures tennis tournament, an ITF Pro Circuit event presented by Docomo Pacific and Hilton Guam Resort & Spa.
Farren and Saraiva, the No. 3 seeded team in the draw, matched almost equally to Masaki Sasai and Shunrou Takeshima, the No. 4 seed in the draw, but managed to cash in on tiebreakers, escaping with a straight set win, 7-6(1), 7-6(4).
Earlier in the week, the title-winning pair averaged just about one hour to win their doubles matches, including a thrilling three-setter against wild cards Christopher Cajigan of the Northern Mariana Islands and Jesse Delaney of Australia in the first round, but needed close to two hours in the championship match.
Farren is next registered to play in the Canada F3 Futures next week and Saraiva is next registered to play in the Portugal F9 Futures, also next week.
In singles play, it will be an all Japan final featuring No. 1 Hiroyasu Ehara against unranked Takao Suzuki, a former No. 1 player in Japan, beginning at 11 a.m. at the Hilton tennis courts Sunday.
Ehara cruised to a 6-0, 6-3 victory over No. 5 Jake Delaney of Australia in the first of two semifinal matches played Saturday. Ehara has not dropped a set the entire week, making quick work of opponents with strong and steady play from the baseline, as well as a formidable net game when necessary.
Suzuki booked his ticket to the final showdown with a 4-6, 6-1, 6-2 win over No. 3 Yuichi Ito. Suzuki, 40, will bring a wealth of experience against the 25-year-old Ehara, who started playing tennis as a young child when Suzuki first turned professional. Suzuki still currently holds Japan's Davis Cup record for most total wins (41-23), most doubles wins (14-11), most ties played (31) and most years played (15). He also is tied for the most singles wins (27-12) with Tsuyoshi Fukui and is named as part of Japan's best doubles teams in Davis Cup play, with Satoshi Iwabuchi (9-5), according to the Davis Cup Web site.
For more information about the tournament and to view past results, visit http://www.itftennis.com/procircuit/tournaments/men's-tournament/info.aspx?tournamentid=1100040260
PHOTO GALLERY BROUGHT TO YOU BY:

QUICK HITS
Bishop Obispos beat Mt. Carmel for the IIAAG Middle School Girls Basketball championship 37-25.
—————————————-
The Benavente Roadrunners crushed the Agueda Pirates 17-1 to win the 76 PONY Middle School Baseball League. Rodney San Nicolas was a beat, striking out 13 batters in a complete game while going 4-for-4 at the plate, including a homer and 4 RBI.